'Bigg Boss 14' PROMO: Nikki abuses Jasmin; latter complains to Bigg Boss
In the new promo, Nikki Tamboli is seen abusing Jasmin Bhasin and Shehzad Deol.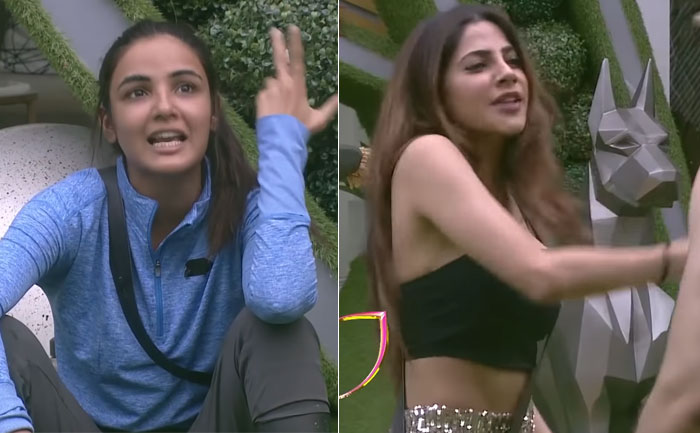 The freshers of Bigg Boss 14 have finally got into the competitive spirit, in yesterday's episode, we witnessed a lot of drama, fights, and aggression during the immunity task. Yet again, the contestants will get into an ugly spat, and it's none other than Jasmin Bhasin and Nikki Tamboli. 
In the new promo, it's day 2 of the immunity task, Farm Land, the freshers have to save themselves from the nominations, as they are divided into two, whereas, Nikki Tamboli is the Sanchalak of the task. During the fight, Tamboli will use cuss words for Bhasin,  Shehzad and Nikki will also get into an ugly war of words during the task and she also abuses him.
Here's the promo:
During the task, Jasmin and Nikki start arguing, and Jasmin destroys the opposite team's farm, while, Nikki stops here, to which Jasmin tells Nikki that it was her strategy and to plan strategies people need the brain for it, Nikki slams her and says,  'If you had a brain, you would have been a confirmed contestant today.' Jasmin loses her cool and ends up in tears. She goes to Bigg Boss and complains and asks him how can she make someone a sanchalak who abuses the contestants.
To know what happens in tonight's episode, Watch Bigg Boss 14 Mon-Fri, 10:30 PM & Sat-Sun, 9 PM only on Colors TV. Till then, stay hooked on to The Live Mirror for more updates.
ALSO READ: Bigg Boss 14, Oct 13, Written Update: Jasmin And Eijaz Quarrel; Jaan Confesses He Likes Nikki