Bigg Boss 14, Oct 13, Written Update: Jasmin and Eijaz quarrel; Jaan confesses he likes Nikki
In tonight's episode, Jasmin and Eijaz get aggressive during theimmunity task, Jaan admits that he likes Nikki.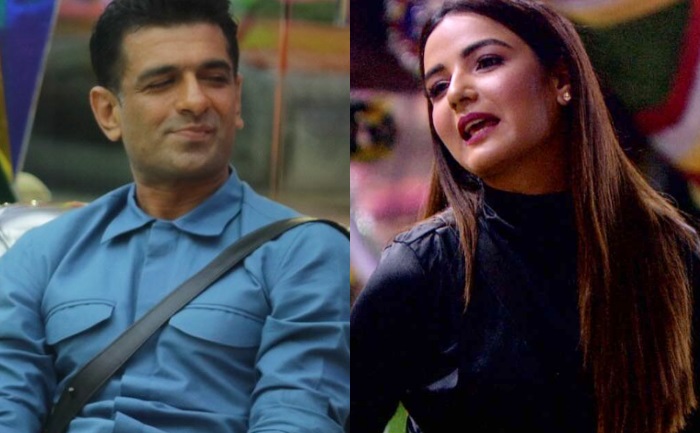 Bigg Boss 14, Oct 13, Written Update: The episode begins with contestants waking up to the song Gulaabo, Hina teases Eijaz and refers to Pavitra as his 'best friend' and asks if they cleared their misunderstanding, to which, Hina tells Eijaz that Pavitra is a little possessive about him, Eijaz tells her that he is not a commodity. Later, Hina tells him that Punia cares and loves him. Eijaz replies and says love does not happen in 4 days.
Later, everyone, in the dining area talks about Eijaz and Pavitra's on-off friendship. Eijaz tells everyone that he and Pavitra will hug each other only when one of them leaves the show. Pavitra talks her heart out to Rubina and expresses her feelings towards Eijaz, "Maine unn tak pohonchne ki bahot koshish ki. Maine genuinely ek cheez aap ke saath try ki kyunki aap hain achche. Mujhe laga ke aap samajh paoge mujhe iss bheed mein. Mujhe lagaa ke woh connect baithe ga yaha pe. I was being nice to you. Pyar ka rang dono taraf se hota hai, ek tarfa cheez koi nahin chal paati, I felt an emotional connect with him because I see that loneliness in him somewhere. I don't want to lose him," she tells.
After some time, Jasmin, Rahul, and others discuss their 7 items for the day and everybody decides on the items without arguing with each other. Nishant asks Nikki why she is not talking to him, she says that he wants to be in the good books of everyone. Jaan gets into loggerheads with Nikki and Shehzad over some misunderstanding, Nikki calls Jaan two-faced, Jaan defends himself, later, she apologizes to Jaan for hurting him and they hug it out.
Abhinav, Pavitra, and Shehzad discuss the nomination and groupism in the house, whereas, Rahul, Nishant, Nikki, and Jaan discuss on how they should stick to each other. Later, Jaan turn into a personal masseur for Nikki and gives her a relaxing head, shoulder, back, and neck massage, Nikki enjoys the massage session and they laugh it out and have a good time.
Bigg Boss announces a new task, Gauahar reads the letter and announces the task name, called, Farm Land, the freshers have to save themselved from the nominations, they get divided into two teams- Team A: Pavitra Punia, Nishant Singh Malkhani, Eijaz Khan, and Rahul Vaidya, while Team B: Jasmin Bhasin, Rubina Dilaik, Abhinav Shukla, and Shehzad Deol. Nikki Tamboli is announced as the Sanchalak of the task. The toofani seniors, Hina Khan, Sidharth Shukla, and Gauahar Khan are also a part of the task and will play shopkeepers, that sell farming materials like flowers, mud, saplings, grass.
The task begins, Gauahar opens the first shop, contestants have to make an effort to get the source materials from her. Gauhar gives Abhinav a task if he wants soil. Meanwhile, Nishant snatches soil from Jaan. Jaan snatches the soil back from Pavitra. However, the tasks gets aggressive as, contestants start attacking, Eijaz tries to snatch soil from Jasmin and Nishant, Abhinav join and start pulling. Bigg Boss interrupts and tells them that they have to create a beautiful farm, and not perform a wrestling match. Gauahar gets itked with the men for attacking Jasmin for the mud patch, and going against the rules. Jasmins gets furious and calls Nikki biased. Bigg Boss intervenes and stops the task in the mid. Eijaz and Jaan get into an arguement, Jaan threatens Eijaz to use physical power, Shehzad interrupts and screams, and Eijaz also screams equally. Shukla lauds Jasmin for not giving up and also tells her to be careful.
The task begins again and Bigg Boss tells the freshers to first try to decorate the farm. Jasmin and Abhinav claim that Nikki Nikki defends herself. Bigg Boss says it's time for Sid's shop to open. He tells the contestants to first put the mud patches, only then will he give them the grass and sponge. Later, the contestants destroy each other's farm and things get aggressive. Bigg Boss announces that the task ends for the day.
Jaan tells Nikki that Shukla told him that he performed the task well and says that he wants to impress Sidharth. Nikki says to play the game for himself and not to impress others. Jaan asks her if she will come on a date with him after the show. Nikki refuses and calls Jaan Bhaijaan. Jaan says don't say that otherwise, he will break the friendship. Nishant and Rahul tease Jaan regarding Nikki calling him as her brother. Nishant says Nikki is elder in mind than Jaan. Jaan reveals that Nishant said Nikki does not use her brain. Later, Nishant defends himself and says that he called her child-like. Jaan leaves.
(Episode Ends)
ALSO READ: Bigg Boss 14, Oct 12, Written Update: Sara Gurpal Becomes First Contestant To Get Evicted