Bengaluru: Samsung opens world's largest mobile experience centre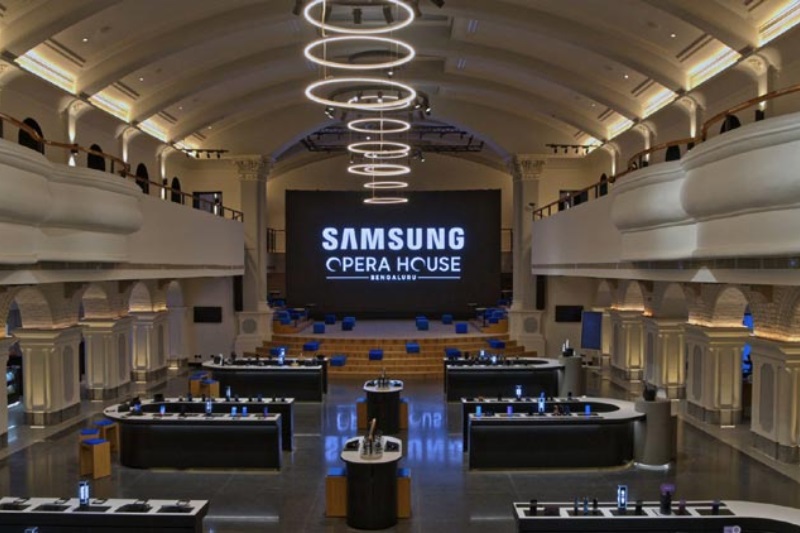 Strengthning its roots further in India, South Korean tech giant Samsung on Tuesday has opened world's largest mobile experience centre in Bengaluru. A similar first has happened again in the recent past too. It has been barely two months since the company opened its biggest mobile factory in Noida.
Mohandeep Singh, Senior Vice President, Mobile Business, Samsung India, said that the tech giant is looking forward to become a part of the larger community in Bengaluru and this (experience centre) is an extension of the firm's 'Make for India' endeavour but he didn't mention when the company would be launching other centres in India.
"We are looking at more number of such experience centres in the country. We are looking at covering all the big cities in India over a period of time with such centres," Mr Singh told news agency IANS.
To bring in the largest mobile experience centre in a grand manner, Bengaluru's iconic Opera House on Brigade Road was given a facelift to turn it into 'Samsung Opera House'. According to the company, this move would bring together technology, lifestyle and innovation to offer unique experience to users and prospective buyers.
The centre would offer Artificial Intelligence (AI), Virtual Reality (VR) and Internet of Things (IoT) experiences for the first time in India. Geeks and enthusiasts would be able to enjoy VR experiences such as the '4D Sway Chair' or the 'Whiplash Pulsar 4D chair' that makes 360-degrees three-dimensional movements.
The tech major will display all its products categories including its flagship FMCG products. Right from wearable devices, smartphones, consumer electronics such as Smart TVs, QLED TV, refrigerators, etc.
A home appliance zone would also be set up in the centre, which would house a fully functional kitchen, where in a chef would give live cooking demonstrations using Samsung smart ovens.
Along with home division, this centre would be the biggest-ever display of Samsung accessories such as cases, covers and power banks at the Samsung Opera House. where prospective customers would be offered customisation options for accessories. Samsung Opera House would also showcase a range of Samsung audio products along with Harman Kardon and JBL.
The company added that, "They would be given choices such as installation of military strength skins for screen protection and 360-degree body protection (for phones). They can also get laser engraving done of any design or content on the mobile covers they choose."
According to a report from CyberMedia Research, this South Korean company, Samsung, has been the market leader in the premium smart phone segment in India in the first half of 2018 with 48 percent market share.
Also read: Tim Cook does good Jobs; Apple now trillion dollar company