Toxic froths blanket Byramangala lake near Bengaluru, again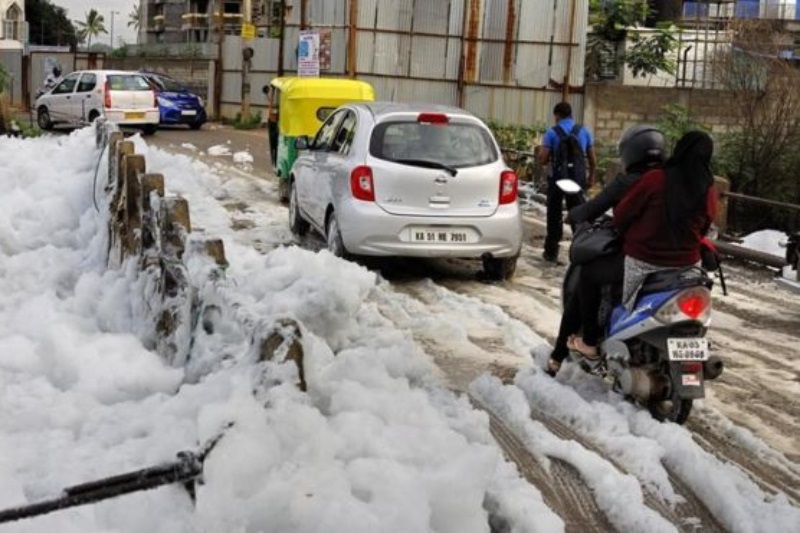 Byramangala lake in Bidadi, 40 km from Bengaluru, is releasing what villagers claim to be toxic froth as a result of dumping by industries. Situated near Karnataka Chief Minister HD Kumaraswamy's constituency, this lake is producing fumes which are coming to the streets and even on the farmlands,
Villagers residing near the vicinity allege that the state government has not taken care of the environment. Adding on, they allege that the government has let the waste from expired medicines and paint from industrial effluents containing acid to be dumped in the lake. This is the second time, after January 2018, that a lake in Bengaluru is releasing froth which is allegedly harmful healthwise.
However, pollution control experts are of the opinion that these froths are being produced due to the dumping of detergents in the lake. "The biggest reason for this is due to the use of detergent powder in homes, which are dumped into the lake without treatment", pollution control consultant AA Purohit told NDTV.
Complaining about the lackadaisical approach of the state government, villagers allege that they are losing their crops. They also allege that garbage trucks from the city come to the Bidadi lake to dump waste. Since this lake's water is from Vrushabavati river which later connects to the Cauvery river, people are more concerned.
Assuring of the appropriate measures would be taken, Chairman of the Karnataka Pollution Control Board, Laxman said, as quoted by the news website, "We created a committee which has suggested some measures to stop it after investigation. We have given notice to everyone concerned. The committee will ensure that the instructions are followed."
ALSO READ: Dust storm chokes Delhi as pollution level reaches 937