10 Shows to Binge Watch On Amazon Prime
Binge watch these great shows on Amazon Prime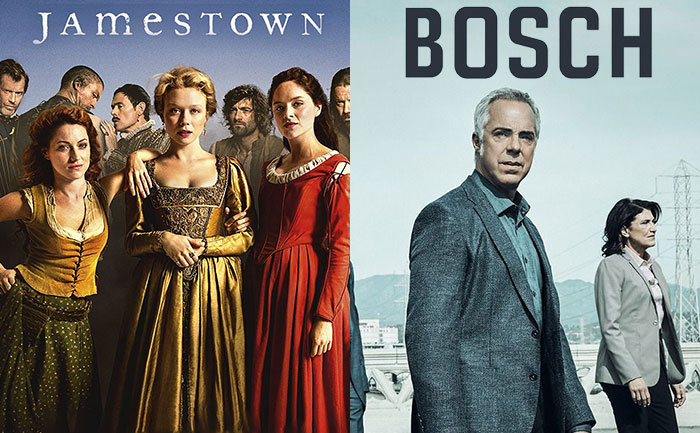 As the Coronavirus epidemic forces people to self-quarantine, boredom may be starting to tick in. However, Amazon Prime has all the content you need to socially distance yourself without going stir crazy. Check out some of the latest Amazon Prime TV shows that you can binge watch with just a popcorn bucket for company. Meanwhile, you can also check out the best movies of Netflix right now.
10 Shows to Binge Watch On Amazon Prime
1. Kidding
Featuring Jim Carrey as Jeff Pickles, Kidding is a comedy that has the potential to break your heart. Jeff Pickles is an icon of children's television. However, when his own family begins to crumple, Mr. Pickles' life goes down a spiral. The man who is treated as a pillar of kindness and wisdom by American society must now figure out a way to get through this crisis in life. Binge watch this tragic comedy on Amazon Prime which also guest starred Ariana Grande.
2. Jamestown
Jamestown is a British drama television series, written by Bill Gallagher and produced by Carnival Films, the makers of Downton Abbey. The show is set in the 17th-century in Jamestown, Virginia. Jamestown follows the first English settlers as they establish a community in the New World.
The show has 3 seasons and the final episode of the show aired on 14 June 2019. Since the series is already complete you can just binge watch the entire thing on Amazon Prime without the worry of season breaks.
3. Black Sails
Black Sails is a prequel to beloved Robert Louis Stevenson classic Treasure Island. This pirate adventure centers on the story of Captain Flint. He has a reputation of being the most feared of all the Golden Age pirates. Captain Flint aligns himself with Eleanor Guthrie, daughter of the local kingpin, to hunt the ultimate prize and ensure his people's survival. However, things take a bad turn when they are faced with opposition.
Binge watch this cheeky action packed series on Amazon Prime to chase away your quarantine blues.
4. The Marvelous Mrs. Maisel
Binge watch The Marvelous Mrs. Maisel as she goes from having the perfect life to chasing her dreams in stand-up comedy. The story is set in 1950s and Miriam "Midge" Maisel has everything she could've ever wished for. She has the perfect husband, two kids and an elegant apartment on New York's Upper West Side. However, her life is changed forever when she decides to journey from her comfortable life on the Upper West Side to the cafes and nightclubs of Greenwich Village. The series was created by Amy Sherman-Palladino ("Gilmore Girls").
5. Bosch
Bosch is an American web television series produced by Amazon Studios. In addition, it stars Titus Welliver as Los Angeles Police detective Harry Bosch. The first season takes its inspiration from the Michael Connelly novels City of Bones, Echo Park, and The Concrete Blonde.
6. Sneaky Pete
Sneaky Pete tells the story of Marius, a con man trying to escape the con life. Therefore, he tries to leave his old life behind by assuming the identity of his cell mate Pete. However, Pete's family has their own secrets that could put him in as much danger as the life he is trying to escape. In other words, Marius must find a way to keep his lies from backfiring as he deals with unexpected situations that come his way. Executive producers include Graham Yost and Bryan Cranston.
7. Supernatural
This Amazon Prime series puts the binge in binge watch. The long running TV series spans over 15 seasons and is the longest-running American live-action fantasy TV series. However, the show was renewed for a fifteenth and final season Which will consist of 20 episodes.
The long running series follows brothers Sam and Dean as they set out to eliminate monsters, demons and other supernatural entities that exist on Earth.
8. Jack Ryan
Tom Clancy's Jack Ryan is an American political thriller spy web television series. It is based on characters from the fictional Ryanverse created by Tom Clancy.
Additionally, the first season follows the CIA analyst as he is taken from his desk job into the field after discovering a string of dubious bank transfers. Meanwhile, the second season sees Jack in the middle of political warfare in a corrupt Venezuela.
9.Transparent
This Amazon Prime series definitely deserves a spot in your binge watching list. Transparent revolves around a  regular Los Angeles family. However, their lives change after the discovery that their father Mort (Jeffrey Tambor) is a trans woman named Maura.
10. Homecoming
Oscar winner Julia Roberts stars as Heidi in the first regular TV series role of her career. Meanwhile, the story of Homecoming revolves around Heidi Bergman. She had been a social worker at the Homecoming Transitional Support Center. The facility ostensibly helped soldiers transition to civilian life. However, why they needed this help is unclear.
While Bergman has started a new life as a waitress, she still has difficulty remembering her time at Homecoming. Meanwhile, a US Department of Defense auditor inquiry about her reasons for leaving Homecoming make Bergman realize that all is not what it seems.
ALSO READ: Here's The List Of 25 Best Movies Of All Time Ever Made