33 Best Simple Karwa Chauth Hand Mehendi Designs for 2019
Here are some of the Best Simple Mehendi designs for you for Karwa Chauth 2019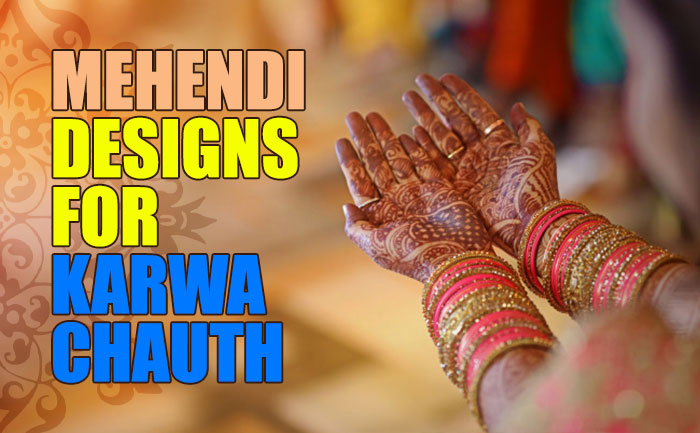 The Hindi and Arabic word Mehendi is derived from a Sanskrit word 'mendhika' it refers to the henna plant that is found abundantly in most parts of India. Use of henna is considered immensely auspicious in many traditions around the world. Hindus, consider Mehendi part of the customary 16 adornments or Solah Shringaar for weddings, Karwa Chauth and many more.
Ladies love to style their arms, shoulders and other body parts with Mehendi Designs before every big occasion and festivals.  This year we have Karwa Chauth falling on October 17. It is a festival where married women fast for the long life of their better halves. They dress up in festive finery and also apply mehndi to their hands.
We share with you some amazing popular Mehendi designs that will make the occasion more special for you. From simple designs to Arabic version, Morroccon Mehndi, Pakistani Mehndi, Crystal embedded, glitter Mehendi designs and many more for you.
Karva Chauth 2019: Here best and simple Karwa Chauth Mehendi Designs:
1. Simple Mehendi Designs for Kids: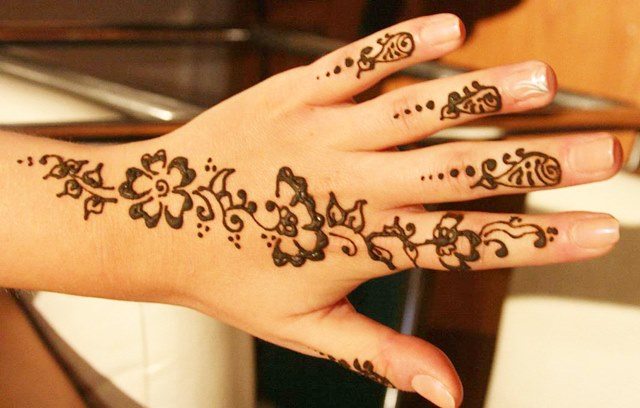 During festivals, even the kids want to try Mehendi and this particular Mehendi design is perfect for kids. It is easy to create and the floral motifs, dots and paisleys have been used nicely to create this floral-strand like Mehendi design. They will make the day for your child.
2. Half Hand Mehendi Designs:
The Half Hand Mehendi design looks quite unique! The full side is created by using a complex floral and leafy pattern. Spirals are added to cover the gaps. Starry motifs are used on the half-empty sides. The Half Hand Mehendi Design is perfect for the festive occasion.
3. Mehendi Designs Using Stones:
The present generation loves to add glitter, stones and other things to make their Mehendi Design more attractive. This particular design consisting of floral motifs, leafy patterns and stones is a great example of how to add a touch of glamour to your Mehendi design. The stones give your Mehendi pattern a richness. The stones are matched with the outfits.
4.Half Circular Mehendi Design: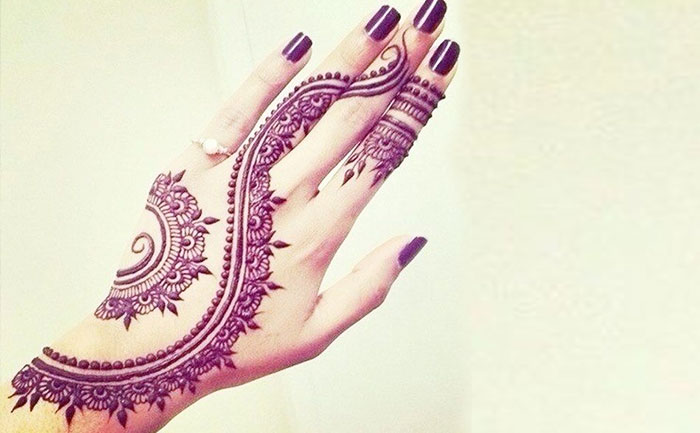 This Mehendi design will jazz up your hands in the upcoming festive season. A long curve with simple floral motifs looks classy and also ensures that the hand doesn't look empty. The ring-like Mehendi design on the index finger has also added to its beauty.
5. Mehndi Design Using Interlinked Rhombus: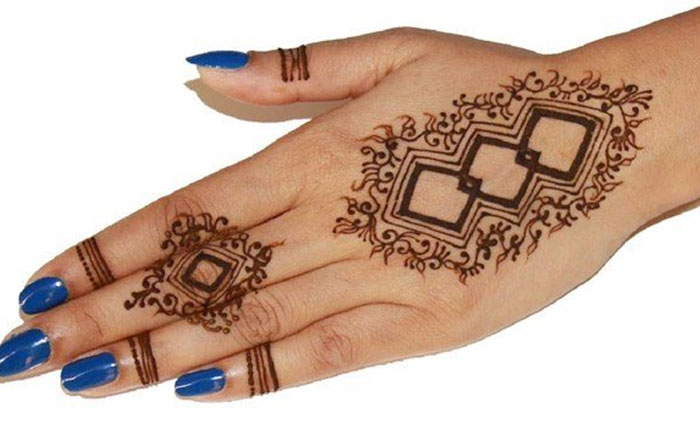 This Mehendi design follows a geometrical pattern. This makes it quite different from the other popular designs. The interlinked rhombus is the focal point of this Mehendi design. In fact, a single rhombus on the finger along with the ring patterns have complemented the Mehendi design nicely.
6. Pakistan Mehndi Designs: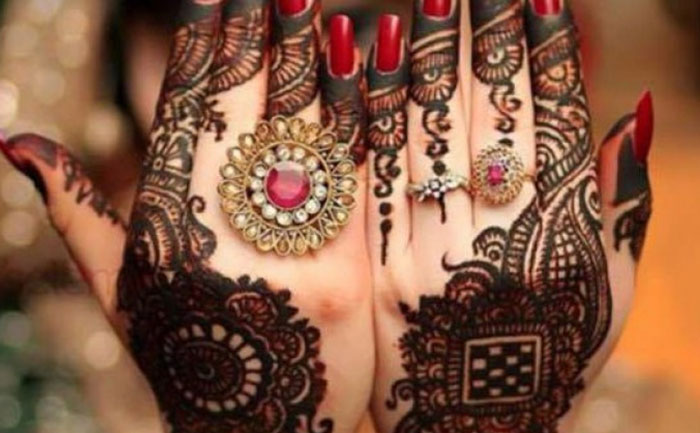 This particular pattern is a mixture of Arabian and Indian Mehendi. This full cover mehndi design can always be one of the best options for anyone looking out to get traditional designs. Leafs and floral designs in the lower section of the hands are just perfect.
7. Moroccan Mehndi Patterns: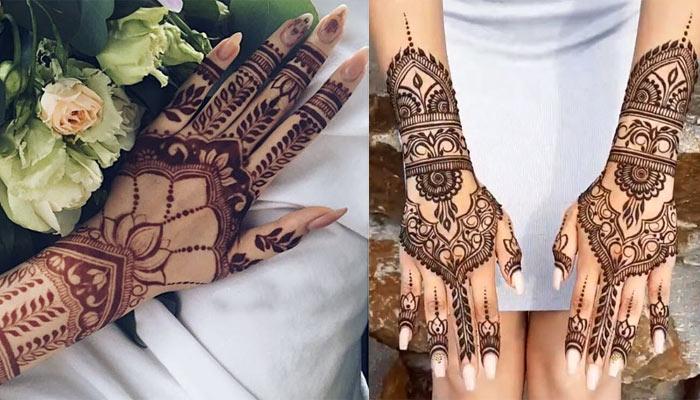 This design is basically covered with floral, oval and circle design. The designs are also present covering the bases of all the nails which completes the look of middle finger design and which touches to the circular pattern. This design will be the best traditional design ever.
8. Glitter Mehendi Design: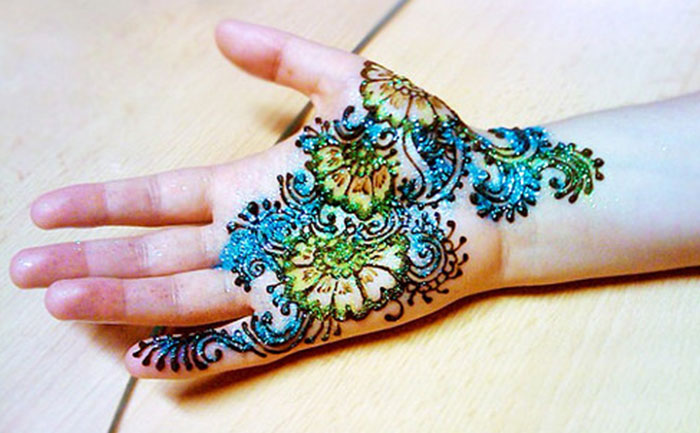 In this mehendi, outlines are made with original Mehendi products, the only thing makes it special use of glitters in few places to make it look brighter. This style makes use of a different combination of colour that will perfectly go with your outfits.
9. Boxed Mehendi Design: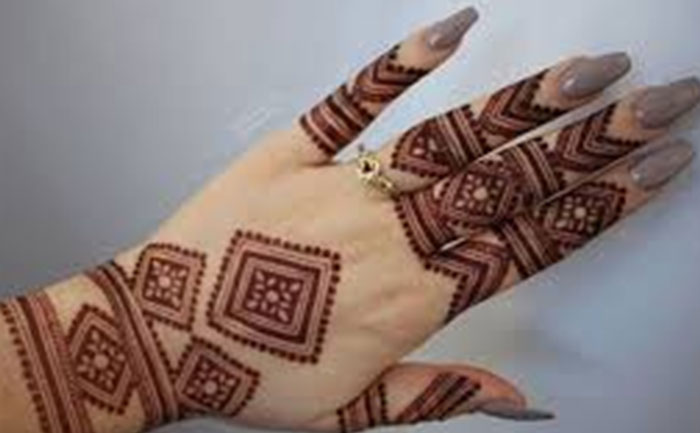 This unique mehndi design kind of has an abstract design vibe. It is pretty simple, elegant yet modern. It doesn't cover up the entire hands.
10. Mandala + Bracelet Mehendi Design: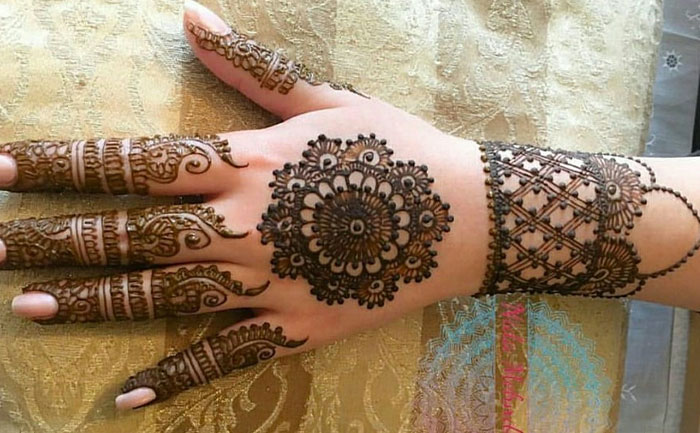 This combination of Mandala + bracelet Mehendi design is ultra stunning. The focal point of this is Mandala. with some intricate patterns around it.
11. Arm Bands Mehendi Designs: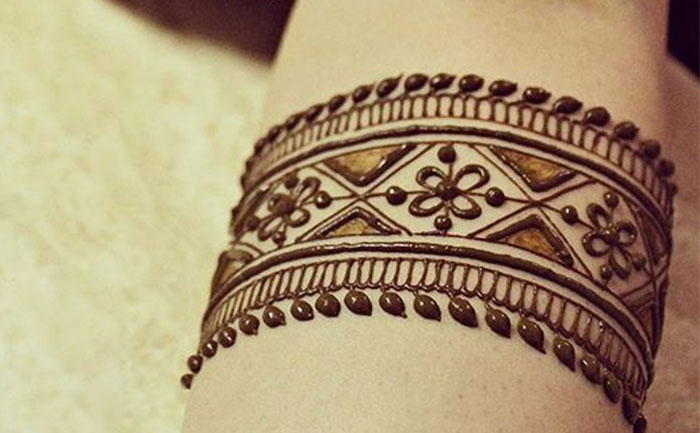 Armband designs are simple and don't require a lot of time, though they are easily covered or worn like jewellery making them one of the best choices in henna designs.
12.Dream Catchers Mehendi Designs: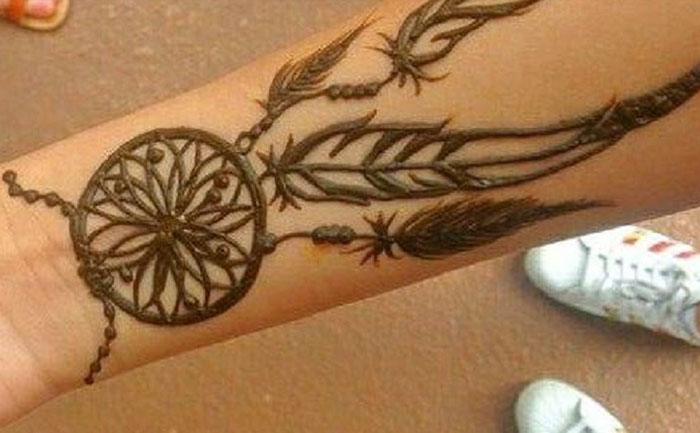 There are many designs featured in this shoulder to fingertip design, though the dream catcher shapes are becoming ever more popular over time, even in henna designs.
13. Floral Back Pieces: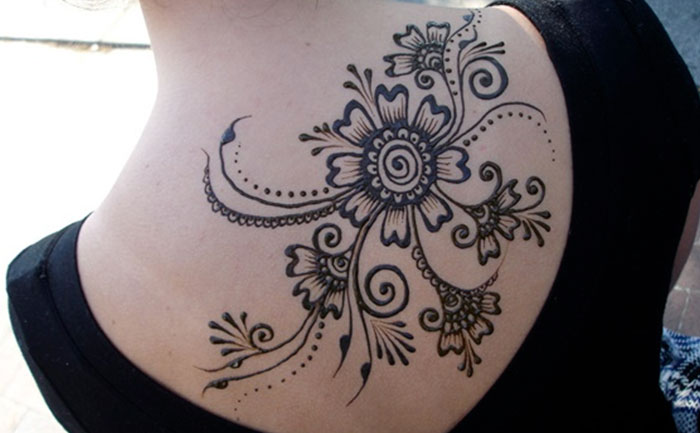 Since more girls where low cut blouses with their sarees and lehengas. Floral or geometric Mehendi designs are prefered on the backs. This adds a touch of festivity to your entire look.
14. Finger flash Mehendi Design: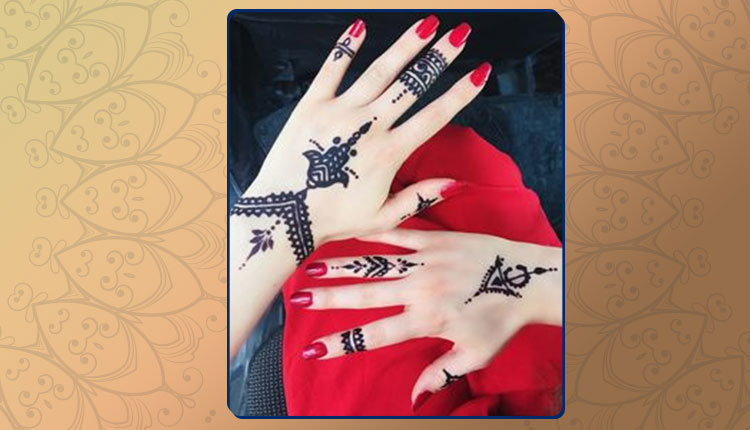 The fingers decorated with henna in a spectacular way make your hands look more beautiful and feminine. You can have simple flowers, dots, creepers and symmetrical patterns crafted on your hands. This Mehendi design adds a touch of elegance to your pretty hands with going over the top.
15. Flowers: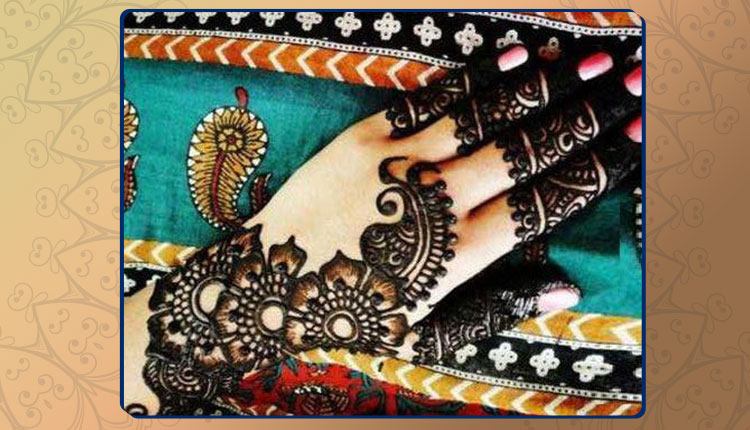 Flowers are intricate and symbolize the celebration of love. So, add a floral flavour to your hands on this festive occasion. This Mehendi design is simple and elegant and looks good for sangeet, Rakhi, Eid or Haldi ceremony too.
16. Haathphool: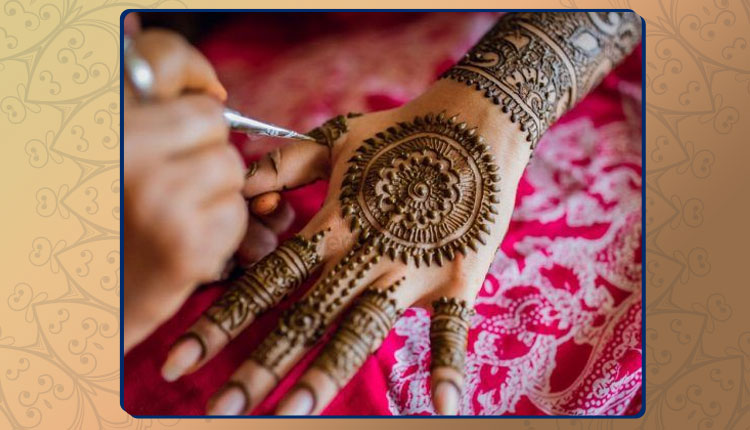 Haathphool is not only sombre, classic and yet striking to make a style statement. The big flower, chakra or rings appear like a perfect fashion motif. They add a certain festive look and is much prefered by brides on their special day.
17. Fusion Mehendi: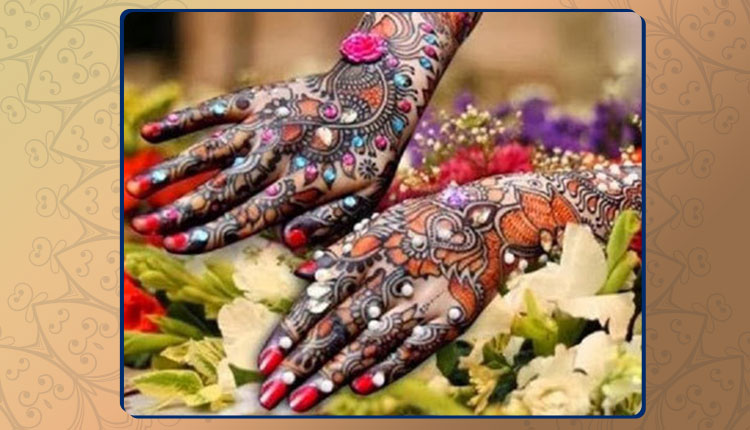 For all who like to be different from others here, we have a blend of different styles and themes for you to flaunt. This type of Mehendi Design is a hot favourite of the present generation who want their Mehendi to go with the colours of their outfits.
18. Portraits: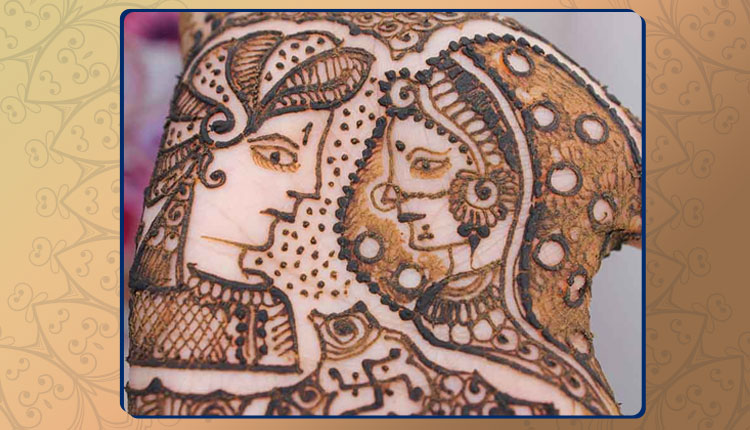 How about enhancing your hands with a portrait of your loved one or a deity. Make your Mehendi Design an expression of what you want. Loved by dulhans who want to have the picture of their Dulha on their hand as a personal touch.
19. Feet: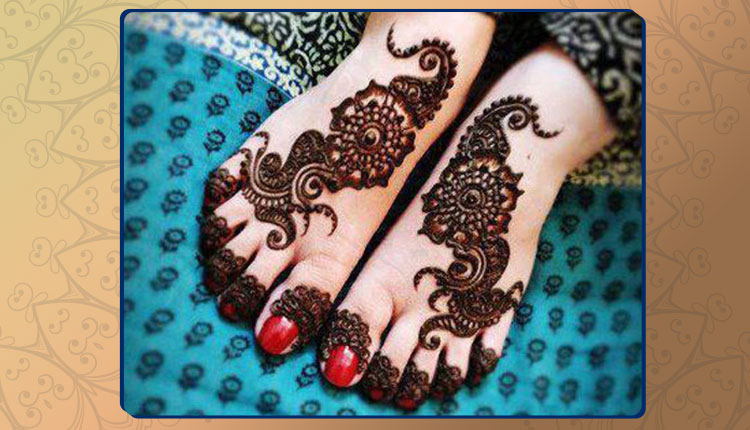 This mehndi pattern would look fabulous on those beautiful feet. You can always flaunt your gorgeous feet with these amazing patterns at any occasion. It can be a full pattern covering your feet and legs too.
20. Arabic Mehendi Design: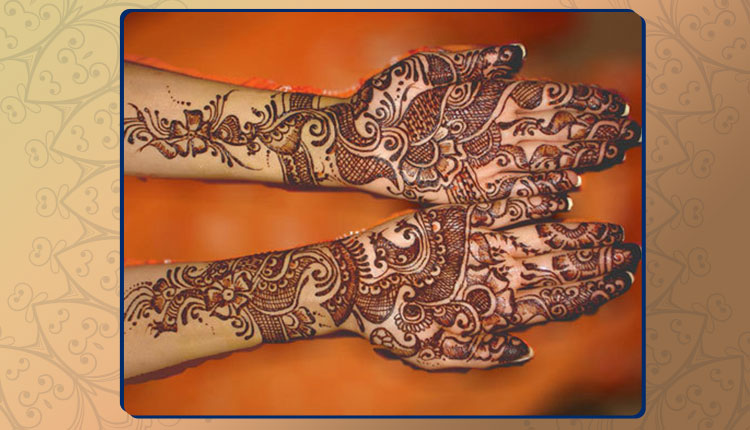 This is yet another simple and stylish Arabic Mehendi design to attempt for the no-hassle look. The Arabic Mehendi design is for all those who do not have the time to sit for hours but want their hands to be filled with the designs. The mesmerizing outlines are very decorative and attractive, the wrist is highlighted with bracelet type pattern, and also this design is very easy to draw. They go perfectly with dresses, sarees and lehengas too.
21. Full Hand Mehendi Design: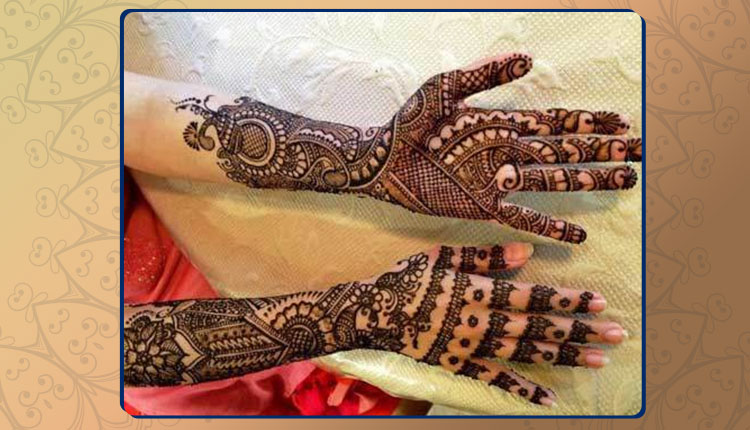 This brilliant Full Hand Mehendi design with symmetrical floral patterns is perfect for all those who prefer to have their hands filled with the essence of Mehendi. It adds a touch of tradition and is a hot favourite at weddings and festive occasions.
22. Beaded look: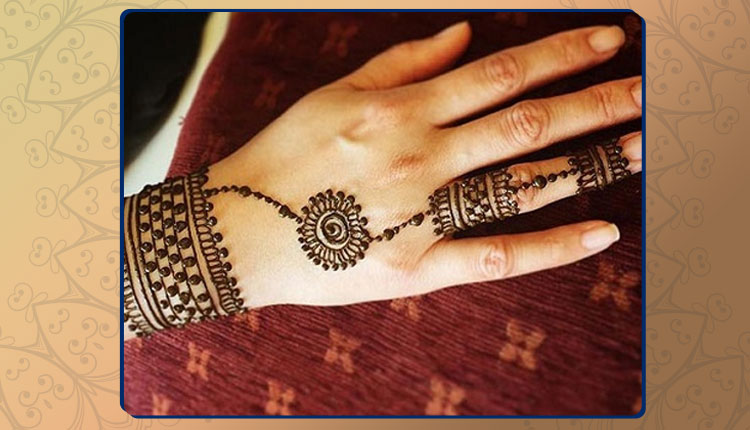 The beaded strands are all about the dainty dots which look simple, cute yet feminine. So, wrap your hands with captivating strands of henna. This Mehendi design will make your hand look elegantly dainty and adorable.
23. White Mehendi: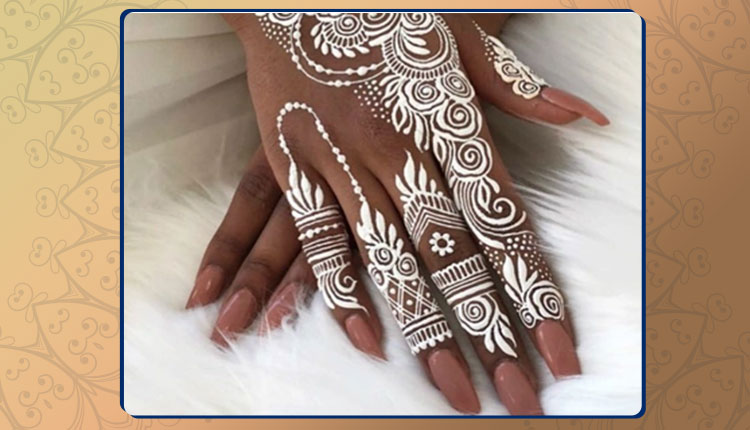 There was a twist in the Mehendi trends so you can opt for unique white Mehendi designs which not only look stunning but also complements Indian skin tones.
24. Back Hand Mehendi Design: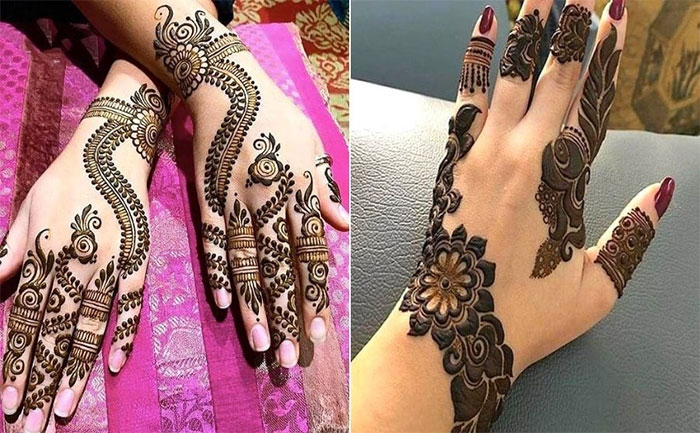 An artistic Back Hand Mehendi Design looks appealing to the eye. The setting, the colour, the skill and the fine lining of the design gives a very authentic look and adds glamour to your entire look. It can be traditional, floral, glitter or Arabic Design that adds oodles to your Back Hand Mehendi Design. You can use stickers and artificial stones to make your mehndi design more attractive in the colour of the outfit you choose to wear for the occasion.
Best Simple & Arabic Mehendi Design Images: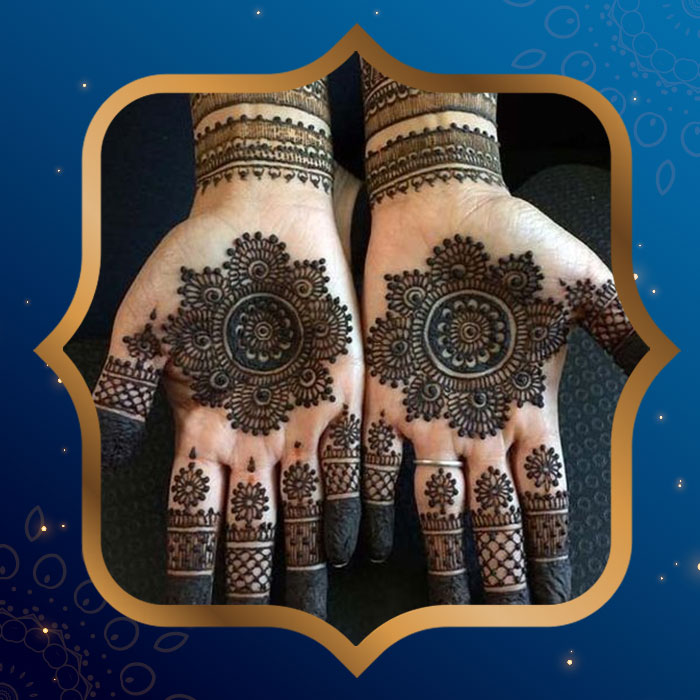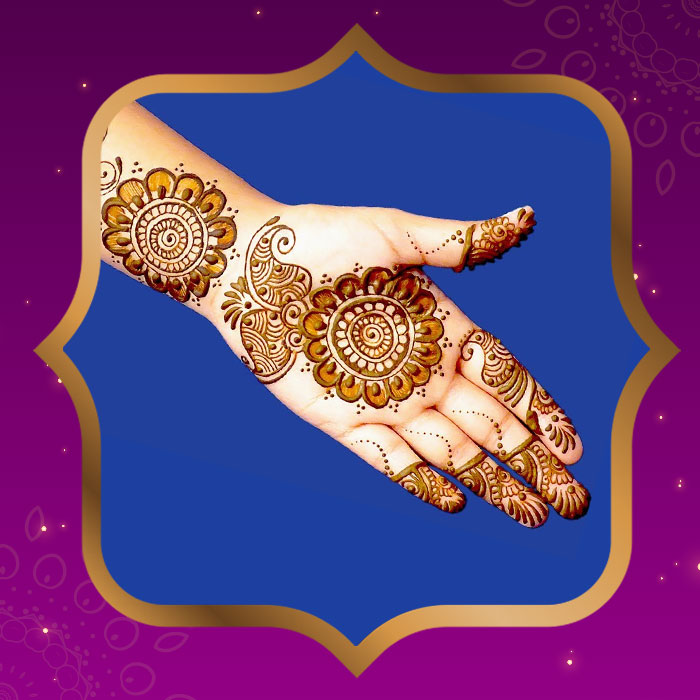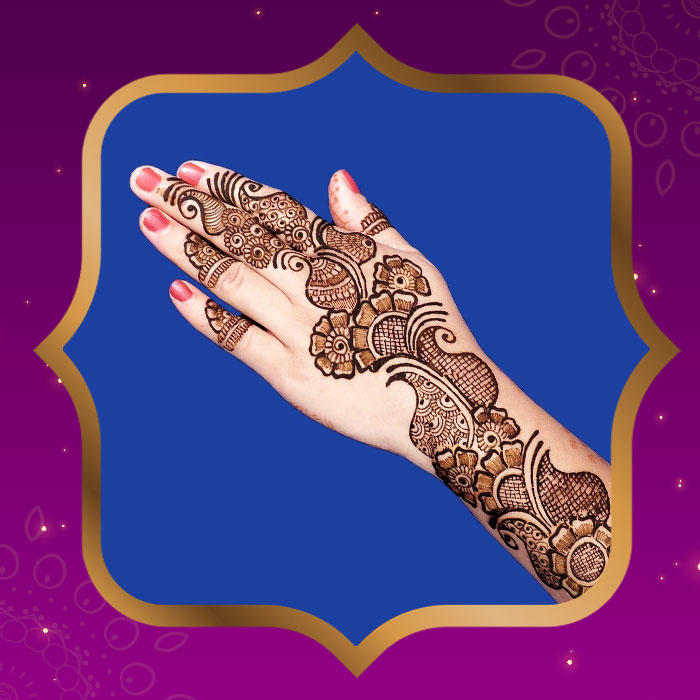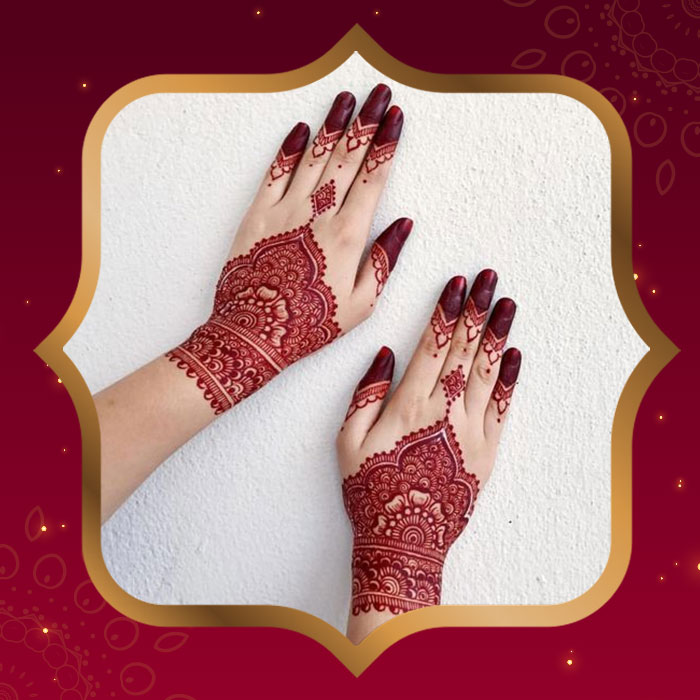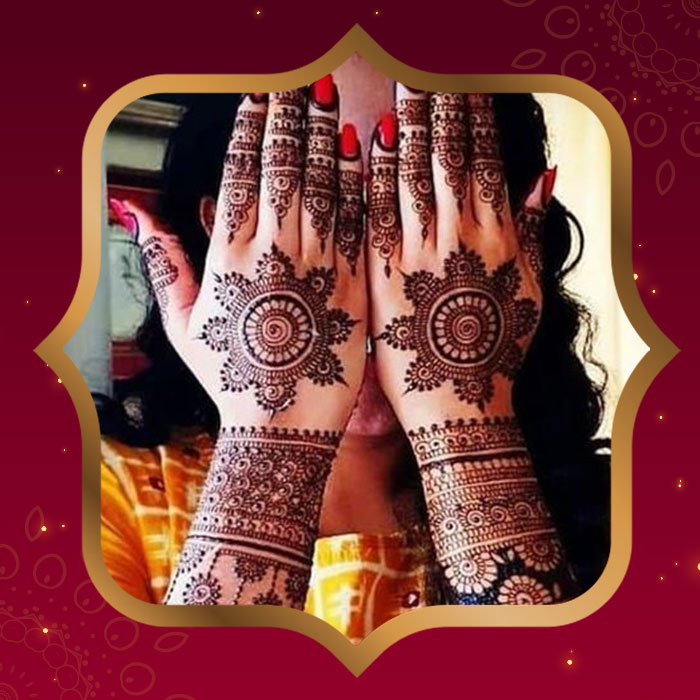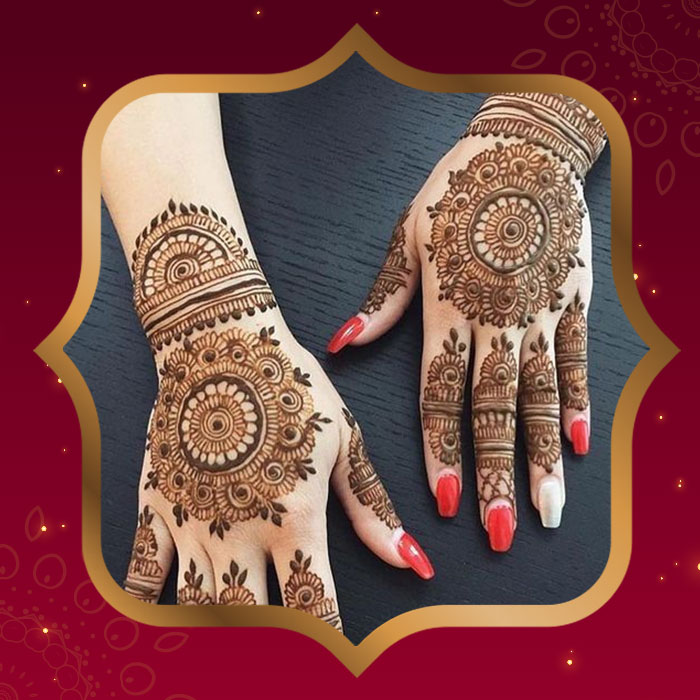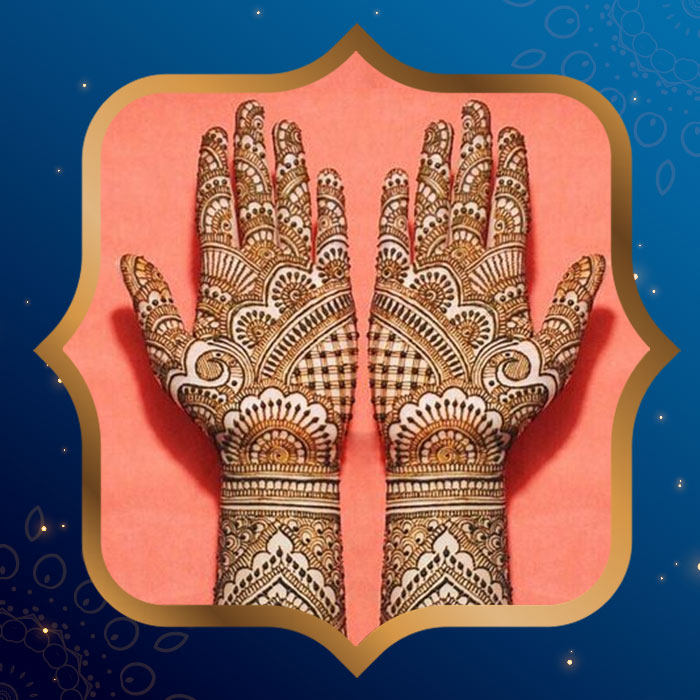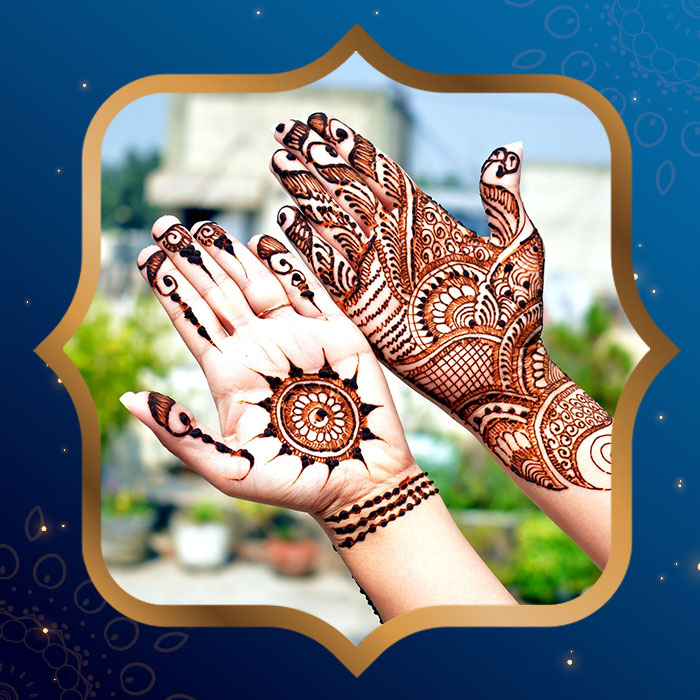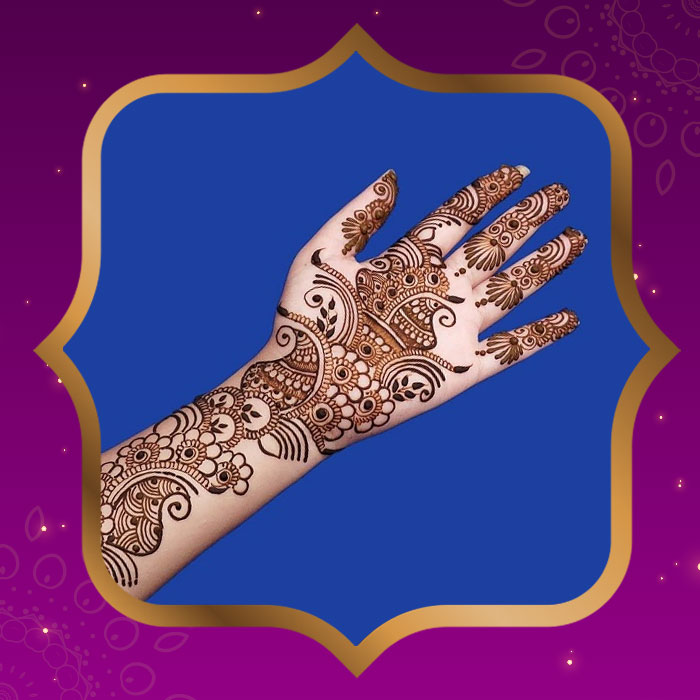 The Mehendi paste is derived from the powdered dry leaves of the henna plant to decorate a person's body. The leaves obtained from the Mehendi plant are dried in sun and then ground to get a fine mossy green powder. It is then mixed with an adequate amount of water, lemon juice and a few drops of eucalyptus oil to obtain a smooth paste. The paste is soaked overnight for maximum infusion and then poured inside a plastic cone. Smaller cones are preferred as it affords the easier application. This paste is used to decorate body parts with intricate Mehendi Designs.
Aftercare:
The henna needs special care and after the application has to be kept for a minimum of 4 hours. To intensify the colour a paste of sugar and lemon is applied to the design with cotton every half an hour. The colour actually intensifies depending on one's body heat, so the henna-painted body parts can be wrapped in plastic wraps or foils to seal in the body heat. Another way to ensure better colour development is to dry roast some cloves on a Tawa and letting the hands soak up the smoke. The Mehendi should never be removed by water after it has dried and should be done by simply rubbing the hands together as the dried bits come off easily. You should apply a little oil on your hands after scrubbing off the Henna.
Also Read: Gudi Padwa 2019: How to celebrate Marathi New Year and make Gudi at home