When Priyanka Chopra's mehendi went missing from the Christian Wedding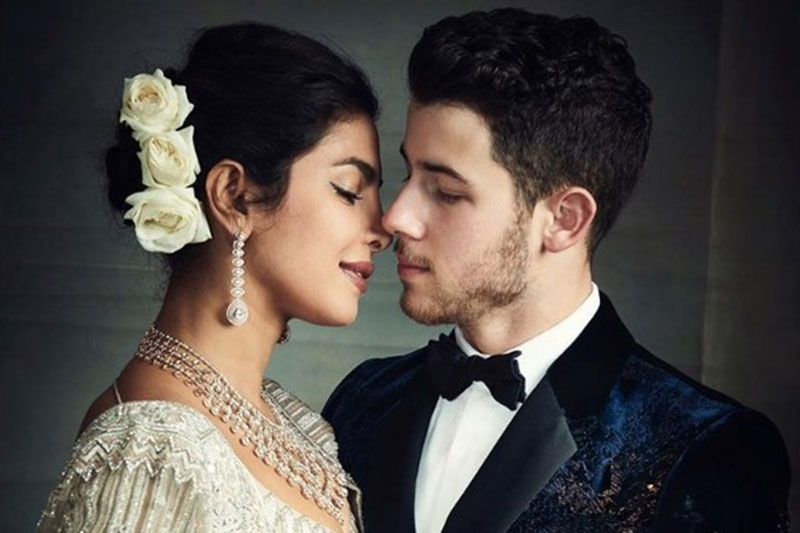 Global icon Priyanka Chopra tied the knot with her American singer Nick Jonas in a big fat Indian wedding that was a royal affair. The good-looking pair took their vows as per Hindu and Christian tradition in the presence of family and friends. It is no secret that the 'Quantico' star is a perfectionist who is very particular about minute details of her appearance as she steps out. The diva did the same for her wedding too.
Priyanka and Nick along with their family members had a gala time at their mehendi and sangeet ceremonies. The couple even made sure that their Christian and Hindu ceremonies also looked perfect. Pictures of their wedding ceremonies hit the social media like a tsunami with fans going gaga over their perfect looks. But one thing caught the eyes of many.
If you look closer at Nickyanka's Hindu and Christian wedding pics, you will notice that there was no Mehendi on Priyanka's hands during the Christian wedding. But her hands were covered with Mehendi during her Hindu wedding.
You do not believe us then check these pictures:
In the pictures, we can see that Priyanka's hands are mehendi free during her Christian wedding and full of mehendi design during her Hindu Wedding.
It seems that Priyanka whose mehendi ceremony had taken place before the wedding apparently did not apply it at the back of her hands and preferred only on her palms initially. After her Christian wedding, it looks like she added the design on the back of her hands for the Hindu ceremony.
Priyanka and Nick looked like a dream couple in both their weddings.
At present, the couple is in Mumbai and will soon be holding a reception for their Bollywood friends. The date and the venue is as yet not been revealed by the couple.
Also Read: Priyanka Chopra takes Nick Jonas's surname on social media