The Best Thrillers on Netflix Right Now
Check out the 10 best thrillers available on Netflix.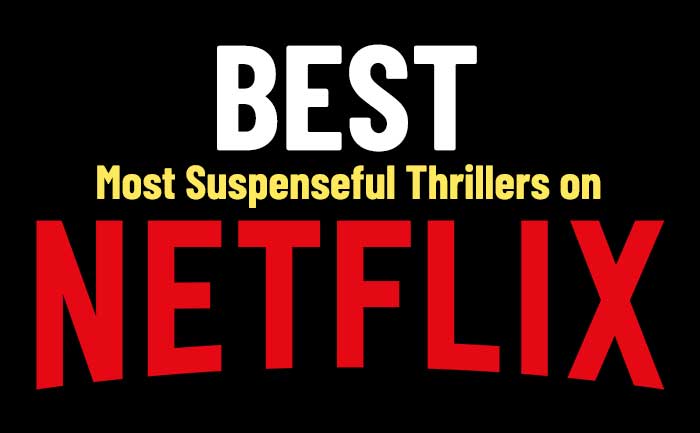 Netflix has quite the selection of thrillers to rattle its viewers. However, sometimes it can be a bit of a challenge to find the right sort of thrillers from the vast selection available on Netflix. So, if you want some suggestions about what thrillers to check out on Netflix, here is the list of 10 best thrillers available for streaming on Netflix. You can also check out our list of the best movies on Netflix right now.
1. Zodiac (2008)
Amongst the wide selection of thrillers, Zodiac by David Fincher is streaming on Netflix. It is based on the 1986 Robert Graysmith book, Zodiac. The film boasts of a talented star cast including Jake Gyllenhaal, Robert Downey Jr., and Mark Ruffalo.
Zodiac is based on real-life events that revolve around the manhunt for the Zodiac Killer. Zodiac was a serial killer in the San Francisco Bay Area during the late 1960s and early 1970s. The Zodiac case is still one of the most infamous unsolved crimes in the US. The film details the manhunt for the killer and one man's insistence on breaking the case. However, this film doesn't have the righteous finish associated with true crime films as the Zodiac was never caught.
2. Cloverfield (2008)
Cloverfield came out in 2008 and was directed by Matt Reeves. The American monster horror film was produced by J. J. Abrams and written by Drew Goddard. This pick from the thrillers category stars Michael Stahl-David, Odette Yustman, T.J. Miller, Jessica Lucas, Lizzy Caplan, and Mike Vogel.
The film has a found footage pattern that follows a group of friends as they venture deep into the streets of New York on a rescue mission during a rampaging monster attack. The movie has a claustrophobic effect that pulls you into the narrative while simultaneously raising your heartbeat.
Cloverfield director's next project is the Robert Pattinson starring Batman.
3. Cam (2018)
Cam is one of the Netflix original thrillers. Directed by Daniel Goldhaber, the movie is about an adult web performer who has morals. However, she is left stumped when it appears that her channel has been taken over by a doppelganger.
The movie has some goosebump moments which are complimented by Madeline Brewer's excellent performance. Isa Mazzei who has written the script for the movie is a former cam girl herself. While Cam's ending leaves a lot to be desired, it is a good package on the whole.
4. Drive (2011)
Directed by Danish filmmaker Nicolas Winding Refn, Drive is a 2011 American action drama film. The film is based on James Sallis' novel Drive which was published in 2005. Hossein Amini found it challenging to adapt the novel into a screenplay as it was written in a non-linear format.
Ryan Gosling plays an unnamed Hollywood stunt driver and getaway driver who falls on love with his neighbor Irene. However, Irene is married and has a son named Benicio. Her husband is deep into debt when he is released from prison. The two men take part in a million-dollar heist that can change their lives forever. The film also features Bryan Cranston, Christina Hendricks, Ron Perlman, and Albert Brooks.
5. Gerald's Game (2017)
Gerald's Game takes sex games gone wrong to a whole new level. This addition to the list of best Netflix thrillers was directed and edited by Mike Flanagan. It is based on Stephen King's novel of the same name which was published in 1992.
The film features Carla Gugino and Bruce Greenwood as a married couple who arrive at an isolated house for a holiday. While engaging in a little roleplay, the husband dies of a sudden heart attack and his life is left handcuffed to the bed. She has no key and no means of escape but must find a way to survive while battling her inner demons.
6. Hush (2016)
Hush is a Netflix original film about a deaf author (Kate Siegel) who is terrorized by a masked home intruder (John Gallagher Jr.). This Netflix movie is definitely one of those thrillers that won't let you sleep at night.  This Kate Siegel starer also features John Gallagher Jr., Michael Trucco, Samantha Sloyan, and Emilia "Emma" Graves.
Hush had its world premiere at South by Southwest on March 12, 2016. Hush has spawned two remakes with Kolaiyuthir Kaalam and Khamoshi.
7. The Invitation (2015)
This psychological thriller sees Will (Logan Marshall-Green) attends a dinner party thrown by his ex-wife Eden (Tammy Blanchard) and her new husband David (Michiel Huisman). Will brings his girlfriend to a dinner party. However, as he relives the trauma of their child's death, he becomes suspicious that his ex-wife has ulterior motives for inviting him.
The Invitation premiered March 13, 2015, at the SXSW film festival. It started a limited release on April 8, 2016, through video on demand, by Drafthouse Films.
8. The Talented Mr. Ripley (1999)
The Talented Mr. Ripley is a 1999 American psychological thriller film adapted from Patricia Highsmith's 1955 novel of the same name. It was written and directed by Anthony Minghella. The Talented Mr. Ripley starred Matt Damon as Tom Ripley, Jude Law as Dickie Greenleaf, Gwyneth Paltrow as Marge Sherwood, Cate Blanchett as Meredith Logue, and Philip Seymour Hoffman as Freddie Miles.
The movie was a commercial as well as critical success. It garnered five Academy Award nominations, including Best Adapted Screenplay and Best Supporting Actor for Law.
Writer-director Anthony Minghella discussed casting Matt Damon for the project.
"Someone cool would have distanced the audience," Minghella explained. "But Matt has a credibility, and warmth and generosity—such winning qualities—that make you want to go on that journey with him inch by inch. We've all at some stage known what it's like to feel excluded. We might even have pretended to be someone we're not in order to be accepted. But not many of us are flawed enough to kill for it. After I saw Good Will Hunting I convinced he had the goods. And being a writer himself would better understand the issues at stake"
9. The Ring (2002)
The Ring is a 2002 American supernatural horror film directed by Gore Verbinski. It is a remake of the 1998 Japanese horror film Ring. Both these movies are based on a novel of the same name by Koji Suzuki. The Ring stars Naomi Watts, Martin Henderson, David Dorfman, Brian Cox, and Daveigh Chase.
In the movie, Watts played a journalist investigating a cursed videotape that seemingly kills the viewer seven days after watching it.
The Ring was released theatrically on October 18, 2002, and received mostly positive reviews, with critics praising the atmosphere and Watts's performance.
10. The Texas Chain Saw Massacre (1974)
The Texas Chain Saw Massacre was a groundbreaking movie for thrillers. It exhibited a level of gore that hadn't been seen in a film since then. It traumatized many of its viewers and was even banned in several countries.
This 1974 slasher film was directed by Tobe Hooper. It stars Marilyn Burns as Sally Hardesty, Paul A. Partain as Franklin Hardesty, Edwin Neal as the hitchhiker, Jim Siedow as the proprietor and Gunnar Hansen as Leatherface. The film was marketed as a true event reenactment but only loosely took inspiration from the murderer Ed Gein.
The Texas Chain Saw Massacre follows a group of friends who fall victim to a family of cannibals while on their way to visit an old homestead.
ALSO READ: Top 25 Best Horror Movies To Watch On Netflix Right Now