Top 25 Best Horror Movies to Watch on Netflix Right Now (December 2019)
Here are the best movies on Netflix that you can binge on this Thanksgiving month.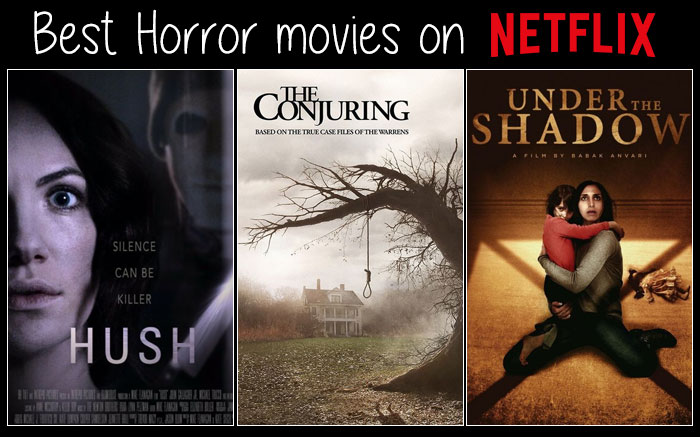 Looking for the best horror movies on Netflix to stream tonight? We here at TheLiveMirror got it all covered for you. There is no definite time required to watch a horror movie. However, when December is here and it is the best time to  scare your friends and family with some scary movies. Gone are old days to enjoy Halloween 2019. Now, is the time to get all your thrill and goosebumps, your tricks and treats streaming horror movies on Netflix. Thanksgiving is here we present you best horror movies available on Netflix right now that you can enjoy and have a good time. The Best TV Shows & Movies To Watch On Netflix.
Best Horror Movies on Netflix Right Now
This is one of the best horror movies released back in 2010 and is in top list of our Thanksgiving horror movie watchlist. It was a huge box office success earning 9.7 crores USD. The film was directed by James Wan. The first part of the film series Insidious. The storyline goes this way that a family tries to save their son who falls into a coma after an incident in the attic. Now, they can only get back their son by witnessing paranormal experiences.
"the crowning achievement of James Wan's fascinating filmmaking career thus far, Insidious packs on its roaming, fluid shots with endless amounts of tension and bursts of nightmarish nonsense. It's one of those rare ghost tales that use colour with almost percussive attention, most notably in the bright red streaks of the man with the long, sharp nails…" Chris Cabin wrote in Collider.
Belonging to mystery, horror genre. The Witch is one batshit crazy movie to watch out for. The setting of the story is in New England in the year 1630. The storyline of this horror movie streaming on Netflix is that Katherine and William make efforts to lead a dedicated Christian life. They have five children. However, when their newborn son disappears and their crops ruin, the family turns on one another as a result. It is an in-depth history of a family unveiling their own sins making them becoming prey of evil. The director of this film is Robert Eggers. It is one of the scariest, spine-chilling movies to watch. The portrayal of the witch in the film is not a typical witch going crazy over toads, she is far more sinister than you can imagine.
The ritual is a story of a group of college friends who come together for a trip to the forest but they encounter a fearsome presence from the woods that's stalking all of them. It is a horror, mystery and thriller genre. The director of the film is David Bruckner. plus point? Available on Netflix. It is by far the creepiest film to watch. It will keep you on tenterhooks for a long time. Not one of the typical horror movies that you might usually watch. The movies is all about mystery and dread. It's one kind of movie that may sound promising to you.
Released in 2013 this movie was one of the scariest movies on Netflix that made everyone run to the theatres just because of its popularity and success. Not for the weak- heart. Don't watch this movie alone. It could leave you hiding your face behind the pillow or make you bite your nails in suspense and mystery of what terrifying could happen next.
The movie is based on real-life paranormal investigators. The two investigators Ed and Lorraine Waren are called upon by Carolyn whose farmhouse is witnessing disturbing paranormal events. It's up to the investigators to defeat the evil menacing presence in the house that is creating havoc in the family's life. James Wan is the director of this classic scary film. He had already given hits such as SAW that was released in 2004 and then again in Insidious in 2010. The Conjuring could be the best film to give you the much-needed scares and easy to stream on Netflix.
The story of this scary film revolves around Wilfred James a proud farmer who murders his wife with the assistance of his unwilling teenage son.  He succeeds in gaining the ownership of her inherited land. But things don't go down well as strange events unfold and take place in James' life and his farm. It is a slow but scary movie that will test your patience all the while in the film until the twist began to take place. The film directed by Zak Hilditch and co-written with Stephen King is one horror movie to put in your wish list and watch out for.
The film is set in South Korea where a zombie virus breaks out in the train. A father takes his daughter Soo-Ahn to board a train KTX from Seoul to Busan. It is during the journey that the catastrophe takes place where most of the earth's people turn into flesh-craving zombies. Though the KTX  is running towards Busan, it is the passenger's life at risk who fight for their families and against zombies and one another. The concept of the film as intriguing as the storyline sounds 'Zombies on a train'.
This scary movie is Stephen King's novel adaptation. Directed by Mike Flanagan. Flanagan has had his list of horror hits and this is one hell of a spooky scary film to watch. A fun, harmless game between a married couple becomes a fight for Survival for Jessie, Gerald's wife. It is the events unfolding after her husband's sudden death that may terrify you the most. The events unfold showing scenes of Jessie's past life hidden somewhere in her mind and the possible lurking presence in the house. One of the best psychological horror.
Just because the movie is drama, mystery, thriller, doesn't mean it that it doesn't have the essence of horror at all. Directed and written by M. Night Shyamalan. If this horror movies is on your watchlist then get ready to thrill to the core. Malcom, a child psychologist receives an award on the night when he is paid visit by a sad, upset ex-patient. As the incident passes, Malcom decides to help a young boy with similar ills like the previous patient. The problem of the boy is that he sees dead people which by the way also is the famous tagline of the film. "I see dead people."
The storyline of this horror movie is extremely unusual yet enticing enough to watch out for. A deaf and mute writer goes to live in the remote woods where a masked killer appears at her window. Now she must fight for her life silently. Seems exciting enough to get popcorn? Then, go for this scariest movie for Thanksgiving night. Directed by Mike Flanagan. Released in 2016, this is one home-invasion thriller that will give you the creeps you hadn't expected at all.
A mother and daughter struggle their lives and suffer in the war torn Tehran of the 1980s when a menacing evil begins to haunt their lives. Directed and written by Babak Anvari. This Netflix horror movie is the story of suppressed spirits and politically beguiling tale of angry spirits. The mother and daughter have to witness the supernatural, mysterious events unveiling before them and face them. The film has had 19 nominations and won 1 BAFTA film award. Don't you think this could be your best take on a horror film? Go for this as well.
This on-edge thriller will give you a discomforting silence till the end of the movie. Inspired by a true story the story-line of the film revolves around the life of a 15 year old girl named Veronica who conducts a seance with a Ouija board with her two school friends. Veronica's intention is to invoke the spirit of her dead father although things don't go down well with this creepy horror story as she unintentionally invites evil demons at the peak of a solar eclipse. Directed by Paco Plaza. The horror movie on Netflix is originally in Spanish language. A supernatural horror drama that will leave you in tension and glued to the couch from the beginning to the climax. It is on Netflix at your comfort level.
This psychological horror film on Netflix is the kind of right film for you to watch at the middle of the night. Two girls fight a demonic evil force when they stay at the boarding school during their winter break while other students leave as their parents arrive to pick them up. Kat and Rose are left behind as none of their parents come to pick them up. This dark, mysterious suspense is one film that may leave you distraught and shocked at the end. Directed by Oz Perkins, this slow tempo with moderate suspense will blow your mind as one event to another unfolds unexpectedly. Watch this supernatural scary film on Netflix now.
Bird Box is a Netflix original horror film. It will give you jumps, some shouts and creeps here and there. A mother must protect her children in the wake of a global terror and so she takes her children along with her to a deceptive river in order to be safe. The mother has to blindfold herself and her two children in order to stay alert with the terrifying presence lurking somewhere around them. Directed by Susanne Bier, it is one hell of a dystopian thriller to watch out on Netflix and have a nerve-racking time.
Two world class cellists have their terrifying horror rides. This Classis Netflix horror film is full of extreme twists and turns. A significant, exceptional thriller for the time being. Directed by Richard Shephard and produced by  Richard Shephard, Stacey Reiss and Bill Block is one top notch film to look out for on Netflix.
Tusk is not just a scary movie. It is a comedy biological horror film on Netflix. A podcaster flies to Canada to pay visit to a star of a viral video only to witness some unusual things that don't turn out well The recluse for whom the podcaster flew has a weird fantasy for walruses. This movie is not meant for all. While some may like it others might despise it as well.  Directed by Kevin Smith, this is one cult film to look out for as you stream on Netflix.
Eli is one my favorite horror movies on Netflix till date. It's a story of a young boy who is going through a debilitating auto-immune disorder because of which he has no choice but to shut himself from the world. He interacts psychically with others. The process of going through a number of unimaginable medical experiments, he starts having supernatural kind of hallucinations. This scary movie in the end is going to turn out crazy in the end with you ultimately being in for a surprise. Many viewers after watching this new released movie on October 18 have claimed of having felt some kind of creepy feeling after having watched it.
Malevolent is one of the scariest movies on Netflix. A team of so-called scam artists make huge money from fake paranormal encounters. Things change for them drastically when they receive more than they bargained for it. Events unfold and one by one the person is hunted after as soon as the people realise what they were in for. This is one film that will make you bonkers all over.
A 2012 American film. Would You Rather is a scary film that will show that a game can put you at a life or death stake. It doesn't talk about supernatural stuff or ghost but will still horrify and creep you out as you see people playing the game harming themselves as the card is reveals to them one by one.
17-year-old Cassie has a genuine bond with technology's latest intelligent personal assistant. Later on surprising things unveil when Artificial Machine Intelligence manipulates Cassie into committing dangerous acts of murder. It is now up to Cassie to decide whether or not to get influenced by the phone malevolent ways. This scary movie will make you ponder how AI can affect you more than you can think.
The scary film Emelie has phenomenal acting. Emelie comes to babysit a family. As soon as the parents of the kids leave she shows very odd behaviors to the children. The film exhibits how babysitting can go wrong. Emelie is a psycho-killer. The kids are left alone to defend themselves from Emelie. Watch out how she prays at the innocent children.
Written and Directed by Osgood Perkins, this Netflix original supernatural horror film shows a caretaker Lily who looks after an old horror writer as she suffers from dementia. However, the old lady house is the one that has the possibility of being haunted. Unlike other scary films, the director makes to create the atmosphere creepier and unimaginable successfully than anything else you could have thought.
Don't just watch the Americanised horror films and enjoy the thrills. Look out for some amazing batshit crazy, cream of the top horrors that will be unforgettable and probably you might have sleepless nights watching foreign horror films. One such is a Thai Horror film on Netflix that was released back in 2004. Directed by Banjong Pisanthanakun, this one supernatural Scary film will keep you screaming till the end.
Super Dark times is also streaming on Netflix. The film is a psychological thriller. The directorial debut by Kevin Phillips is about a terrible accident that and what it makes of the two kids involved in it. It is after the accident that a pair of teenage boys who were once inseparable lose all their innocence from jealousy, paranoia and violence.
Sinister 2 the sequel of Sinister 2012 shows Shannyn Sossamon playing the role of a mother in the film whose sons are heavily tormented by the ghostly children taken by Bughuul in their rural farmhouse. It is one film that can give you the jump scares. The sequel is streaming on Netflix.
Murder Party is not just horror but comedy too on Netflix. The horror comedy film is Jeremy Saulnier is a low-budget debut but just don't go for the horror-comedy thing. It will give you the much-desired creeps as well. The film is about a loner who is invited to a Halloween party. He makes his decision to go and that's his only mistake.
Also Read: 15 Best Halloween Makeup Ideas
These are the top 25 best horror movies on Netflix to watch on Thanksgiving this year. Stay tuned, we will be updating this list of horror movies on netflix for you to keep streaming.