'Bigg Boss 13' Written Update, October 8, 2019: Paras chooses Daljeet over Shehnaaz for 'Rani No 1' Task
'Bigg Boss 13' 9th episode update: The battle for 'Rani No 1' has begun and Siddharth has picked Devoleena, who threw Shefali's pot in the pool.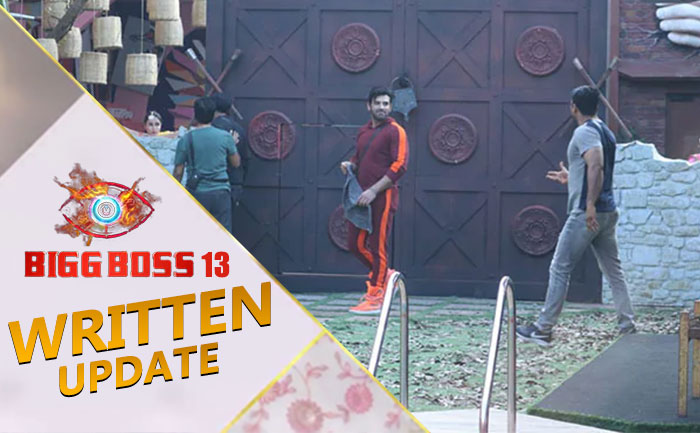 In Tuesday's episode of the reality show, 'Bigg Boss 13' the show has already witnessed a lot of drama, fights, controversies, and fun. The episode starts with Koena Mitra and Daljeet Kaur discussing the nomination task and complaining about Rashami Desai's reaction after the nominations. Meanwhile, she also goes on to call some people fake.
Later, Bigg Boss gives good news to the housemates that there will be no more bed partners and they can choose their partners at their own from now. Mahira and Asim decided to share a bed together. Rashami and Devoleena opt for the warm area of the room for their beds.
Post that, Koena and Siddharth Dey have a conversation about Asim. Koena says that she's affronted that Asim asked her talk about his body. Shefali later has a little quarrel with Siddharth Dey about the nominations. Arti also indulges in the conversation and screams at him for double standards.
Shehnaaz acts like a possessed spirit and scares everyone with her acting, starting with Siddharth Dey. Later on, she tries scaring Asim too. She mimics Koena and makes everyone laugh. Later on, Paras and Shehnaaz sort out their differences. Shehnaaz says that everybody is trying to break them up.
Gharwalon ko entertain kar rahi hai #ShehnaazGill ka yeh ghost wala tedhapan! Are you tuned-in?  #BiggBoss13 #BB13 @BeingSalmanKhan @Vivo_India pic.twitter.com/HaFAZ9GUF2

— COLORS (@ColorsTV) October 8, 2019
The next morning, the housemates wake up to the song 'Nagada Sang Dhol'.  Siddharth Shukla and Asim tell Devoleena that they cannot eat rice every time as they need roti for either dinner or lunch. Devoleena also says that she can't be in the kitchen all the time. Shukla screams at Paras that dal, roti, rice is important.
Later, Devoleena asks Bigg Boss to give the task to boys and calls herself a maid. She later gets emotional and says that everyone comes separately and demand the food at their own free will and time. Rashami tries to talk to her and suggests she should not make it.
Dalljiet then approaches Paras about the same and says that he is not doing his work of looking after the 'ration.' Koena says that the boys should be given the responsibility of the kitchen to understand the same. Later, Sidharth says that everyone got footage due to this argument. Mahira then gets pissed and says that everybody is here for footage only.
Devoleena requests others later on not to interfere when she is doing her own duty. Devoleena says that she doesn't interfere in problems with the washroom. Shefali then confronts Asim about keeping the bathroom clean which makes him angry. Paras says that the bathroom is not clean. Asim then accompanies him to the bathroom and asks the latter to teach him about cleaning a certain portion of the bathroom.
.@Devoleena_23 garam garam khaana bana rahi thi, par ab khud hi ho gayi hai gusse se laal!?#BiggBoss13 #BB13 @BeingSalmanKhan @Vivo_india pic.twitter.com/6syWGal2Ea

— COLORS (@ColorsTV) October 8, 2019
Shehnaaz and Devoleena have a heated argument, Gill says that paratha is too thick, and her atta will get over. Shukla later joined them and pointed out that nobody is happy with the quality of rotis. Rashami supported Devoleena in the fight and shouted at Siddharth. The fights continued after the lunch also and both were seen making remarks about each other's behavior.
Kitchen mein sirf garam khana hi nahi ab bann raha hai mahaul bhi garam, between @TheRashamiDesai aur @sidharth_shukla!
#BiggBoss13 #BB13 @BeingSalmanKhan @Vivo_india pic.twitter.com/tU5c5lhq0t

— COLORS (@ColorsTV) October 8, 2019
Rashami tells Shehnaz that says that she sympathizes with boys and not for female contestants. Koena calls Siddharth mannerless, to Rashami. Desai says he's thankless. When Shukla comes back to fight, Desai walks away and says that she does not like the negative people around her.
In the afternoon, Bigg Boss announces the second task which is called 'Rani No 1′ wherein a female contestant will get an opportunity to be the Queen. The task begins and Siddharth Shukla saves Devoleena and throws Shefali's pot in the pool. Later on, Paras ends up unlocking Dalljiet who then breaks Shehnaaz's pot.
Shehnaz gets upset and tells Shefali that Paras has broken her heart twice and that Paras is playing safe in the house. Shefali tells Paras why didn't he use his influence. Paras tells Shehnaaz that Shefali influenced him. In the upcoming episode, Shehnaaz complains about Paras' diplomacy.
Kya @ArtiSingh005 ko lena chahiye tha @koenamitra se panga?
Watch it on #BiggBoss13 tonight at 10:30 PM.

Anytime on @justvoot.@Vivo_India @BeingSalmanKhan @bharatpeindia #BiggBoss #BB13 #SalmanKhan pic.twitter.com/kH9xWcFzgV

— COLORS (@ColorsTV) October 9, 2019
For further updates, watch Bigg Boss13 Mon-Fri, 10:30 PM & Sat-Sun, 9 PM only on Colors TV.
Bigg Boss 13: Koena Mitra Opens Up About Her Past Relationship