'Bigg Boss 13' Written Update 16 October 2019: Rashmi opens up about Siddharth's ABUSIVE behavior on the sets of 'Dil Se Dil Tak'
'Bigg Boss 13': Paras Chabbra tells Shehnaaz Gill about Rashmi and Siddharth's love-hate relationship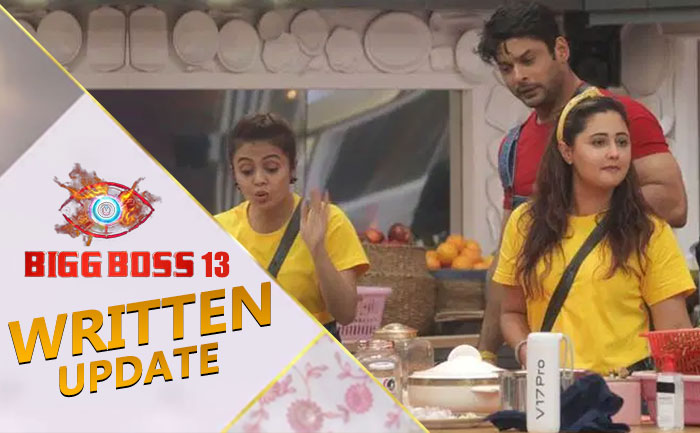 Bigg Boss 13's finale is approaching and the contestants are pulling out their biggest cards to survive through the weeks leading up to the finale.
The 16th October episode of Bigg Boss 13 starts with girls gathers to collect raw materials for the task. Later,  Shukla and Dey were seen giving advice or pushing and cheating. Siddharth Dey tells Shefali that she should not get frustrated. Paras accused the opposite team saying that they've reused old toys.
Paras also shows Siddharth that the cotton is missing, and rejects it. Shukla asks him to do what he likes. Siddharth Shukla asked Shehnaaz if she was really in love with Paras, she denied. He asked her why she fights for him all the time and she said, "Mai to waise hi bol rahi thi ."
Mahira was seen accusing Abu of not moderating the task appropriately. Shenaaz then points out at Mahira's attitude. Later, Mahira calls Gill a street person. Paras was seen rejecting the toys for Shukla's team, Bagga was seen fighting with him saying, "Aise kya bol raha hai pet bada hai? Bacche honge tere aise hi " Parasgets angry and he yelled at her, "Bacche bacche kya hai? Tere saath honge mere aise bachche!  Abu then informs Bigg Boss that Shukla's materials are over.
Bigg Boss cancels first order because none of the teams completed their orders. Shukla and Gill then discuss why Devo is angry with Shukla later, Gill says Rashami would have done something. Shukla then says, "Right, right. Wo apni baat sahi karne ke liye kuch bhi jhooth bol sakta hai."
The next morning, the contestants wake up to 'Main Khiladi Tu Anadi'. Shukla asks his team to eat whenever they want to, instead of gathering with all the housemates together
Rashami tells Devoleena that,"Wo gaaliyon se marta tha, mai pyaar se. Usne production walo se bola mujhe nikalne ko. Unko problem hoti thi humare jhagdo se par unhone isko nikala. Baad me maine be show chor diya aur fir show band bhi ho gaya" Devoleena is shocked that Shukla abuses.
Devo confronts Aarti, and says that no matter what Devo should ask Aarti directly. On Dey's talk, Aarti says not to listen to him. Aarti discusses with Shukla that she should inform Devoleena about Rashami, and he refuses. Then they realize that Rashami was in the washroom area, and Shukla abuses Aarti.
Dey suggests the girls that they should get inside the container and the ones outside should shut the door. Just to add some drama to the task, the girls can scream from inside to let them out. Shukla gets called first and he rejects all toys again and Paras, in a fun mood, rejects all toys too. Shefali tells Paras to keep quite and reject, rather than giving stupid reasons. Shefali calls him a loser and Gill asks her to stop, saying that she would beat Shefali with a plate and later SHfeali stops arguing with Paras and Paras calls her a bore. Gill says she is pissed and wants to slap Paras.
Devo tells Shukla that Rashami is upset over the 'negative energy' comment, and he says the problem is with Devo's group. Devoleena ends up crying in the kitchen area in front of Rashami and she gives him and hug, and lifts her from the kitchen to the bedroom later, they began discussing Shukla's statements that Devoleena is favoring Rashami.
Arti enters the bedroom and Devoleena tells her to try to make Siddharth understand. Arti gets angry and said she was no one to do such things. Siddharth soon enters as well and tells Devoleena, "Mere bare me baat ho rahi hai, by any chance? Agar ho rahi hai to batao mai aapko samjhaun."
Siddharth Shukla and Rashami get into an ugly fight over making some tea. Aarti tells Paras to clean vessels, and he denies it. Paras takes Shehnaaz away and apologizes to her and he tries to explain about Rashami and Shukla's equation, He also said that Mahira and Bagga know how he is an abusive person and had ugly fights with Rashami when their show was on the air. Paras says, "Isliye to wo chidhti hain usase, Devoleena ko bhi pata hai, ye sab industry ke log hain isliye jaante hain isko. Tujhe kya pata"
Kab tak chalti rahegi @sidharth_shukla aur @Devoleena_23 ke beech ki yeh garma garmi?
Dekhiye inn kitchen partners ko aaj raat 10:30 baje.

Anytime on @justvoot.@Vivo_India @BeingSalmanKhan #BiggBoss #BB13 #SalmanKhan pic.twitter.com/afoVUfRLSP

— Bigg Boss (@BiggBoss) October 16, 2019
Shehnaaz asked Paras why would they agree to participate in the show if they has so many issues. Paras then asked her if she could talk with love and remain calm if someone she had had a bad experience with, entered Bigg Boss house. Shehnaaz said, "Muh tod dun mai toh" Paras said, "Tera gussa gussa, kisi aur ka gussa gusssa nahi hai? " Post the discussion, Shehnaaz goes to Siddharth and tells him, "Mai tere saath hi hun."
Later as all the contestants were seated in the living area, Bigg Boss expresses his disappointment for not performing and showing a lack of respect throughout the task. Shefali blamed Paras and says he was the first one to reject all teddies of the opposite team. Paras yells back at her and says that everyone is equally to be blamed as even Siddharth Shukla.
For further updates, watch BiggBoss13 Mon-Fri, 10:30 PM & Sat-Sun, 9 PM only on Colors TV.
ALSO READ: Bigg Boss 13: Siddharth Shukla And Shehnaaz Gill Fall Asleep Holding Hands