Nishikant Dubey demands CBI probe in child trafficking row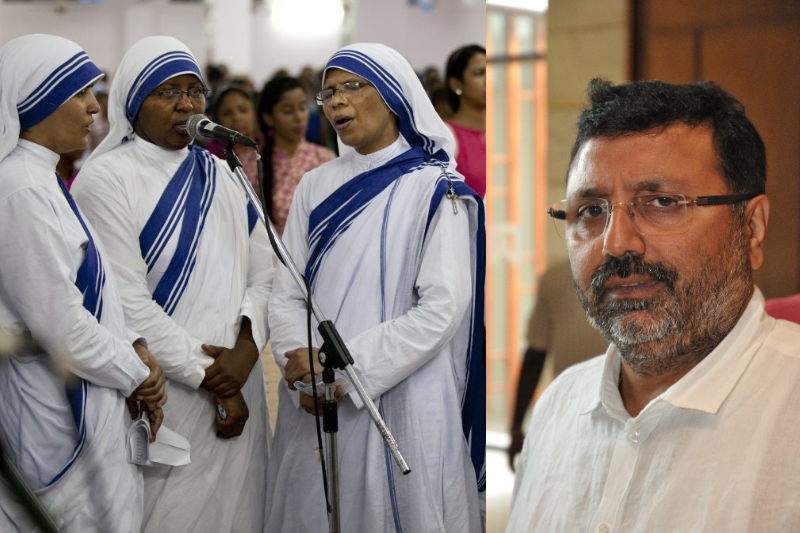 With the Women and Child Development Minister ordering state government to inspect child-care homes run by the Mother Teresa-founded Missionaries of Charity (MoC) on Tuesday as cases of child trafficking in Jharkhand has rocked the nation, BJP parliamentarian from Godda district in Jharkhand Nishikant Dubey demanded a CBI probe into the incident and sought the NDA-ruled government in the Lower House of Parliament to make a law to stop religious conversions.
Attacking the MoC and alleging that the institution is involved in the religious conversions of tribal people, Dubey said that the MoC is involved in illegal activities and their finances should be scrapped. He said, "There should be a CBI probe into the child selling row and a law should be passed in the parliament to stop religious conversions." However, he did not speak about lynching in the state or mob harassing of Swami Agnivesh.
This is to be kept in mind that Meneka Gandhi had directed the state machinery to ensure that all the child-care institutions (CCIs) were registered and linked to the country's apex adoption body within a month. But, the comments of senior RSS leader Rajiv Tuli and BJP leader Subramanian Swamy on revoking Mother Teresa's Nobel Prize are quite disturbing.
MoC disowns accused, keeps faith in judiciary
Now looking at the other angle on being attacked from every sphere, Missionaries of Charity had released a statement on Tuesday where they are seen neither supporting the arrested Nuns nor accepting the allegations of child selling and religious conversions.
The statement says, "Even while we place our full trust in the Judicial process that is underway, we wish to express regret and sorrow for what happened and desire to express in unequivocal terms our condemnation of individual actions which have nothing to do with the Congregation of the Missionaries of Charity. We are fully cooperating with the investigations and are open to any free, fair and just inquiry. In this context, specially in view of many myths being spread, information distorted and false news being diffused and baseless innuendos being thrown about regarding the Mother Teresa Sisters, it is expedient to lay down the turn of events as they actually transpired."
According to the reports, Jharkhand Police have arrested Sister Concelia MC and Anima lndwar withe the allegations of child trafficking, another Nun Sister Marie Deanne MC was detained for questioning and later released. All three belong to MoC's centre in Nirmal Hriday in Ranchi. Jharkhand Chief Minister Raghubar Das had planned to freeze the account of FCRA funding of MoC, however has alleged that this is a conspiracy to malign the image and good work of charitable organisation by communal forces.