20,000 BJP workers invited for grand welcome of PM Modi
BJP is very much confident that they will come as a winner and form government this time too.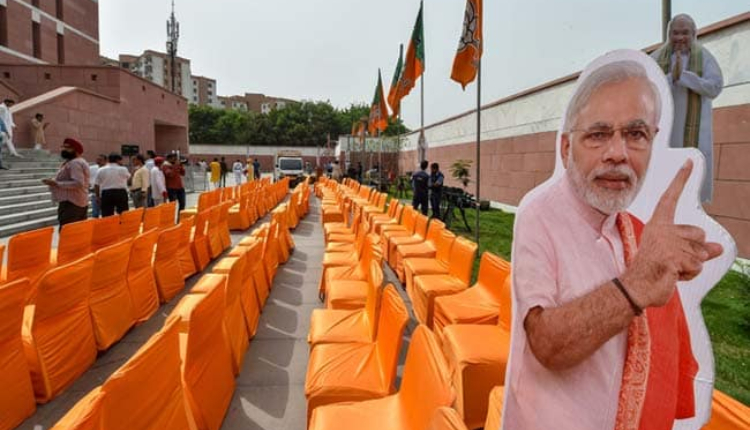 Lok Sabha Elections 2019 counting has begun from 8:00 am Today. In 2014 Lok Sabha elections, Bharatiya Janata Party (BJP) won 282 seats and formed the government. This year too, BJP is confident that they will come as a winner. Narendra Modi is heading in almost every constituencies. The BJP party has invited 20,000 workers to come to the headquarters in Delhi this evening. There will be a grand welcome for the PM Narendra Modi and it has been organised by the party workers. All the winning candidates are invited to Delhi by May 25.
As per the Exit Poll 2019 Lok Sabha elections, BJP will get 300-plus seats out of 543 seats in Lok Sabha and will come out as the winner in the Lok Sabha Elections and serve for yet another five years.
Congress is not ready to accept the exit poll verdict and Congress President Rahul Gandhi said, "Do not get demoralized by the fake exit polls doing the rounds."
Elections were held on 542 of the 543 Lok Sabha seats and a party or alliance needs 272 seats to form the government.
As per reports, Smriti Irani is leading in Amethi leaving behind Rahul Gandhi. In states like Odisha, Arunachal, Delhi, Surat, and many states BJP is leading with huge numbers.
Festive mood has started inside the headquarters of Delhi. The party workers and spokespersons have arrived and Amit Shah and other party leaders are expected to arrive soon as per the latest update.
We will keep you updated on the Lok Sabha Elections 2019, stay tuned to our space.
Also Read: Lok Sabha Elections 2019 Live News Update: Smriti Irani Is Running Ahead With 2,000 Votes