UP elections 2019: BSP miffed as Congress props up Chandrashekhar Ravan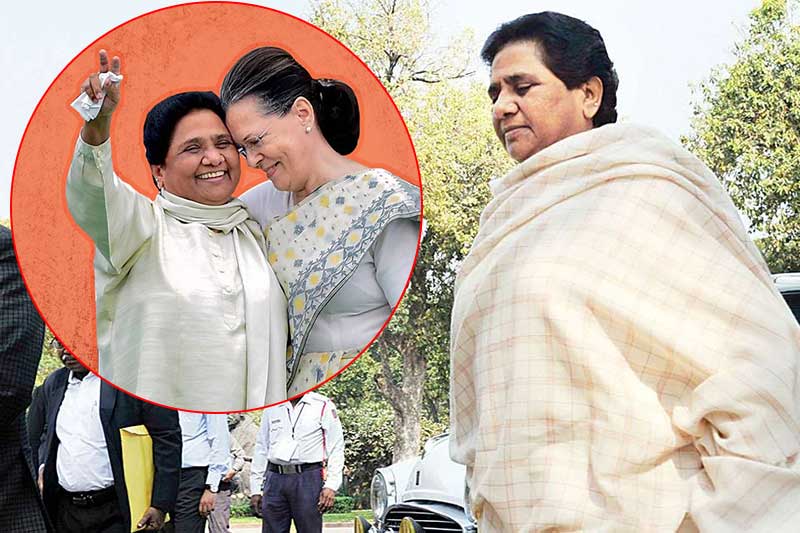 Upset Bahujan Samaj Party (BSP) chief Mayawati may shut the doors on an alleged alliance with the Congress in the 2019 general elections, as the Congress party is hobnobbing with the Bhim Army chief Chandrashekhar Ravan in Uttar Pradesh (UP).
This attitude of Mayawati is a far cry from the big hug that she had given to Sonia Gandhi at the Karnataka chief minister's swearing-in, just six months ago. According to sources, Mayawati has sent a stern warning to the Congress leadership for propping up Chandrashekhar. In fact, Chandrashekhar has emerged as Mayawati's rival to claim Dalit politics.
The BSP supremo has even stated that Congress state vice-president and senior leader in western UP Imran Masood, who is sewing up an alliance with Chandrashekhar with an eye on 27 Lok Sabha seats in the region.
BSP recently walked out of an alliance with Congress in state-level elections in Rajasthan, Madhya Pradesh and Chhattisgarh. This walk out has created a huge setback to the Opposition's effort to raise a united front against BJP.
Now, Opposition parties were banking upon a Grand Alliance comprising Samajwadi Party (SP), BSP and Congress, along with Ajit Singh's Rashtriya Lok Dal (RLD) in UP to unseat the BJP. Out of 80 Lok Sabha seats, BJP-led NDA won 73 seats in the state.
Congress leaders acnowledged that Masood had helped the Bhim Army chief in jail. "Masood-sahib supported us in difficult days," concede Chandrashekhar from Saharanpur to DNA over the phone. "He and his community have always tried to give security to Dalits."
Though he rejected the idea of an electoral alliance but emphasised that a Dalit-Muslim alliance, with representation from other backward classes, was imperative to defeat communal forces.
Chandrashekhar's associate, Kamal Waliya, said that the Bhim Army is working on a united alliance against the BJP and does not intend to divide Dalit votes. He further said, "We all respect Mayawati and can join forces with her to defeat BJP in 2019."
Commenting on the matter, a senior BSP leader said that UP Congress was not learning from its mistakes. "They are following their colleagues in Madhya Pradesh and Chhattisgarh to weaken BSP to lay their hands on Dalit votes," he stated. "Bhim Army is trying to damage BSP's mission by creating a dilemma among Dalit voters, and the Congress is supporting them indirectly. It is doing every kind of anti-grand alliance activity."
The leader also mentioned that a stern warning has been issued and Mayawati will take it up with Sonia Gandhi and Rahul Gandhi as soon as she is free from campaigning in three poll-bound states.
GRAND DIVORCE
In MP, Mayawati had asked for 40 out of 231 seats. But her demand was cut down to 30 seats on condition of a package deal with Rajasthan
However, since Congress it did not see the party as a major player in Rajasthan, so it offered only nine seats to BSP out of 200 in Rajasthan polls.
As a result, Mayawati walked out of the alliance in Chhattisgarh after Congress offered only 5-6 seats out of 90.
Also read: Chhattisgarh Assembly elections: PM Modi attacks Urban Naxals, slams Congress