BTS: Jin debuts new hair colour and fans are losing their minds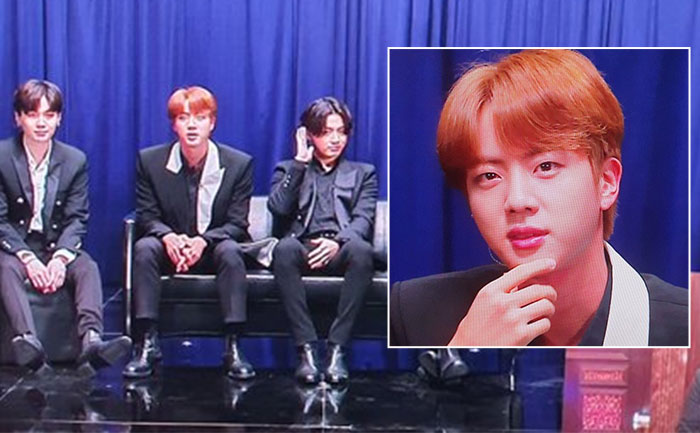 ARMYs know that whenever BTS members change their hair colour there is a special meaning attached to it. The members have repeatedly dyed their hair different colors for different album eras. So when Jin debuted with new hair colour and others concealed their hair in hats during an online event in Japan. Fans just could not keep calm.
ARMYs know that when members of BTS have new hair colors, it means content for their new album will arrive soon.
BTS' Map of the Soul: 7 The Journey online talk event aired live on Saturday, Aug. 1. The event was reportedly exclusive for fans in Japan. But pictures from the do are viral on the internet. While Jin openly showed off his red hair colour, ARMY was intrigued by RM, Jimin, and V who used black fedoras and a black beret to conceal their respective hair colour.
Here is how fans reacted:
Namjoon, jimin and taehyung hiding their hair color and there's jin exposing that he has orange hair the confidence kskdkskskkdkskskskks #RM#JIMIN#V#JIN#BTS#방탄소년단 pic.twitter.com/mEWbyl6id0

— 방탄소년단 (@bts_borahaeyoo) August 1, 2020
JIMIM WEARING A BERET TAEHYUNG AND NAMJOON WEARING HATS ?!!! NEW HAIR COLORS AKAJSJSKJS AND JIN'S HAIR COLOR !!! ALL FOR COMEBACK LIKE HELLOOO #MTVHottest BTS @BTS_twt pic.twitter.com/MuPZNObN4G

— F⁷🎗☻ ( ia ) (@CosmosOfJoyHope) August 1, 2020
Taehyung hiding his hair before bts comebacks. A saga pic.twitter.com/wFb12SFo8S

— Strawberries bear ❄️ (@Strawberries321) August 1, 2020
BTS has recently announced their new single, which will be the band's first group song. It will be completely sung in English and will debut ahead of a new album. The track was announced on July 27 during an OT7 VLIVE live stream. You will have to wait for Friday, Aug. 21 for the digital release of the track
Also Read: BTS To Star In Outdoor Reality Show 'In The Soop'