BTS ARMY Loses It After Singer Jungkook Goes Shirtless
BTS's Jungkook Went Shirtless On Set — Jin Said, "Film It!" Watch the video here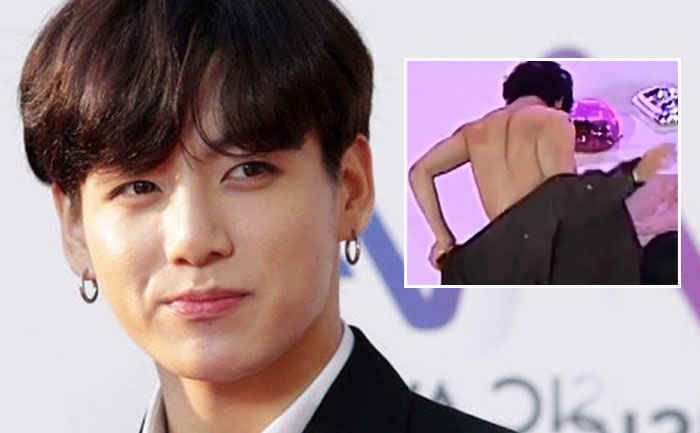 ARMY is loving each moment from BTS singer V taking to Weverse to share selfies. to Jimin hosting a VLive, which also saw a cameo by RM. But the best was when Jungkook raised the temperature to a new high as he went shirtless in a BTS video. The now-viral clip sees Jungkook along with his band members Namjoon, Mochi, Jin, Taehyung, J-Hope and Suga engrossed in a task. The highlight was when Jungkook took off his shirt and Jin said, "Film It".
In Episode 97 of Run BTS!, BTS had a pajama party where they played games, each member changed into whichever pajamas their paper airplane landed near. In the episode's behind the scenes, Jungkook strips down on set. As his members "whoa" and "wow" at his physique. Jin can be heard shouting to the staff, "Jungkook is stripping, please film this!"
Watch it here:
Kookie removed his shirt to change into another set of clothes before he could join the team for the task. The moment, which wasn't a part of the Run BTS episode, has driven fans crazy.
Check out a few more reactions below:
Oh.. Jungkook~ pic.twitter.com/odc99vNptt

— andrea ♡s bts⁷ (@blackxagustd) March 26, 2020
Oh.. Jungkook~ pic.twitter.com/odc99vNptt

— andrea ♡s bts⁷ (@blackxagustd) March 26, 2020
cause of death: jungkook's back pic.twitter.com/79ZdCi95Oz

— ➳ g⁷ tenna day ★ (@kootease) March 26, 2020
Jungkook doesn't only have a perfect back's muscles but fantastic skin as well ? pic.twitter.com/K9Aoixq3Ks

— ???? ʲᵏ (@MytimesJK) March 26, 2020
who tf needs Justin Timberlake when Jungkook is bringing sexy back pic.twitter.com/HUhAaFBUDI

— b ⁷? (@mygukks) March 26, 2020
BTS has recently announced that they are rescheduling their Map of the Soul tour dates for North America. Their decision to change dates comes amid the Coronavirus outbreak.
Also Read: BTS's Jin Gifted Memorist Actor Yoo Seung Ho A Coffee Truck …