BTS Map of the Soul: 7 is a hit in top five music markets of the world
BTS is now dominating album charts in the top five largest music markets in the world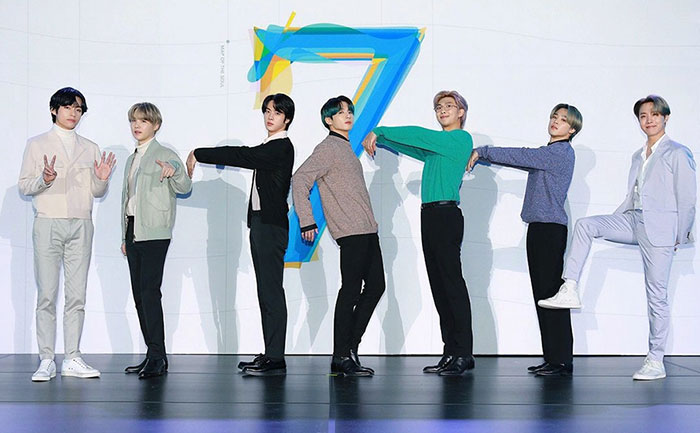 BTS unveiled their latest album 'Map Of The Soul: 7' that has gone on to win over fans globally. The songs are loved by the fans and the group is now headed toward world domination. The K-Pop group have managed to achieve a feat few artists have been able to do so. BTS is now dominating album charts in the top five largest music markets in the world
Yes, Map of the Soul: 7 has now risen to No. 1 on the albums charts in all of the top five music markets in the world. The latest album by BTS has now scored No. 1 in the world's top five biggest music markets: the United States, Japan, Germany, the United Kingdom, and France. They are the first Asian group to achieve this feat!
The United States: This is one of the largest music market and this where the Map Of The Soul: 7 has performed quite well. The critically acclaimed album debuted at #1 on the Billboard 200 with 1st-week equivalent sales of 422.000, the largest one-week sum of 2020. It's BTS's 4th album to top the US chart.
Japan: The band's latest album is a hit in Japan too. On March 3 KST, Japan's largest music statistics site Oricon announced that BTS's new album "Map of the Soul: 7" has taken No. 1 on its weekly albums chart with 377,000 sales. Japan is the second-largest music market in the world.
United Kingdom: Island Country United Kingdom is next on the list. The UK Official Charts announced that 'Map of the Soul: 7' was No. 1 on its weekly album chart. It's BTS's 2nd No. 1 album in the United Kingdom, after "Map of the Soul: Persona" last year. They're now the first Korean artist to do so twice! "Map of the Soul: 7" had opening week chart sales of 38,000 in the UK the third largest music market. It is now the fastest-selling album of 2020 so far in Great Britain.
Germany: BTS also went on to achieve this feat in Germany. 'Map of the Soul: 7' went to be No. 1 on the Official German Chart, making BTS the first Asian Act to achieve the feat in the fourth-largest music market.
France: The fifth-largest music market in the world is France. 'Map of the Soul: 7' hit No. 1 on the SNEP Top Albums chart with 23,502 equivalent sales. BTS broke another barrier as the first group from Asia to rule in the European nation. Yes, BTS made history as the 1st Asian Act to top the SNEP Album chart in France
Map of the Soul: 7 has also reached No. 1 in a handful of other nations as well. 'Map Of The Soul: 7' has now topped a total of 14 countries including the World's 5 top markets
Also Read: Korean Boy Band BTS Cancels Seoul Concerts, Cites Coronavirus Outbreak