BTS sweep all categories in AMAs 2019
BTS swept the competition even in their absence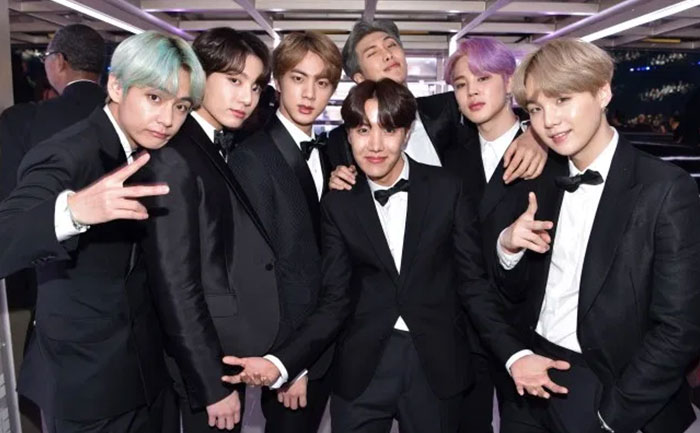 BTS absolutely dazzled the 2019 American Music Awards even without being there at the grand event at night. The popular group bagged home all three awards which they had been nominated for which also includes Tour of the Year Favorite Social Artist and Favorite Duo/ Group for Pop and Rock music.
Meanwhile, the BTS' fans also known as ARMYs had been constantly working hard to sweep awards for favorite group as they had accomplished their goal which also means that the show is completely fan voted where fans could cast their votes through social media and online forms.
Also, the group had lost at 2019 People's Choice Awards as they were somehow not nominated at 2019 Grammy Awards. Excitingly, this wins was for fans and for the BTS and they couldn't keep calm. Besides this, from being victorious for what they were nominated for, it was the seven that turned out as the first Korean group to win in Favorite Duo/ Group category. However, one noteworthy point was that they were also most awarded male group in this year's awards show.
Next to this, previously in 2018 AMAs, the group bagged Favorite Social Artist Award which made their second consecutive year winning the award. The BTS boys had really good competition against Jonas Brothers and Panic!, Billie Eilish, EXO, Ariana Grande, and Shawn Mendes.
Lately, the band had given their gratitude even though they couldn't attend the event. BTS gave thanks in a video that appeared on Twitter as well.
"Thank you so much! We are really honored to receive such an important and meaningful award. We are so sad we aren't there in person to handle it in person, but we hope to see you soon," they said.
Congrats BTS for WIN Best Duo/Group in American Music Awards ?? Im so happy wohoo#AmericasBestGroupBTS pic.twitter.com/b2snOTAQHX

— Fadhilatika4 (@Fadhilarmy98) November 25, 2019
Also Read: K-Pop Star Goo Hara Found Dead At Her Seoul Home