Speeding Car Falls off Hyderabad Flyover Killing 1 injuring 6
Speeding car falls off newly-inaugurated Biodiversity flyover in Hyderabad, 1 Killed & 6 Injured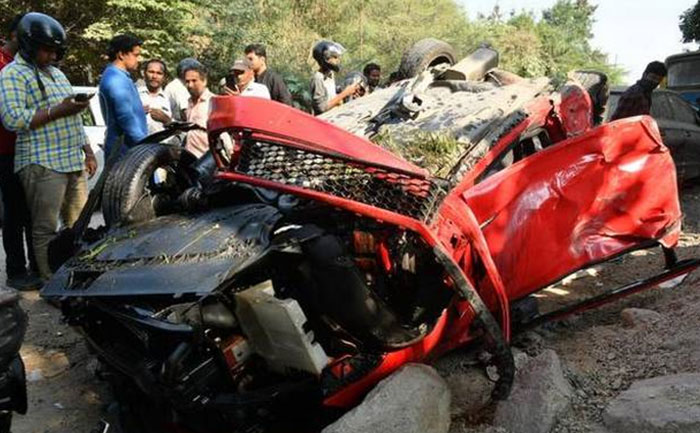 One person was killed and four others injured after a car lost control and fell from a flyover in Hyderabad. The car that was speeding at 104 km/hour lost control and fell off the flyover after hitting the divider killing one and injuring many. The incident took place at Biodiversity Junction in Hyderabad's Raidurgam
As reported by PTI, The car driver sustained injuries and was admitted to the intensive care unit of a hospital in the city.
Check out the video of the incident caught on camera.
Horrifying. CCTV captures speeding car crashing down from Hyderabad's new biodiversity flyover today, killing one pedestrian, injuring 6. pic.twitter.com/ANSYXcvbdC

— Shiv Aroor (@ShivAroor) November 23, 2019
Another angle captures the horror in full: Sickeningly irresponsible speed + awfully sharp flyover bend pic.twitter.com/4iYWXmq0fJ

— Shiv Aroor (@ShivAroor) November 23, 2019
In the video, it can be seen that there was regular vehicular movement on the street below the flyover when the car falls off the bridge. It rolled over twice before hitting a few people gathered at the spot. While some were able to run away from the spot, the car landed directly on one person killing her on the spot.
Horrific accident as over-speeding car @ 104 kmph skids off #biodiversity flyover in #Hyderabad. 1 dead, 6 injured. Please follow the speed limits and drive safely. ? #satyaperapu pic.twitter.com/hTz4pTRFS5

— SatyaNarayana Perapu (@Satya_perapu) November 23, 2019
Greater Hyderabad Municipal Corporation Mayor has announced ex-gratia of Rs 5 lakh to the kin of the deceased woman. He has also announced medical assistance to those who were injured. The flyover has been closed for the next three days.
A case relating to charges of causing death due to negligence was registered against the driver.
This is the second major accident to take place on the flyover since it was inaugurated on November 4 by Municipal Minister KT Rama Rao. Earlier, two were killed while four suffered injuries when 28-year-old techie, P Abhilash, was speeding his car at a high speed under the influence of alcohol.
Also Read: Watch: CCTV footage of the trains collision in Hyderabad