BTS Make A Hilarious Appearance On The Late Late Show With James Corden
BTS became the first Korean band to perform at the Grammys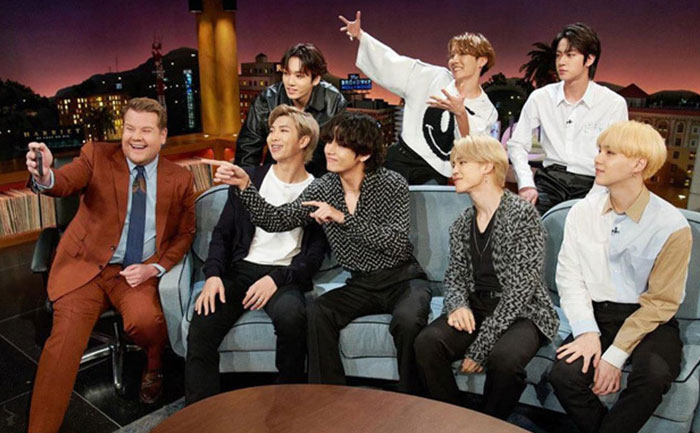 After their fan interaction with the ARMY at iHeartRadio LIVE, BTS made their way to The Late Late Show with James Corden. The boys performed their single 'Black Swan' for the first time on the show. "Black Swan' features in their upcoming album 'Map Of The Soul: 7′. The guest stars on the show were Ashton Kutcher and Cynthia Erivo.
While the chat with BTS was engaging, the real fun began when James Corden and Ashton Kutcher decided to start a game of Hide and Seek. They had to find the members of the band and whoever found four members first won the game. Hilarity ensued as Ashton lifted Jimin like a baby when he found him first. However, James was not to be left behind and soon found V, RM, and Suga in quick succession. Jin was also found by Kutcher as he hid in the photobooth. The Jobs actor proceeded to carry the singer to the studio on his shoulder. RM ratted out Jungkook who was found by Ashton as he hid in plain sight behind the camera. Lastly, James Corden wrapped up the game by finding the last BTS member in J-Hope to win the game.
BTS made history when they became the first Korean band to perform at the Grammys. They collaborated with Lil  Nas X for a rendition of Old Seoul Road, a retake on Nas' Old Town Road.
The #BTSxCorden hashtag was trending worldwide as CBS got ready to welcome the Korean stars on the show. Map Of The Soul: 7 is set to release on February 21, 2020.
ALSO READ: BTS' 'MAP OF THE SOUL: 7' Surpassed 3.42 Million Preorders