Owner of BTS V's favourite bracelet brand reveals how he changed the dynamic for her
Here's everything you need to know about BTS member V's favourite bracelet brand CCNMADE.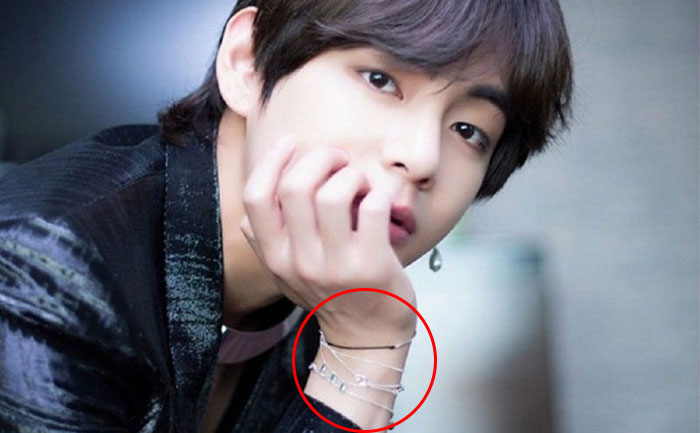 No one can deny the popularity of BTS members, especially V aka Kim Taehyung. Yes, days after we reported how a single picture of BTS's V with a book skyrocketed its sales in Japan, we have come up with yet another story of Taehuyng, which exponentially helped a brand to sustain.
If you are an ardent fan of BTS member V, you must have remembered in August last year V was trended and sold out a certain hand braided bracelet after being photographed in various styles.
Also Read | BTS V's 'Sweet Night' Crosses 100,000 Hearts On Melon, Becomes The First Bighit Artist To Achieve This Feat
As soon as his pictures went viral on social media, BTS ARMYs fell in love with the brand called CCNMADE, not only becuase V unofficially endorsed the bracelet brand but because of the brands' profit used to help cats, dogs and children fighting with the heart disease as well.
In a recent interview with Arirang, the founder of CCNMADE, Choi Chang Nam has revealed that she actually did not want to make her brand public.
Also Read | This Video Of BTS's Jimin & RM Making Dalgona Coffee Trends Globally
"She was grateful for V's patronage, of course, but she wasn't sure that it could make a difference. The doubt came from the years of slow business CCNMADE suffered. While the brand has been manually producing these unique bracelets since 1993, but the business never really took off because of "copy cat companies that mass-produced similar designs".
Also Read | BTS's V Bringing The Perm Back Is The Best Thing ARMY'll See Today
In the same interview, Choi Chang Nam has confessed that she felt rather hopeless about the business.
"I was on the brink of giving up. I decided this year would be my last push. The three stores I opened would be my final effort — and if that doesn't work, then that would be the end, I said," Choi Chang Nam said.
Also Read | When BTS's JIMIN & V Approached Baek Chan For THESE Musical Doubts
Then, a BTS ARMY employee insisted that the brand takes this as a chance to get the name seen. She tagged #CCNMADE in V's pictures flaunting the bracelet — and like that, a single hashtag turned out a game-changer for Choi Chang Nam.
어제 뜬 영상에서도 팔찌가 너무 잘 보여서 심쿵?
디프런트 그린도 차고 계시네요!? #방탄소년단 #뷔 씨께서 착용하신 팔찌 다시 정리해서 올립니다 🙂 팔찌 조합이 센스 만점??? pic.twitter.com/nBn7RW2MiD

— ccnmade (@ccnmade) September 5, 2019
"She tagged #OurBracelet and #CCNMADE… and it blew up. That was in August but we are still receiving orders from that rush. And even though we're facing an unprecedented trying time with COVID-19 happening, we believe we'll make it through this too," Choi Chang Nam added.
It is so clear to see our bracelets that #BTS #V wears in the video from yesterday – which makes our hearts skip a beat ?
He also wears different green! ?
Check this out – the bracelets that #V wears recently 🙂
Those bracelets are in harmony ? pic.twitter.com/Avz6tWICLa

— ccnmade (@ccnmade) September 5, 2019
According to reports, CCNMADE brand is currently hiring more employees to get domestic and international orders delivered.
Choi Chang Nam thanked BTS's V for shedding light on independent small businesses like hers and, in turn, making the world a better place by donating to good causes.
"I guess this is the colossal impact that BTS have in the world right now. I'm really grateful," Choi Chang Nam concluded.