Bunty Aur Babli 2 Release Date Announced
Saif Ali Khan and Rani Mukherji will reunite after 11 years for Bunty Aur Babli 2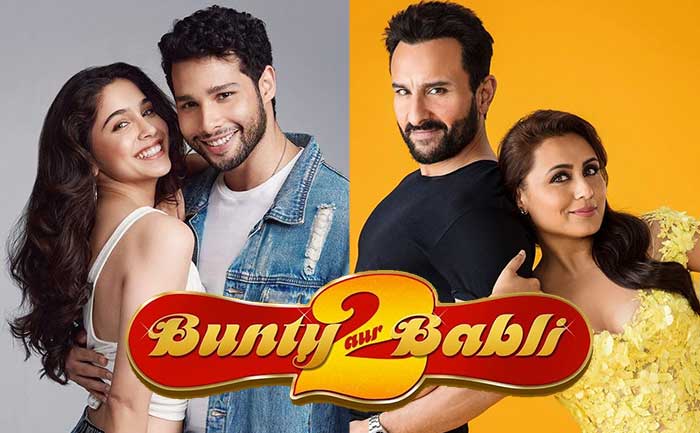 The original Bunty Aur Babli stole the hearts of the viewers with its quirky, bubbly charm. The film grossed over 634 million worldwide on a budget of ₹120 million. Now, the cast of Siddhant Chaturvedi, Saif Ali Khan, Rani Mukerji, and debutant Sharvari are back to con you with Bunty Aur Babli 2. The film has been one of the most talked-about projects in recent times. While the second installment is reportedly not connected to the first at all, fans are excited to see how returning Rani Mukherji will be cast in the film. Saif Ali Khan and Rani Mukherji will reunite after 11 years for this project.
There is good news for the fans who are eagerly awaiting the film. Yash Raj Films has officially announced the release date for Bunty Aur Babli 2. The makers took to social media to share this information. YRF made the announcement through Twitter, writing, "They'll con you when you least expect it! #BuntyAurBabli2 in cinemas on 26th June 2020. #SaifAliKhan #RaniMukerji @SiddhantChturvD #Sharvari #VarunVSharma @BuntyAurBabli2_"
In addition, the makers also shared a small announcement video that has the original soundtrack from Buty Aur Babli as its background score. The video warned fans that these con artists will con us again. It will be pretty interesting to find out how. The overall look of the poster, as well as title, is strongly reminiscent of the original and we can just hope that the film is equally amazing.
"For whole of India, Bunty Aur Babli is and will always be part of cinema that we watched while growing up. It is truly a much-loved film and has huge nostalgia value attached to it. When we were designing the logo of Bunty Aur Babli 2, we were certain that we will keep the original logo as it pays a perfect homage to the first film that is part of India's pop culture history. I'm guessing this move will be much loved by cine-lovers as it evokes a big sense of nostalgia," Varun V. Sharma, the director of the film, said.
ALSO READ: Bigg Boss 13: Saif Ali Khan To Step Into Salman Khan's Shoes?