Burari Mass Suicide: Manhunt launched for tantrik 'Baba Janegadi'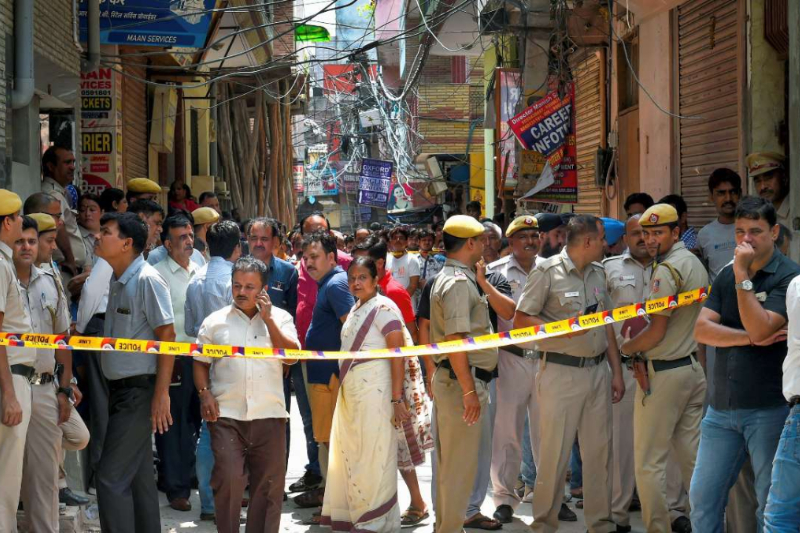 In a new development with regards to the Delhi Burari case, police have launched a manhunt for a tantrik 'Baba Janegadi' in connection with the deaths.
Police got to know about him after they received the SDM reports which had statements of relatives, and friends of the family, CNN-News 18 reported. Family was religious, scribbled chants on blackboard outside their shop: Burari local. Acoording to reports about him being involved come from the notes that described how and where the family members should be hanged.
Kishan Kumar, a local from Burari, explains the theory linking the 11 pipes to the 11 bodies. Kumar says the pipes are connected to the washrooms and he also said that he has often noticed the family scribbling religious messages like dohas and shlokas on a blackboard outside their shop.

According to CNN-News 18, post-mortem of all the eleven members of the family has been completed. 75-year-old elderly woman also committed suicide, and was not murdered. She committed suicide with the help of a belt. The belt has been recovered by the police officers.
Locals rubbish theories of occult practices and say that such theories are being manufactured to distract people from the fact that law and order is in a pitiable condition in Burari. They believe that 11 people could not possibly have killed themselves.
Also Read: Delhi: 11 of family commit suicide to attain salvation, suspect police
A police officer on Monday said, "From initial examination it seems that they all died due to ante-mortem hanging. The final report is awaited," the officer said. Police suspect that the deaths were part of a suicide pact, carried out in accordance with a religious practice, as handwritten notes found on the spot indicated. Some of the notes stated that "one will not die" but attain something "great", the officer said. Those who were found hanging had their mouth taped and their faces covered with cloth pieces cut from a single bed sheet. Only Narayan's face was not covered. The bodies will be handed over to the family for last rites later in the day.
Also Read: Burari Mass Suicide: Post Mortem reveals six of 11 dead due to hanging
Ketan Nagpal, whose maternal grandmother was one of the deceased, alleged that they were killed and dismissed the police theory that it could be a case of "suicide pact". He said it was a prosperous family. "They were not facing any financial issues and had not taken even a single loan. Everything was fine. Why would they kill themselves?" he said. Nagpal contended that even if they had to commit suicide, they would not have covered their faces and taped their mouth. Another relative said they had spoken to the family last night. They sounded "normal" and did not show any signs of depression, he added. "The family did not have enmity with anyone. But we suspect someone killed them," he alleged. The relatives claimed that there was no "religious angle" linked to the deaths.