Burari Mass Suicide: Post Mortem reveals six of 11 died due to hanging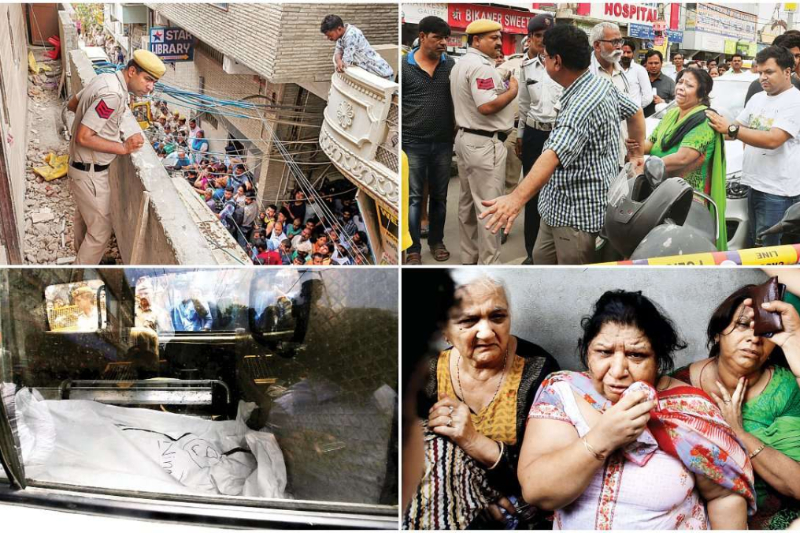 The oldest member of the family, 77-year-old Narayan Devi, was found on the floor, with signs of strangling. The others were hanging from a railing attached to the ceiling, media reports said.
The post-mortem report of six of the 11 members who were found dead at their residence in Burari has been received. The report revealed that the cause of death was ligature hanging. The report also showed that there were no signs of struggle. The family had also donated their eyes.
All but one of the bodies were hanging from the ceiling, most of them were blindfolded, gagged and their hands tied behind the back. The bodies will be cremated in Delhi today. Mysterious circumstances continue to unveil around the entire incident.The police first suspected a connection to a gang war in which three were killed last month.
On June 18, members of rival gangs opened fire on each other in the main Burari market, killing three people and wounding five. No link has been found to the family deaths. The notes had "strong similarity with the manner in which the mouths, eyes etc of the deceased were tied and taped," said the police.
Also Read:Delhi: 11 of a family found dead together in Burari, police suspect mass suicide
There were rumours that either the house was ransacked or the family had committed mass suicide due to debt issues, but police have recovered two registers which was a introduction guide to attain moksha (salvation). Joint Commissioner of Police (Crime) Alok Kumar said, "We have found two registers, with detailed written notes on how hands and legs are to be tied. The state in which 10 of the bodies were found reflected what was written in the notes. These are exhaustive notes, and we are studying ." The family, living in the vicinity for last two decades, ran a grocery shop and also had a plywood business.
Also Read:Delhi: 11 of family commit suicide to attain salvation, suspect police
A police statement said some handwritten notes were found in the house "which point towards observance of some definite spiritual/mystical practices by the whole family".
CCTV footage showed that food was delivered at the Bhatia home on Saturday night, around 10:40 pm. No one was seen entering or leaving the house after that, until the neighbour arrived and found the bodies on Sunday.
"I can't believe that they committed suicide. Everyone was so happy. Someone has killed my family and the police have to find them," Sujata Bhatia was quoted as saying by the Press Trust of India.
Narayan Devi had one more son and daughter who lived away and are said to be in shock. Her eldest son Dinesh Bhatia lives in Kota, Rajasthan and daughter Sujata lives in Panipat.
Pratibha's daughter Priyanka, 33, who was engaged to be married last month, was also hanging. An IT company employee, she was said to be excited about the wedding later this year.
The others found dead were Narayan Devi's daughter Pratibha, 57, sons Bhavnesh, 50, and Lalit Bhatia, 45, and their families. Bhavnesh's wife Savita, 48, and their three children Meenu, 23, Neetu, 25, and 15-year-old Dhruv were found hanging. So were Lalit Bhatia's wife Tina, 42, and their 15-year-old son Shivam.
An FIR has been been registered under Section 302 (murder) of the IPC at Burari police station, and the investigation has been transferred to the Crime Branch, said Delhi Police Commissioner Amulya Patnaik.