California Fire: Millions to lose power, 50,000 more people ordered to flee
80-mph winds could worsen as California Fire grows, power outrages for millions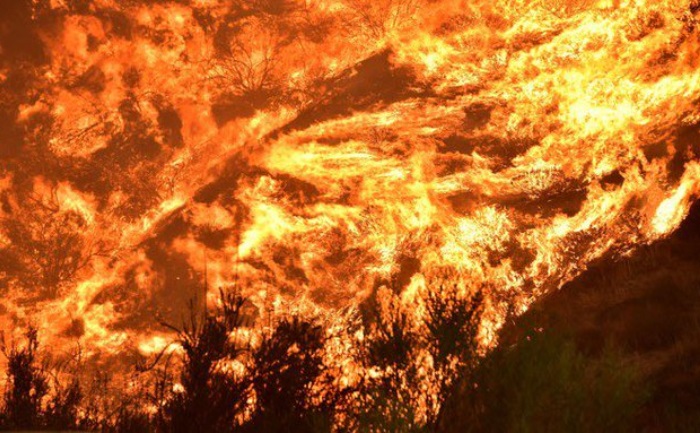 A fast-moving wildfire in northern California was sparked after a nearby power line was damaged. A local power company. Pacific Gas & Electric (PG&E) said damage had been reported at a high voltage tower near where the Kincade Fire started on Wednesday. The company said it had not yet determined if the power glitch had sparked the Kincade Fire. But PG&E shut off power in 15 California counties to prevent accidental fires, affecting about 180,000 homes.
Look out for each other Sonoma County. We've got your back. #KincadeFire #californiawildfires pic.twitter.com/xuAD4fsQuz

— Sonoma Sheriff (@sonomasheriff) October 27, 2019
Pacific Gas & Electric said it would begin blackouts in the afternoon for about 940,000 homes and businesses in 36 counties for 48 hours or longer throughout the San Francisco Bay Area, wine country and Sierra foothills. That's about 90,000 more customers affected than previously predicted.
About 50,000 people have been evacuated from their homes in the state as wildfires driven by powerful winds appear to have spread. A state of emergency has been declared in Los Angeles and Sonoma counties.
Evacuating the evacuation centers in Healdsburg due to the threat of the #KincadeFire. Shuttle buses are taking people from the Healdsburg Community Center to other shelters in Santa Rosa. This was one of the first evacuation centers to reach capacity on Thursday. @KPIXtv pic.twitter.com/UI7aDLb5jW

— Katie Nielsen (@KatieKPIX) October 26, 2019
Gusts of up to 70mph (112km/h) all thanks to the Santa Ana winds have swept much of the state. California is affected by Santa Ana winds, which are known for being dry and gusty, exacerbating wildfires. Hundreds of firefighters aided by aeroplanes and helicopters were preemptively burning vast stretches of grassland to create a fire break.
The Fire Weather Watch has been upgraded to a Red Flag Warning for the N/E Bay (8 PM Sat-11 AM Mon), SF Peninsula Coast and Santa Cruz Mountains (3 AM Sun-11 AM Mon). Confidence is high for dangerously strong offshore winds and critically low RH. #CAwx #CAfire pic.twitter.com/5r5l1EVZBo

— NWS Bay Area (@NWSBayArea) October 25, 2019
The wildfires come on the heels of the 2017 and 2018 California fire seasons, which featured the largest, most destructive, and deadliest blazes in state history.
Look out for each other Sonoma County. We've got your back. #KincadeFire #californiawildfires pic.twitter.com/xuAD4fsQuz

— Sonoma Sheriff (@sonomasheriff) October 27, 2019
Also Read: 3 Killed, 12 Injured as Shooter Opens Fire at California Food Festival