Call of Duty: Modern Warfare leak reveals 38 potential maps
Reddit user Senescallo has posted a list of uncovered files with accompanying images.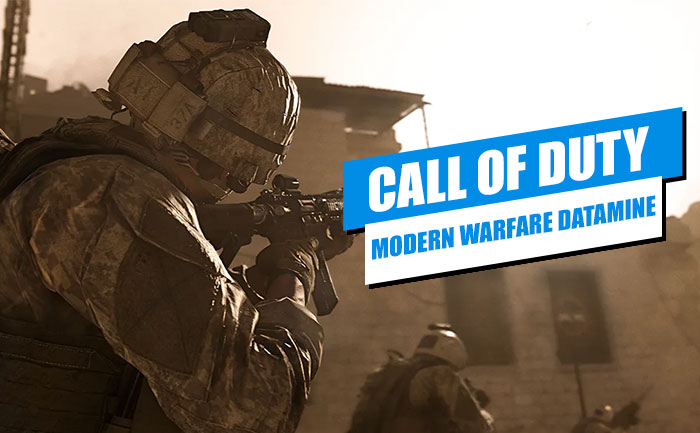 A common gripe within the Call of Duty: Modern Warfare players is the game's limited selection of maps. Out of the 19 multiplayer maps available, ten are available in standard game modes while the rest are only for specific matches.
Things may be about to take a radical turn though. A new datamine suggests that Infinity Ward may have a surprise up its sleeve in the form of 38 new maps. Reddit user Senescallo has posted a list of uncovered files with accompanying images.
The full list of datamined maps are listed below:
NEW MAPS
Cage
Cargo
Hook
Aniyah Tac
Crash
Dam
Krovnik
Farmland
Gulag
Hospital
Layover
Lowline
Lumber
Malyshev
Milbase
Oasis
Port
Prison
Rivne
Shipment (Day and Night)
Slums
Stadium
Sub Base
Super
Urzikstan
Torez
Transit
TV Station
Faridah
Rust
Takedown
Borderline
Smetna Farms
Gun Course
Marksman Range
In addition, a separate datamine by fansite CharlieIntel has hinted at possible new modes. These include classics like Demolition, Gun Game, Infected, and Capture the Flag. A full list of rumored modes is listed below.
NEW MODES
Showdown (+ Hardcore) (gametype_showdown)

Onslaught (gametype_onslaught)

Incursion (gametype_incursion)

Fireteam (+ Hardcore) (gametype_fireteam)

Breach (gametype_breach)

Arms Race (+ Hardcore) (gametype_arm)

Team Juggernaut (gametype_tjugg): Each team has a Juggernaut. Juggernaut kills are worth more points. The first team to reach the score limit wins.

Reinforce (gametype_siege): Capture points to revive fallen teammates. Taking all points will win the round.

Rupture (gametype_rugby): Take control of a powerful Juggernaut and push to the enemy's base to win.

One in the Chamber (gametype_oic): Gain Ammo by eliminating enemies. Highest score wins.

Invasion (+ Hardcore) (gametype_blitz): Take your team's flag into the enemy team's base.

Infected (gametype_infect): Eliminated Survivors become Infected.

Infect everyone, or survive the game to win.

High Value Target (gametype_hvt): Gain score by eliminating players on the opposing team. Extract high value enemy combatants to steal score back.

Gun Game (gametype_gun): Be the first player to score a kill with each one of the provided weapons.

Grind (gametype_grind): Recover dog tags and take them to the objective marker to score for your team.

Drop Zone (gametype_dropzone): Hold the Drop Zone to earn points and Drone Packages.

Demolition (gametype_demo): Teams alternate in attacking and defending two bomb sites, both of which must be destroyed by the attacking team equipped with bombs.

Defender (gametype_tdef): Capture the drone and hold it to upload data and earn points for your team.

Search and Rescue (gametype_sr): Teams take turns defending and destroying an objective. Recover dog tags to allow or deny respawns.

Capture the Flag (gametype_ctf): Get the enemy flag and return it to your base.

Fire Mission (+ Hardcore) (gametype_btm): Eliminate enemies, capture HQ's and extract VIPs to earn score for your team.

Assault (gametype_assault): Attackers attack bomb site. Defenders defend!

All or Nothing (gametype_aon): Spawn with a custom pistol, throwing knife and no starting ammo. Extra perks are gained on kills, but you lose everything on death. 
These leaks do not guarantee any of these maps or modes will actually end up in Call of Duty: Modern Warfare. Developers often leave prototypes and unfinished designs in the source code of the final product without bringing them to completion.
Players will just have to wait and see if anything comes of this leak.
ALSO READ: Call Of Duty: Modern Warfare 1.06 Update Patch Notes Confirmed