CarryMinati's YouTube Channel CarryisLive Hacked
Earlier Bill Gates and Elon Musk's Twitter accounts have also been hacked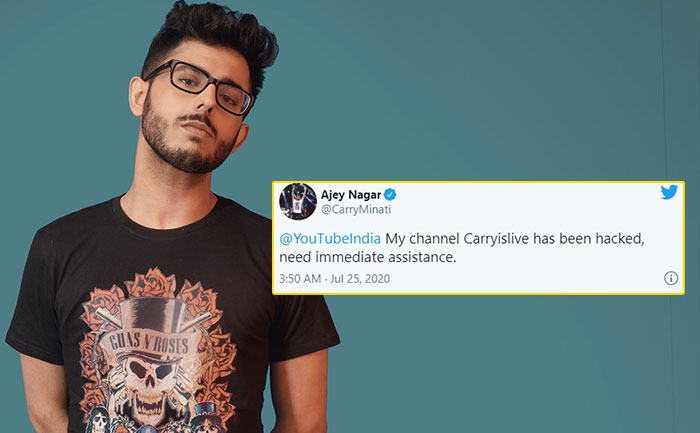 Popular YouTuber CarryMinati, who was recently in news for his video trolling TikTok creators, seems to have been hacked. CarryMinati runs a second gaming channel called CarryisLive here he posts gaming videos. However, fans reported that this channel was hacked. The hacker asked people to donate to a particular account. However, the hacker soon changed the description with content related to bitcoin donation.
Ajay Nagar, the man behind CarryMinati, tweeted to YouTube India for assistance soon after the hack. The hack follows in the steps of Bill Gates and Elon Musk's Twitter accounts being hacked as well. Moreover, the Twitter accounts of Barack Obama, Jeff Bezos, Joe Biden, Kim Kardashian West, and, Warren Buffet also seem to have been hacked.
The scam posted tweets on behalf of Bill Gates and Elon Musk. It shared a get-rich-quick scheme where a Bitcoin wallet address was given with the promise of sending back double the amount of Bitcoin if a user sends a certain amount to the designated wallet. Even after the first tweets were deleted, a second round of tweets appeared where the scammers posted similar Bitcoin-scamming tweets from both Gates' and Musk's accounts.
Meanwhile, CarryMinati fans are holding YouTube responsible for the security breach. Moreover, the two live streams have since disappeared. They have either been deleted or taken down by YouTube, or not posted as a video after the stream ended.
CarryMinati has since tweeted to let his followers know that his account has been secured again. He also thanked YouTube for their immediate support.