BWF World Championships: Shah Rukh, Anushka Sharma & Taapsee Pannu congratulate PV Sindhu for scripting history
Several Bollywood celebrities from Shah Rukh Khan to Anushka Sharma have congratulated PV Sindhu for winning the BWF World Championships...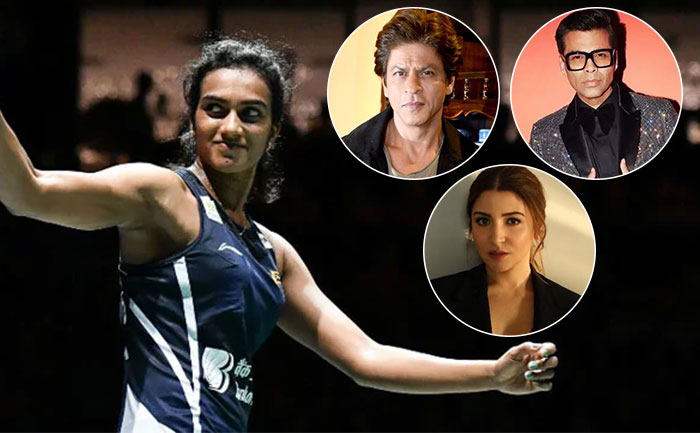 PV Sindhu — an Indian professional badminton player — has scripted history by becoming the first Indian to win the BWF World Championships. Yes, on this Sunday, PV Sindhu defeated Japan's Nozomi Okuhara in the BWF World Championships. Notably, PV Sindhu is also one of the two Indians who won an Olympic medal.
On her historical win, Bollywood and South Indian celebrities, Politicians and common people have been showering praises on ace shuttler PV Sindhu. Among the celebs who have reacted to PV Sindhu's grand success are Shah Rukh Khan, Karan Johar, Anushka Sharma, Hema Malini, Anupam Kher, Arjun Kapoor, Aishwarya Rai Bachchan, Taapsee Pannu and Anushka Shetty.
Here's how celebs reacted to PV Sindhu's win in BWF Wolrd Championships 2019
Shah Rukh Khan
Superstar Shah Rukh Khan termed Sindhu as an 'exceptional talent'. Congratulating her,  "Congratulations @Pvsindhu1 for winning the Gold at the BWF World Championships… Making us proud as a nation with your exceptional talent. Keep creating history!"
Karan Johar
A renowned filmmaker Karan Johar congratulated Sindhu on her win. "What a proud moment for India. Congratulations @Pvsindhu1on this amazing achievement of becoming the first Indian ever to win a gold at the #BWFWorldChampionship! #WhoRunTheWorld."
Anushka Sharma
Calling her historic win a terrific performance, Anushka Sharma wrote: "First Indian to win gold at the #BWFWorldChampionships2019… @Pvsindhu1 what a terrific performance! Congratulations.. you go girl "
Taapsee Pannu
The Pink actress took to Twitter to praise Sindhu's game. "Finally!!!!! Ladies and gentlemen , let's welcome the new world champion @Pvsindhu1 !!!!! It's THE GOLD finally!!!!!! #BWFWorldChampionships2019."
Anushka Shetty
South Indian actress Anushka Shetty has posted a sweet message on the Sindhu's win in the BWF World Championships 2019. The Baahubali actress, Anushka Shetty wrote on her Instagram account that PV Sindhu has made the country proud and that it was just a matter of time when the gold medal was to be won by the brilliant Badminton player PV Sindhu.
Anupam Kher
Calling her journey an inspiration, veteran actor Anupam Kher called Sindhu's journey 'inspirational'. "Congratulations dearest @Pvsindhu1 for becoming the world champion. Your victory makes Indians all over the world so so proud. Thank you for giving us reasons to rejoice. Your journey is greatly inspirational. Jai Ho and Jai Hind."
Arjun Kapoor
Arjun Kapoor also congratulated Sindhu and wrote, "Aaaaand she's done it!! Congratulations @Pvsindhu1 on winning gold at the #BWFWorldChampionships2019."
Swara Bhasker
Swara Bhasker took to Twitter and wrote: "Congratulations @Pvsindhu1 whatta Proud moment!!!!"
Also Read: Badminton Association Of India (BAI) Announces Cash Rewards For PV Sindhu, Sameer Verma