Author Chetan Bhagat admits to sending explicit messages; asks for forgiveness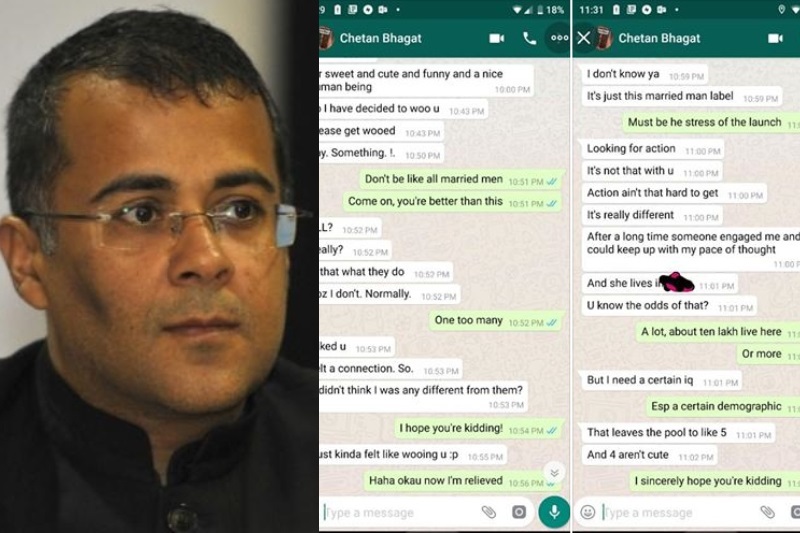 Author and columnist Chetan Bhagat on Saturday became the latest celebrity to be accused of sending explicit messages to women and of improper conduct towards them. "The Girl in Room 105" author later took to Facebook to admit the wrongdoing and issued an apology.
The victim, responding to the '#MeToo movement' had posted screenshots of a series of messages from Bhagat, wherein the author has sent her several messages trying too 'woo' and flirt with her, despite refusal from the girl.
Also Read: Stories of sexual harassment will tumble out of every space, says Richa Chadha
The post soon went viral on social media and Bhagat later issued an apology, asking for forgiveness from both his wife Anusha Bhagat and the woman.
"Dear All, I would like to make a couple of points about the screenshots that someone has shared just a couple of hours ago. It has taken me this much time because I saw them a bit late, and then I was in a conversation with Anusha. I am telling you all whatever I told her, which to my recollection is the truth. The screenshots, are of course real, and I am sorry if you felt they were wrong I hope you will accept my apology," said Bhagat in a long post on Facebook.
The allegations come just days after actress Tanushree Dutta accused co-actor Nana Patekar of harassing her on a film set several years ago. Interestingly, commenting on the controversy that has created a huge uproar in the Bollywood industry, Bhagat had supported Tanushree saying her allegations should be taken seriously.
Bhagat is, however, not the first author to be accused of harassment. Earlier, Kiran Nagarkar had also been accused of sending inappropriate messages to women and of misbehaving with them in close quarters.
Meanwhile, AIB comedian Utsav Chakraborty was also accused of similar harassment, something which he admitted to and also asked for forgiveness.
Image Source: Catch News/Facebook