Chhichhore Movie Review: A must watch for every student & friend
Nitesh Tiwari's college drama has delivered very important message on exam pressure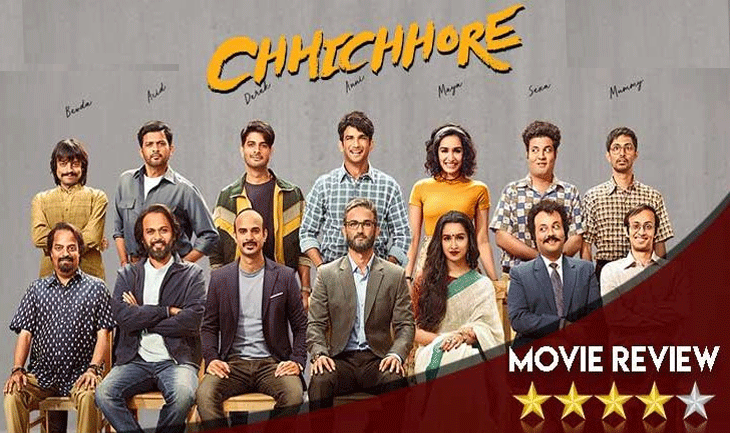 Movie – Chhichhore
Director – Nitesh Tiwari
Cast – Sushant Singh Rajput, Shraddha Kapoor, Varun Sharma, Tahir Raj Bhasin, Prateik Babbar, Naveen Polishetty, Tushar Pandey
Review Rating: 4/5
The film Chhchhore is all about college days, hostel life and Friendship. The director of the film Nitesh Tiwari did not leave any stone unturned to evoke our college or hostel memories. Throughout the film, Nitesh beautifuly delivered several messages which probably none of the films has ever delivered. Yes, if you believe in Friendship and like watching movies on college life, then Chhichore is a must-watch for you.
Nitesh Tiwari, who has earlier given us many superhit movies such as Chillar Party, Bhoothnath Returns and Dangal, seems to have delivered yet another blockbuster movie, Chhichhore. The film will keep you hooked on till the last minutes.
Chhichhore is a college drama, which is something that the audience, no matter the generation, have always leaned on. The film has depicted everything that happens in colleges such as hostel pranks, a college romance, promises to always in touch with friends, a sports tournament, a tragedy – and you have got yourself a full-on entertainer.
The film begins with Sushant Singh (Anirudh) or Shraddha Kapoor (Maya's) son Raghav, despite studying 18-hours a day, fails to get admission in India's top engineering college, unlike his father and mother, who were rank holders. In a fear to be called looser, Raghav attempts to commit suicide and ended up injured himself so badly.
It is Raghav's injury which leads to a reunion between Aniruddh and his college friends – Varun Sharma as Sexa, Tahir Raj Bhasin as Derek, Naveen Polishetty as Acid, Tushar Pandey as Mummy and Saharsh Shukla as Bevda.
One by one the entire gang narrates their story to Raghav hoping that their story might improve his condition. The moment they start their story, Nitesh takes us back to nostalgia and it was wonderfully filmed. You will surely be shocked to see their look from college days or when they reunited after so many years.
The film will keep you engaged throughout the film as in one scene you will see the helpless Sushant is narrating a story to his son or in the next scene, you will see Sushant is planning pranks with his friends in college. The director of the film aims to have both past and present – tracks run parallel to each other, but it simply doesn't work.
College drams like Chhicchore require strong performances and the entire cast of the film have done it so perfectly. Yes, you can't say Chhichhore is Shraddha Kapoor or Sushant Singh's film, as everyone has played a crucial role. Varun Sharma seems to have carried the burden of the entire film on his shoulders.
At the end of the film, Chhichhore delivers an important message for all the students who feel that the piece of paper (result) will decide their destiny. The film also has several messages or beautiful dialogues which will make you laugh.
Chhichhore is a must-watch if you have ever stayed in a hostel or in a PG with friends.
Also Read: Chhichhore Actress Shraddha Kapoor Joins Protest To Save Mumbai's Aarey Forest