After Shiv Sena activist accused Netflix of 'defaming' Hindus, #BanNetflixInIndia Trends on Twitter
Ramesh Solanki has filed a complaint against US based OTT platform, Netflix for defamading India on a global level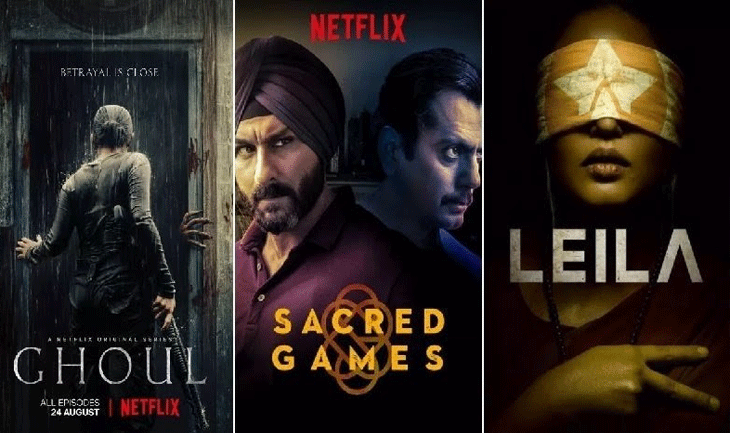 Days after Shiv Sena IT Cell filed a police complaint against Netflix alleging that the popular OTT platform is portraying India in a bad light through web series, Indian citizens have started #BanNetflixInIndia on Twitter.
In a police complaint, Shiv Sena member Ramesh Solanki alleged that Netflix's every content tend to defame India on a global level. The complaint cited many web series such as Sacred Games, Leila and Ghoul. The Shiv Sena member urged authorities to look into all of the above-mentioned content and take the necessary steps from summoning their team to cancelling their licenses as deemed fit.
"One cannot allow an incorrect generalisation based on bogus rhetoric trying to defame a religious minority, that is, Hindu in countries other than India," Mr Solanki has stated in his complaint obtained by News18.
A copy of the complaint has also been sent to Maharashtra Chief Minister Devendra Fadnavis and Mumbai Commissioner of Police. When the write of Netflix web series, Leila, was asked about the same, Patrick Graham vividly denied the accusations levelled by Solanki and said, "our depictions are purely fictional and we have not hurt anyone's sentiments".
Sharing the copy of the complaint on Twitter, Ramesh Solanki wrote," Filed complaint against
@NetflixIndia for defaming Hindus, India and @adgpi Almost every series is serious attemp to paint Hindus and India in bad light(sic)."
Filed complaint against @NetflixIndia for defaming Hindus, India and @adgpi
Almost every series is serious attemp to paint Hindus and India in bad light@ippatel @TajinderBagga @RituRathaur@MrsGandhi @ShefVaidya @MODIfiedVikas @AskAnshul @UnSubtleDesi @muglikar_ @mirchagalib pic.twitter.com/BCe4G0hGy4

— Ramesh Solanki (@Rajput_Ramesh) September 4, 2019
Speaking to CNN-News18, Graham said, "These are stories, work of fiction, there is no point in banning them. If you want to criticize them then write about it or write another story. You cannot call for a ban on content in a democracy."
Here's how netizens reacted to Netflix's content on Twitter:
Ramesh Solanki says enough is enough
Enough is Enough
Its hightime we Hindus unite and tell everyone that HINDUS are not doormat that any Tom Dick Harry can just walk over
If you want our money if you want our subscription, stop disrespecting us@ippatel @ShefVaidya @KapilMishra_IND @TajinderBagga #BanNetFlixInIndia pic.twitter.com/kUCQmOwRm6

— Ramesh Solanki (@Rajput_Ramesh) September 6, 2019
Netflix only targets Hindi
Anurag Kashyap and the makers of the Sacred Games have been part of the controversy for pushing Hindu-phobic content in their show.

All these peoples targeting #Hindu only..why????#BanNetflixInIndia pic.twitter.com/zrIMKvDprC

— Jagruti Patil (@Jagruti63213796) September 6, 2019
Netflix has become an abusive platform
Along with other shows, Netflix has become a platformfor abusive, incendiary content, which has often targetted the cultural value system of Indians, especially Hindus.#BanNetflixInIndiahttps://t.co/v7J0E5Qae6 via @opindia_com

— Jagruti Patil (@Jagruti63213796) September 6, 2019
Anti Hindu Propaganda – 'Leila' #BanNetflixInIndia
Still from Netflix show 'Leila' pic.twitter.com/XcbpcuRt3a

— Lakshmi (@Lakshmi27958155) September 6, 2019
#BanNetflixInIndia @MIB_India @PrakashJavdekar @rsprasad strict laws of blasphemy & censorship should be implemented on web channels that are cropping up on daily basis on a unified agenda of vulgar & below the belly content. It is like making a mockery of our law pic.twitter.com/mbvEsPML5g

— Thakur Singh (@cathakursingh) September 6, 2019
Ban Netflix in India who defame Hinduism#BanNetflixInIndia pic.twitter.com/RoAXVUg4h9

— HJS Bangalore (@HJSBangalore) September 6, 2019
#BanNetflixInIndia
Because we indians are always keeping mum and tolerate. We do not want to loose our temper like others…. pic.twitter.com/cr9k0Xy4gT

— Pradip Deshmukh (@pradip256) September 6, 2019
It's too disgusted!

We will not tolerate any disrespect of our #holy culture of Guru-Shishya parampara !!?#BanNetflixInIndia @JSKneha03 @ManjitKumar_IND https://t.co/L9EOl432Ou

— Snehal Gubyad (@Gubyad_Snehal) September 6, 2019
Also Read: Shah Rukh Khan's Netflix Original Starring Bobby Deol To Be Titled Class Of 83