Chinese Air Force Planes Violate Taiwan Airspace Once Again
China Sends 52 Jets, Nuclear-Capable Bombers Inside Taiwan's Air Defence Zone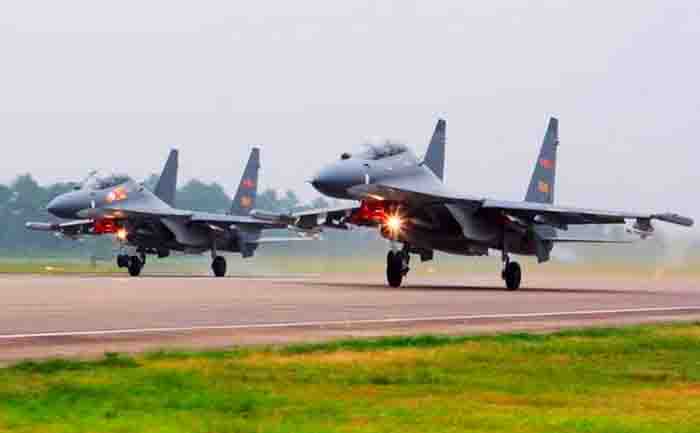 Chinese air force planes flew into Taiwan's air defence zone on Monday once again. Within four days China has sent 152 fighter jets zooming over Taiwan. China has been using intimidating action against its Eastern democratic neighbour in the hope of annexing it into the mainland one day.
China has also publicly said that it plans to merge Taiwan with the mainland even if it has to annex it militarily. But sending 145 aircraft over four days is the new height of intimidation.
The Chinese air force, known as the PLA Air Force (PLAAF) flew 38 planes on Friday the Chinese National Day. It was soon followed by 39 on Saturday, 16 on Sunday and 52 on Monday. Four more fighters entered the zone in a night sortie, bringing the total to 56 planes, the ministry added.
Taiwan's Ministry of National Defence (MND) soon scrambled combat patrol aircraft. They also issued radio warnings to the Chinese aircraft and alerted its air defence missile systems to monitor the Chinese fighters.
Taiwan urged Beijing to stop "irresponsible provocative actions" after 56 Chinese warplanes crossed into its air defence zone. The Mainland Affairs Council (MAC), Taiwan's top China policy-making body, accused Beijing of damaging the status quo of peace and stability in the Taiwan Strait.
As reported by IndiaTV, Beijing is reacting to the successful, mobilisation by the US, Japan, Taiwan, Australia.
The recent AUKUS (Australia, the UK and the US) military pact on equipping Australia with nuclear-power submarines has also rattled the latter.
The United States has reassured Taiwan that it will "continue to assist the country in maintaining a sufficient self-defence capability".
Also Read: AUKUS: Australia, UK & US Launch Military Alliance To Counter China