Chris Evans Jumps To Scarlett Johansson's Rescue At Golden Globes
Chris Evans helped 'Avengers' costar Scarlett Johansson with her dress at the Golden Globes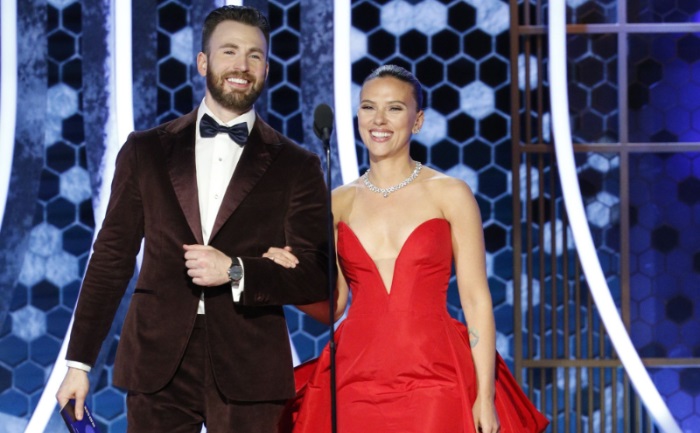 The much-awaited Golden Globe awards 2020 took place at the Beverly Hilton Hotel in Beverly hills. The cream of Hollywood graced the event. 'Avengers' costars Chris Evans and Scarlett Johansson too were a part of it. They presented two awards, but what caught the attention of fans was Chris Evans chivalry. He helped Johannsson with the train of her dress. Yes, Chris moved the train of Johansson's dress out of the way so she wouldn't trip over it.
Chris Evans and Scarlett Johansson presented the award for best actor in a musical or comedy to 'Rocketman' Star Taron Egerton and the trophy for best actress in a musical or comedy to 'The Farewell's' Awkwafina.
Here is a clip from the occasion, where Evans can be seen picking up the train of the gown after noticing the Marriage Story star struggling to move it out of the way as they presented an award together.
Watch the video here:
Chris Evans helping Scarlett Johansson with her dress on stage had me ?!

– such a pure hearted wholesome friendship ❤️ #GoldenGlobes pic.twitter.com/mCABKLskBj

— Nikita (@The91Niki) January 6, 2020
Fans were bold over by Captain America's gesture as he was seen moving the train of the Black Widow stars voluminous red Vera Wang dress out of the way, preventing her from tripping over it. Fans took to Twitter to praise him.
The actors are firm friends, having starred in several Avengers films together – Evans in his role as Captain America and Johansson as Black Widow.
Several of Evans' fans on Twitter couldn't help but appreciate the actor's kind gesture.
The most significant Golden Globe win of the night so far: Taron Egerton beats Leo and Eddie, may well be on his way to an Oscar nom! pic.twitter.com/hmOG1uLB2I

— Scott Feinberg (@ScottFeinberg) January 6, 2020
Chris helping Scarlett with her dress so she doesn't trip THIS MAN ????????????

— tina (@TINAcious_D) January 6, 2020
Chris helping Scarlett with her dress so she doesn't trip THIS MAN ????????????

— tina (@TINAcious_D) January 6, 2020
Chris adjusting Scarlett's dress so she doesn't trip over it ? we stan a gentleman

— ᴅᴇʙ ? (@cevansshrine) January 6, 2020
Chris helping Scarlett with her dress is just ?? pic.twitter.com/2rPBAhvH6k

— Lauren named me Suzie (@Randrheex) January 6, 2020
At the 77th Golden Globes, Evans attended the awards night with his brother, Scott Evans. Johansson was seen with her fiancé Colin Jost. She was also nominated for an award for her role in Netflix's "Marriage Story."
Also Read: Chris Evans opens up on why he loves Thor's hammer in Avengers: Endgame