Inside Photos: Chris Evans visits Disneyland with his family
Captain America went to Disney with his family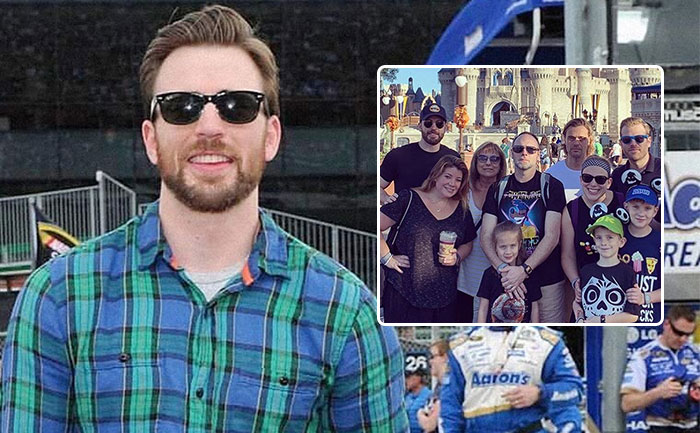 Chris Evans recently visited Disney with his family. The Avengers Endgame actor took out sometime for his family and visited Disney world along with his family members. Chris who is busy lately with film projects such as From Knives Out, Defending Jacob, and more. Amidst all film projects, the actor took a weekend out only to spend some quality time with his family at the theme park.
Lately, Chris was seen at Disney World beside his brothers and their wives and the rest of the family. Evans was seen with a cool shade of Sunglasses, black tee and a baseball cap. In the theme park, right outside the Cinderella Castle he posed with his brother Scott Evans, sisters Carly Evans and Shanna Evans. These pictures were the most lovely and sweet. Here are the photos for you to check out below:
Chris Evans had many a time spoken about his obsession related to Disney. This is not a secret anymore as now he officially visited it. In one of the event he had even spoken of having a trip to Disney. In 2015 The event was D23 Expo where he spoke to Legion of Leia, " I'm a big… I have an inappropriate love of Disney. My family, you know, we love Disney. We do an annual Disney trip around the holidays and then we do this countdown. We have group chats, like, 'Fourteen days to Disney! Seven days to Disney!' But, we start these chats in like March. So it's like, '278 days to Disney! My family is — we're diehard fans of Disney. It's just nice to be a part of the family in any way."
It appears that we can now really see the thrill and excitement of Chris Evans and his family to visit Disney and we just can't keep our eyes off of the adorable pictures.
Also Read: Knives Out Trailer 2: Chris Evans Matches Wits With Daniel Craig