Christmas 2019: Festive Recipes to make your day special
Christmas 2019: Check out these 11 all time favourite Christmas Recipes to make your day a gastronomical delight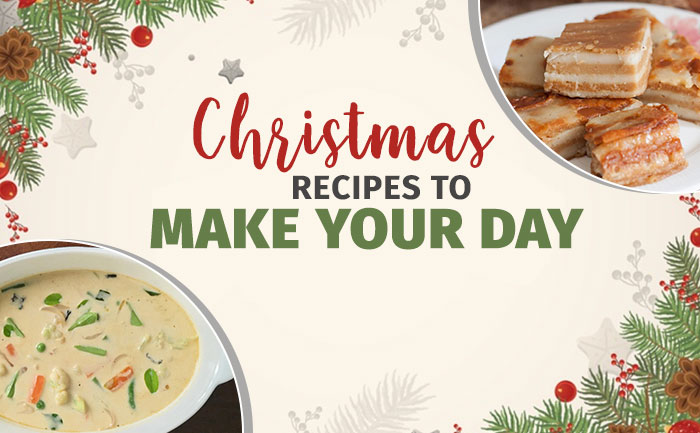 Christmas is just around the corner and as every Indian festival, Christmas too is incomplete without the festive treats to tickle our palates. Come December and the Christian community is busy whipping up festive delights and the fragrance of baking and cooking spreads far and wide.
The Goan Catholics, the East Indians, and the Anglo-Indians spread a vast array of dishes that have a strong Indian influence. Houses are decorated with Christmas trees and twinkling fairy lights and a mouthwatering array of plum cakes, candies, and savories and mulled wine is served to the guests with pride and love.
Here are some popular Christmas recipes for you to try this festive season:
1. Mulled Wine: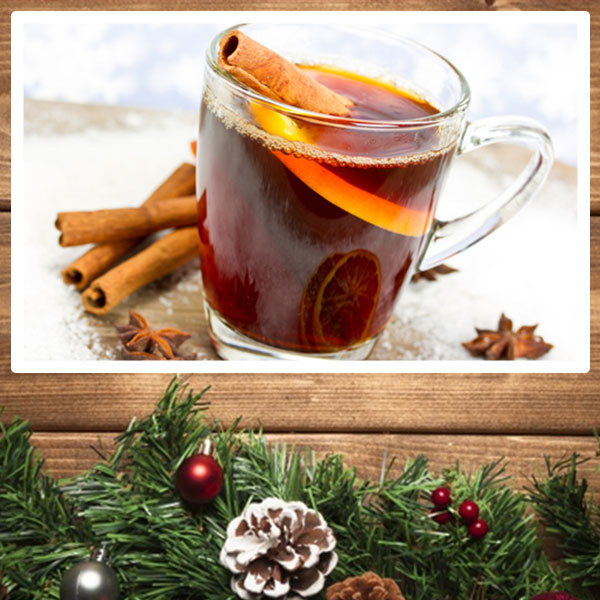 Ingredients:
100g sugar
4-star anise
2 cinnamon stick
8 cloves
1 nutmeg
150 ml of water
1 lemon
2 orange slices
150 ml Cointreau
750ml / 1 bottle light red wine
Twist of orange zest and star anise, to serve
How to Make:
Put sugar in a pan with star anise, cinnamon stick, cloves, and 150ml water. Bring slowly to the boil. Simmer for 2 minutes then pour into a large jug and leave to cool. Add 1 lemon and 2 orange, both thinly sliced, to the jug along with 150ml Cointreau and a 750ml bottle light red wine. Stir well, then cover and chill for at least 2 hours or overnight if you can. Serve chilled or warm with a twist of orange zest and star anise.
2. Rum Balls: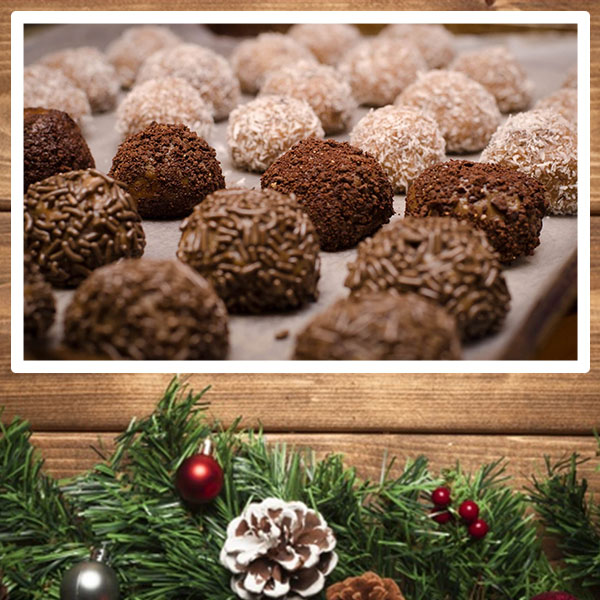 Ingredients:
6 oz semi-sweet chocolate
3 Tbsp brown sugar
1/2 cup sugar
1/2 cup rum
11 oz vanilla wafer biscuits – crushed
1 cup finely chopped walnuts
Icing sugar
Preparation:
Melt chocolate. Mix in all ingredients except the icing sugar. Form into small balls, then roll in icing sugar and refrigerate.
3. Bacon-Wrapped Stuffed Dates: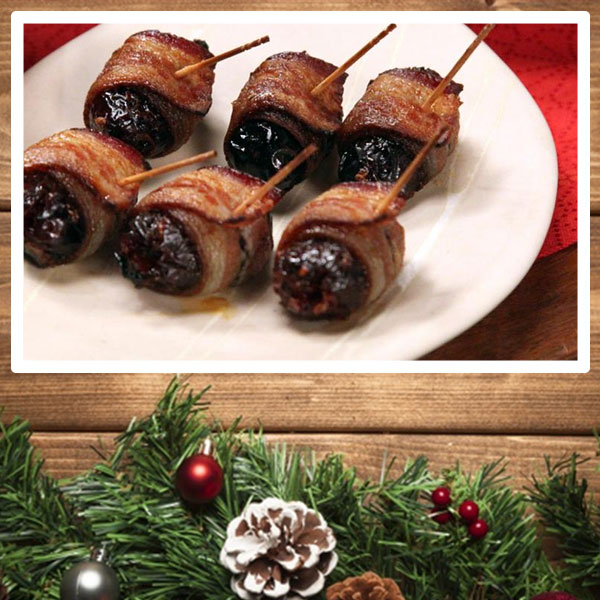 Ingredients:
Bacon
Olive oil
5-6 Dates
salt and pepper as per taste
Chives
1 cup cream cheese
Preparation:
In a bowl, add cream cheese, chives, salt, and pepper. Whisk them well. Add the cream into the piping bag. Take the dates and add cream cheese into it. Roll the date with the bacon and wrap it. Place the dates on a plate with some olive oil. Cook the dates in the oven for 6-7 minutes at 170-180 degrees.
4. Pork Vindaloo: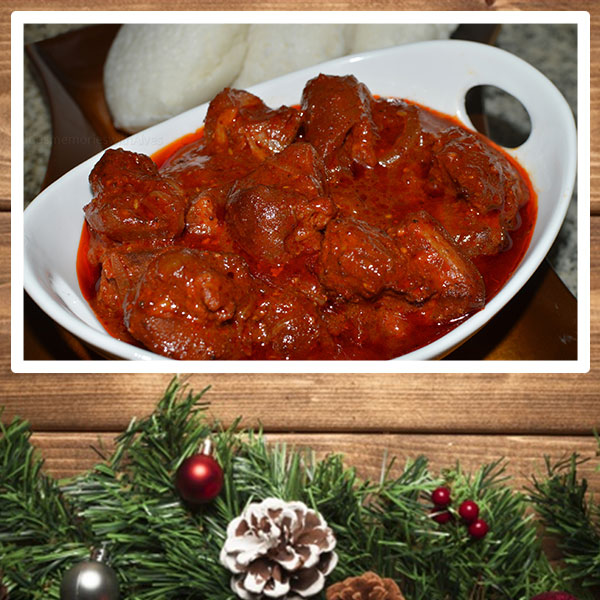 Ingredients:
1 kg pork-cubed
6 red  chillies, soaked in 1/2cup vinegar for 2 hours
2 Tbsp ginger chopped
2 Tbsp garlic chopped
2 Tbsp cumin seeds
3 Tbsp oil
250 gm button onions-peeled
1 tsp salt or to taste
2 Tbsp gur-powdered
Preparation:
Grind the chillies, ginger, garlic, and cumin to a fine paste. Mix the pork into the masala. Heat the oil and add the pork mixture and stir-fry over high heat for 5 minutes. Add the onions and simmer till meat is tender. Add the gur, mix well and serve hot.
5. Mutton Biryani: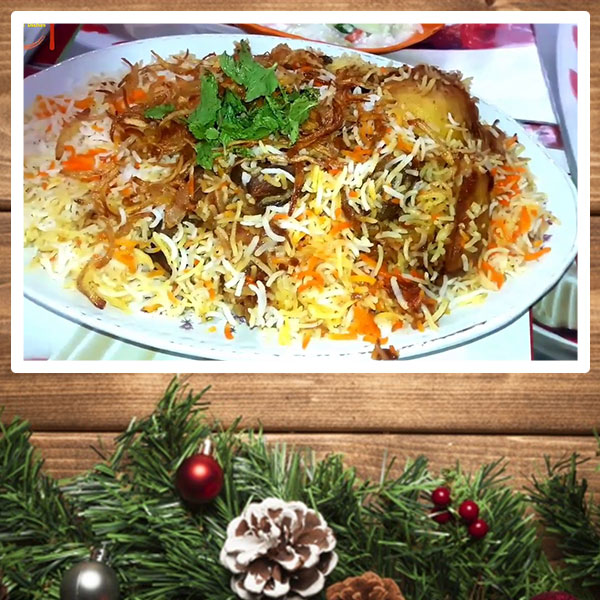 Ingredients:
1/2 kg mutton
1 cup onions-finely sliced
Ghee for frying the onions
1 tsp cumin seeds
1 bay leaf
1/4 cup clotted cream
2 Tbsp chopped coriander leaves
Marinate:
1 cup onions-grated
1 tsp garlic paste
1 tsp ginger paste
1 tsp turmeric
1 tsp black cumin seeds salt to taste
1 cup yoghurt
1 tsp garam masala
Rice:
2 cups basmati rice-cleaned and soaked in water
2 green cardamoms
2 cloves
1/2 tsp black cumin seeds a piece of cinnamon-broken into smaller pieces
Salt to taste
1/2 tsp saffron-soaked in 1/4 cup of warm milk
2 Tbsp ghee
Preparation:
Mix together all the spices and marinate the meat in it for 4 hours: Heat enough ghee in a broad heavy-based pan. Fry the onions till brown and crisp. Strain and keep aside. Take 1/2 cup of ghee, add the cumin seeds and bay leaf. Then add the meat mixture.  Stir-fry meat over high heat till the pieces look opaque. Lower the heat, partially cover and simmer,  till the meat is tender and the fat separates. Remove pan from stove and add the fried onions, cream and coriander leaves and mix well. While the meat is cooking, drain the rice and set aside.
Heat 2 tablespoons of ghee and add the black cumin seeds, cardamom, cloves and cinnamon. Stir a few times and add the rice and the salt. Now add 2 1/2 cups of water, and bring to boil. Lower heat, cover and let the rice cook till almost done.
Divide the rice and meat into halves each. Make a layer of meat at the bottom of the pan. Spread a layer of   rice, sprinkle half the saffron flavoured milk over it, and then add the second layer of meat and finally the other half of the rice. Sprinkle the rest of the milk and saffron mixture over rice. Now cover the pan seal it with flour and let it cook on low flame for half an hour. Serve hot with Raita.
6. Christmas Cookies: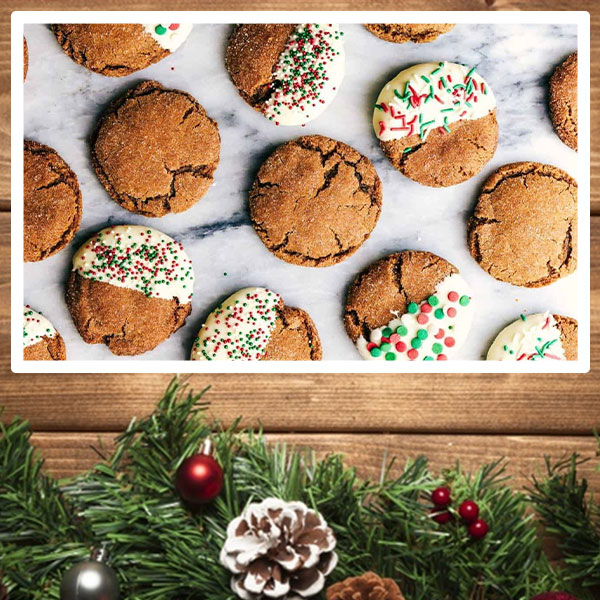 Ingredients:
100 gms butter
125 gms castor sugar
1 eggs
150 gms refined flour
150 gms soaked fruit
10 ml vanilla essence
5 gms baking soda
Preparation:
Cream butter and sugar until light and fluffy. Gradually add in eggs one at a time so that the mixture does not clot. Add some vanilla extract. Add your dry ingredient that has baking soda added to it and mix as little as possible. Make cookie dough with a light hand and then shape the cookies into desired shapes. Garnish it with liquor-soaked fruit and bake at 180 degree Celsius for 9 minutes.
7. Christmas Pudding: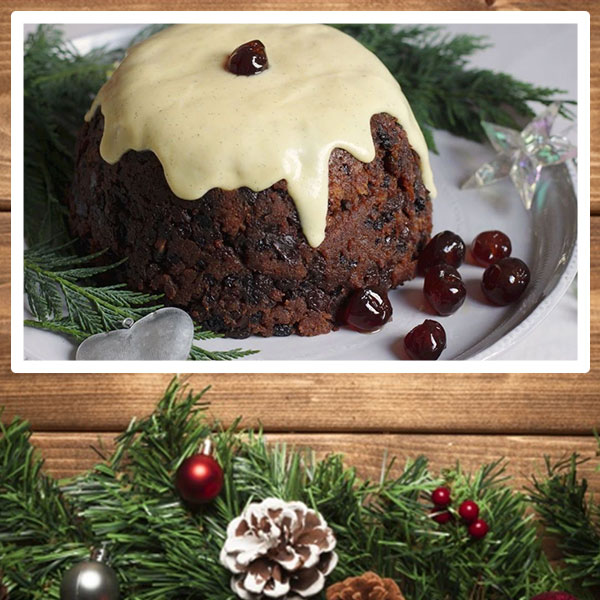 Ingredients:
2 cups quality assorted raisins
2 cups brandy
1 1⁄2 oz. quality assorted candied fruits, such as pitted apricots, cherries, melon, and citrus peel, cut into thin strips
5 tbsp butter, diced
1 3⁄4 cups fine day-old bread crumbs
1 cup blanched almond meal
1⁄4 cup dark muscovado sugar
3 tbsp. flour
2 tbsp. shredded unsweetened coconut
2 tbsp. finely grated peeled carrot
1⁄2 tsp. finely grated lemon zest
1⁄4 tsp. finely grated orange zest
1 pinch ground cinnamon
1 pinch freshly grated nutmeg
1 egg
1⁄2 tsp. dark treacle or molasses
1⁄3 cup Guinness stout
2 tbsp. fresh orange juice
3⁄4 tsp. fresh lemon juice
Instructions
Soak raisins and candied fruits in brandy for an hour. Drain and save the brandy in a cup.  Preheat oven to 450°. Take raisins, candied fruits,  butter, bread crumbs, almond meal, sugar, flour, coconut, carrots, zests, cinnamon, and nutmeg into a large bowl and stir well. Combine egg and treacle or molasses in another bowl. Stir in the juices, and reserved brandy and mix until evenly moist.
Pack half the batter into each of 2 greased 2 ½-cup glazed-ceramic or glass bowls (about 3″ deep × 5″ wide). Cover each bowl with 2 layers each waxed paper, then foil; secure with twine. Put bowls on a rack set in a wide deep pot. Add boiling water to the pot to reach 2″ up sides of bowls. Cover pot and steam puddings in the oven, replenishing water as necessary, for 4 1⁄2 hours.
Remove bowls from the pot and let cool.  Unmold onto plates and serve.
8. Bebinca: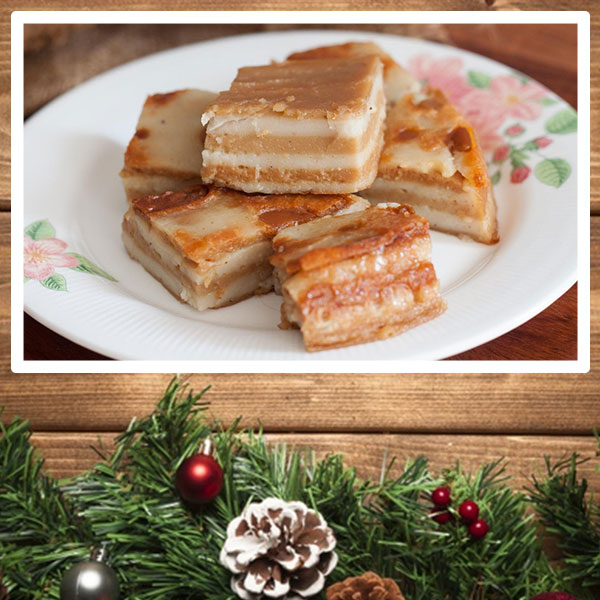 Ingredients
200 Gram Refined flour
10 Egg yolks
500 Gram Sugar
200 Ml Coconut milk
5 Gram Nutmeg powder
200 Gram Butter
Preparation:
Mix the coconut milk, flour, sugar, nutmeg, and egg yolks and make a batter. Grease an ovenproof dish with a spoonful of melted butter, pour 75 ml of batter into the dish and spread evenly. Bake till golden brown. Spread another spoonful of butter and pour another 75 ml of batter over it and spread evenly. Bake and repeat this until all the batter is used up. Turn out the bebinca onto a wire rack. Cool and cut into slices before serving.
9. Kulkuls: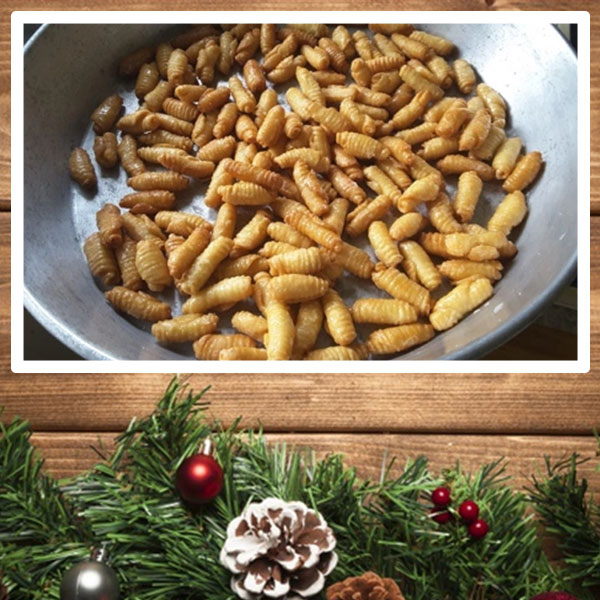 Ingredients:
2 cups maida
1/2 cup semolina (Suji)
2 Tbsp ghee (clarified butter)
1/8th tsp salt
1/4th cup (60 g) sugar, powdered
1/4th cup (60 ml) coconut milk/plain milk
Oil for frying
Preparation:  
Mix the flour and semolina and rub the ghee into it. Add the salt, sugar, and milk and knead into a firm dough. Leave the dough to rest, covered for 1/2 hour or so. Make marble sized rounds of the dough. Flatten each round on to the back of a fork, pressing lightly. Roll the top so that you get a curled up shape with the ridges showing on top. Leave this for half an hour or so, turning once. Heat the oil till a drop of dough comes up at once.  Fry till brown on all sides. Store in an airtight container.
10. Kerala Vegetable Stew: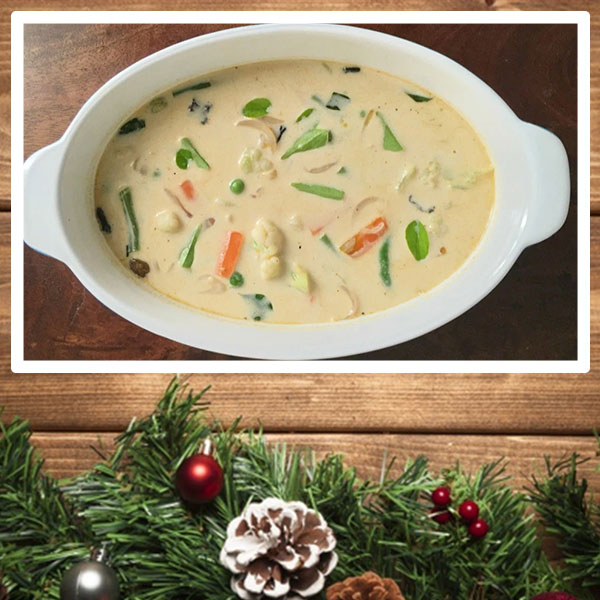 Ingredients:
4 Cups mixed vegetables (potatoes, carrots, cauliflower, French beans), chopped
2 medium onions, sliced
4 tbsp oil
4 Whole green cardamoms
4 Whole cloves
1 inch Cinnamon stick
2 Green chillies (slit)
2 tsp ginger, julienne
1 tsp black peppercorns (coarsely crushed)
2 cups of coconut milk
2 cups of water
curry leaves and salt as per taste
Preparation:
Heat oil in a pan. Add cloves, cardamom, and cinnamon. Saute for a few seconds. Add green chillies, ginger and sliced onions. Sauté on medium heat for 2 minutes or till the onions are transparent and soft. Add the curry leaves and all the vegetables, salt and water. Cover and cook on low heat for 15 minutes or till the vegetables are cooked. Add coconut milk. Simmer on very low heat (so that the coconut milk does not curdle) for about 1 minute(s).
11. Plum Cake: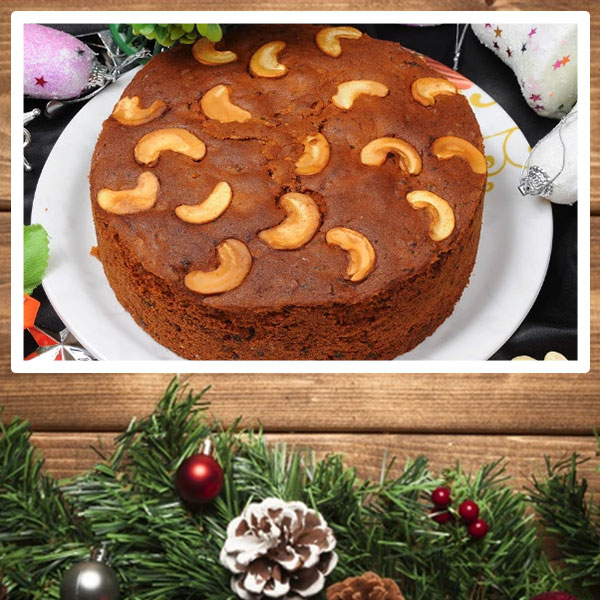 Ingredients:
200gm butter
200gm icing sugar
4 eggs
200gm flour
2 tsp baking powder
2 tsp vanilla essence
400gm nuts and dry fruits
40 gm mixed spice (cinnamon, nutmeg, cardamom, cloves)
200ml rum and/or brandy
100ml orange juice
Preparation:
Mix the dried fruits and nuts with the rum/brandy and orange juice and leave it closed for at least 24 hours.  Beat butter and sugar until fluffy around 10 minutes. Add the eggs and vanilla essence, and mix for 1 minute. Add flour and baking powder in the butter mixture.  Add Christmas mixture and mix properly. Put the mixture in the ring mould, and bake in a pre-heated oven at 180 degrees C for 40 to 45 minutes.
Have a Merry Christmas with family and friends.
Also Read:  Christmas 2019: Top 20 Secret Santa Gift Ideas For Coworkers