Congress and AAP dismiss any rumours of an alliance for 2019 elections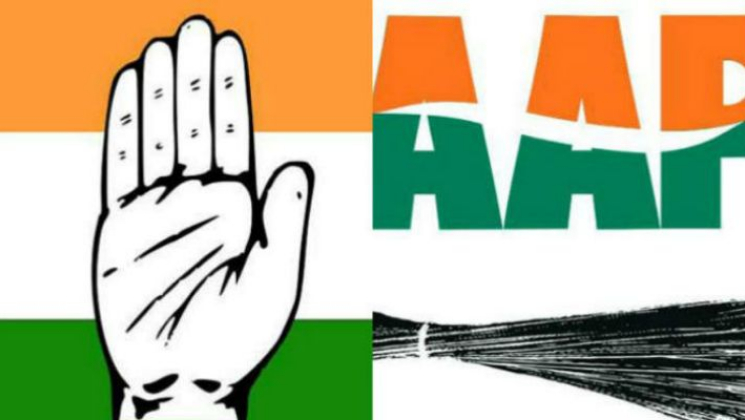 The Aam Aadmi Party on Saturday asked the Congress to "show guts" and announce its candidates for the seven Delhi Lok Sabha seats for the 2019 general elections after Congress' Delhi chief Ajay Maken ruled out any alliance with the Arvind Kejriwal-led party.
Chief Minister Arvind Kejriwal's media advisor Nagendar Sharma said Maken, "after being rejected in politics", was trying his hand at psephology.
"Having led his party to security deposits being lost in 63/70 Delhi constituencies, he is now measuring graphs. Show guts and declare your seats," Sharma tweeted.
He said the Kairana by-poll result in Uttar Pradesh clearly indicated that non-BJP parties need not be led by the Congress.
"This old party hobnobs with the BJP and treats other parties with disdain. Its Delhi unit is a virtual BJP front," Sharma said.
The Delhi Congress chief also dismissed speculation of an alliance with the AAP, saying Kejriwal was responsible for the rise of the BJP and Prime Minister Narendra Modi.
"The one who has defamed the Congress and has created a monster called Modi is Arvind Kejriwal. I, as the President of Delhi Pradesh Congress Committee, on behalf of all the Congress leaders and workers, confirm that no one from our party wants to support Kejriwal. When the people are not supporting him, we will also not support."
This triggered a sarcastic tweet from Sharma. "A joker first day-dreams of three Lok Sabha seats offer, then next day realises nobody on earth will even spare a single seat for a party which finished a poor third on all seven Delhi seats in 2014 and lost its security deposit in four seats."
Adding to the Twitter war was Delhi Congress spokesperson Sharmistha Mukherjee. She challenged the AAP and asked it if Kejriwal can openly reject the possibility of an alliance with the Congress.
"Instead of you chirping, let your leader Arvind Kejriwal come out openly and reject the possibility of an alliance. Planting false stories in the media and personal abuses will not lead you anywhere," Mukherjee said.
"(The) AAP is facing an existential crisis. No wonder it is desperate for an alliance with the Congress, a party and its leaders whom Kejriwal abused unabashedly. If he has courage and conviction, let him immediately quash rumours and reject these stories as false as Maken is doing."
She said between the 2015 Assembly and the 2017 MCD elections, the AAP lost vote share by 54.30 per cent and the Congress gained by 118.66 per cent.
"No rocket science required to understand which party is losing or gaining ground rapidly. No wonder the AAP is so desperate for alliance with (the) Congress."
Mukherjee said Maken had been consistently exposing the failures and misdeeds of the AAP government since the last three and a half years. "No wonder, AAP members are crying for his blood."
She said the AAP and the BJP were both "jumla parties and specialise in creating false narratives".