PM Modi meets US Secretary of Defense Jim Mattis in Singapore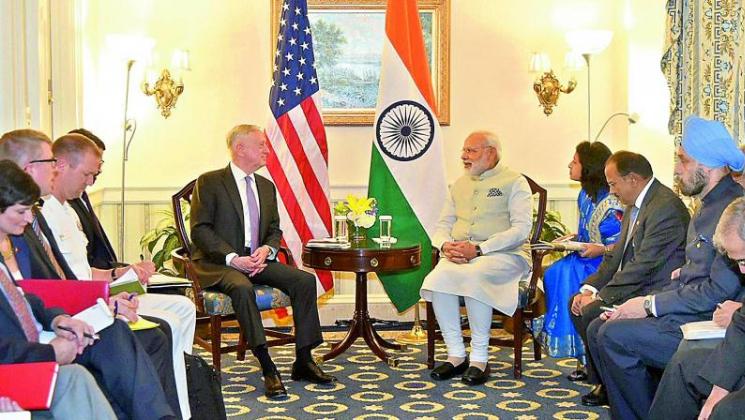 Prime Minister Narendra Modi, who is on a three-nation visit, on Saturday met with United States Secretary of Defense Jim Mattis in Singapore.
Mattis had served as the Marine Corps Reserve for over four decades before retiring in 2013. In January 2017, US President Donald Trump appointed Mattis as his secretary for defense.
Earlier, Prime Minister Modi unveiled the plaque, marking the immersion site of Father of the Nation Mahatma Gandhi's ashes at Clifford Pier. Singapore's former Prime Minister and Emeritus Senior Minister (ESM) Goh Chok Tong was also present at the event.
Next, Prime Minister Modi will visit the National Orchid Garden, located within the Singapore Botanic Gardens. It is the only tropical garden to be listed as a UNESCO World Heritage Site.
Later in the day, the Prime Minister will visit places like Chulia Mosque in Singapore's Chinatown, Sri Mariamman Temple, the Buddha Tooth Relic Temple and Museum, and the Indian Heritage Centre, situated in Little India.
Lastly, Prime Minister Modi will visit the Changi Naval Base, where he will see the Indian Naval Ship (INS) Satpura and interact with officers and sailors of the Indian Navy and Royal Singapore Navy.
After these engagements, he will emplane for New Delhi, concluding his five-day, three-nation visit to Indonesia, Malaysia and Singapore.