Courteney Cox surprises a fan after his 'Friends' themed Bar Mitzvah gets cancelled
Courteney Cox surprised a 13-year-old teenager with a foosball table just like Joey and Chandler's after his Bar Mitzvah got canceled.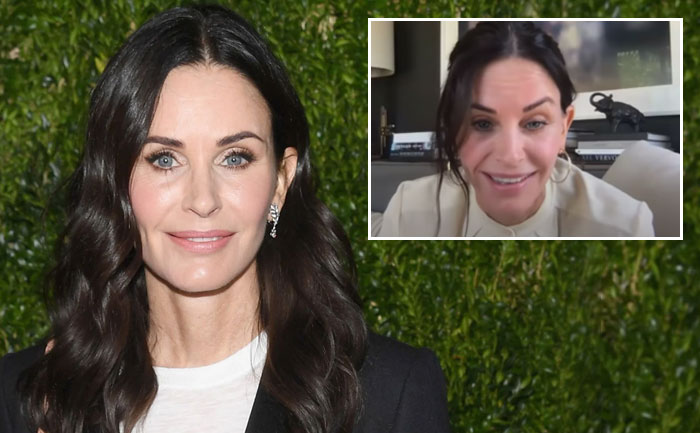 On Monday, Courteney Cox surprise a superfan of the famous sitcom at the home edition of 'The Late Late Show' with James Corden. The 13-year-old teenager named Naftali had planned to celebrate his Bar Mitzvah- a Jewish ceremony – with a 'Friends' themed party. However, the party had to be canceled due to the ongoing coronavirus outbreak, but, Naftali had a virtual bar mitzvah.
Courteney Cox who played the role of Monica Gellar in the popular sitcom appeared on 'The Late Late Show with James Corden' and cheered him up. On 'The Late Late Show,' Corden said, "Naftali was so obsessed with 'Friends,' that had he been able to have his party, the 'Friends' theme was going to include the red sofa photo opportunity. Each table was going to be named after a different character, and they were going to rent a foosball table just like the one in Chandler and Joey's apartment."
Naftali told the actress he has watched Friends seven times, which she said"incredible." Courteney Cox said, "I was really touched by your story so since you couldn't have your bar mitzvah the way you wanted, I decided to get you a foosball table just like the one in Joey and Chandler's apartment."
Watch the video here:
When @JKCorden heard that 13-year-old Naftali had a virtual Friends-themed bar mitzvah, he enlisted @CourteneyCox to help him give Naftali the surprise of a lifetime!https://t.co/ecEAXC5EyP

— The Late Late Show with James Corden (@latelateshow) May 19, 2020
Not just that, Cox also performed her famous dialogue of "I Know" from the sitcom. Corden set up a bit between Naftali and Cox, so he could hear her say one of Monica's iconic lines. "Hey, I had to cancel my bar mitzvah and hold it online," Naftali said, as directed by Corden. "I know!" Cox shouted.
Stay tuned to The Live Mirror for more updates.