COVID-19 Third Wave To Hit India Soon? Crowded Markets Worry Centre
Will Third Wave Of COVID-19 Hit India Soon? US, UK, Russia witness record surge in coronavirus cases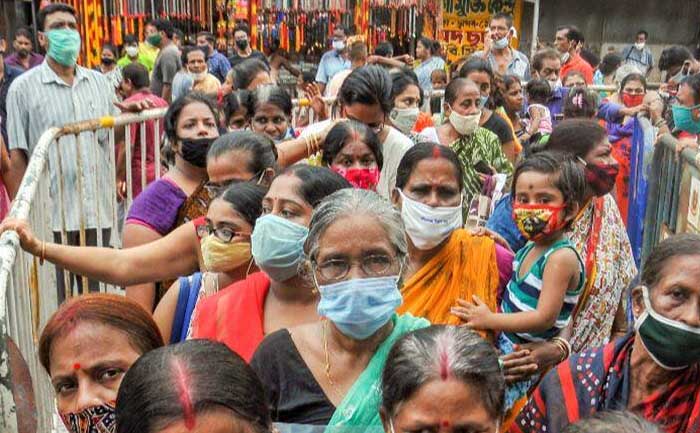 The COVID-19 situation in India seems to be under control. But the government is worried about the threat of third-wave hitting the country soon. The reason is the crowded market places, flaunting covid rules and also low vaccination count in many places across the nation. The Centre is also worried about the increasing number of cases in Russia, UK and US.
According to World Health Organisation (WHO), Globally, the number of weekly COVID-19 cases have increased slightly. With nearly 3 million infections and over 49,000 new fatalities.
In the US, there were more than 80,000 confirmed new infections and 1,681 fatalities in the last 24 hours. UK  as many as 41,278 people tested positive for COVID-19 and 166 died of the virus on Saturday. Russia, has over 39,000 daily fresh infections and 1,163 related deaths. Health officials in China also said that the latest COVID-19 outbreak is developing rapidly. Also affected are Ukraine (26,870), Turkey (25,528), Germany (24,668) and Brazil (17,184).
The WHO Chief, "All countries, including high-income countries, are at continued high risk of being exposed to new variants – infecting those who are fully vaccinated, risking the effectiveness of the tools we have, and risking the re-introduction of more stringent public health measures."
Though the virus seems to be in control in India, the government is worried that we might soon be hit by the third wave. In order to tackle the third wave, the government has made arrangements for 8.36 lakh hospital beds. Also one million isolation beds in dedicated care centres, 4.86 oxygen-supported beds and 1.35 lakh ICU beds.
Also Read: Jr NTR Tests COVID 19 Positive: He And His Family Have Isolated Themselves