Japan: Man Dressed in Batman's Joker Costume Injures 17
Tokyo Train Attack: Man Dressed in Batman's Joker Costume Goes On Stabbing Spree In Japan, injures 17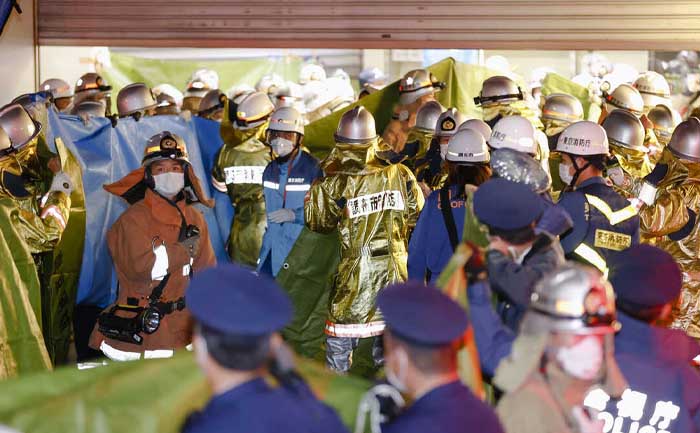 A 24-year-old man dressed in Batman's Joker costume and brandishing a knife injured more than 17 on a Tokyo commuter train on Sunday. He not only stabbed several passengers but also started a fire. People soon started scrambling to escape and jumping from windows, police and witnesses said.
A viral video on Twitter showed a steady stream of people running away from a train car where, seconds later, a blaze lit up. Another footage of the incident showed passengers rushing to squeeze out of the train's windows and onto the platform where the train had made an emergency stop.
Man with a knife set fire on a train in Tokyo pic.twitter.com/BnEpyEyyFv

— penanam anggur 2.0 (@anthraxxx781) October 31, 2021
The Tokyo Fire Department said 17 passengers were injured, including three seriously. The agency added that not all of them were stabbed and most of the other injuries were not serious.
According to Reuters, the attack occurred on a Keio Line train running near Kokuryo Station in the city of Chofu, Tokyo. The police have arrested the suspected attacker on the spot. His motive was not immediately known. Of those attacked, a man believed to be in his 60s was unconscious and in critical condition after being stabbed.
Nippon Television reported that the suspect told police that he wanted to kill and get the death penalty. The attack was the second involving a knife on a Tokyo train in two months. The last one took place during the Tokyo Olympics. A 36-year-old man stabbed 10 passengers on a commuter train in Tokyo in a random burst of violence.
Also Read: BTS' Jimin to have 3D effect of birthday project in US & Japan