Cristiano Ronaldo 'greatest-ever' goal-scorer, nets 760th professional goal
Cristiano Ronaldo; The Juventus star takes tally to 760 in Italian Super Cup triumph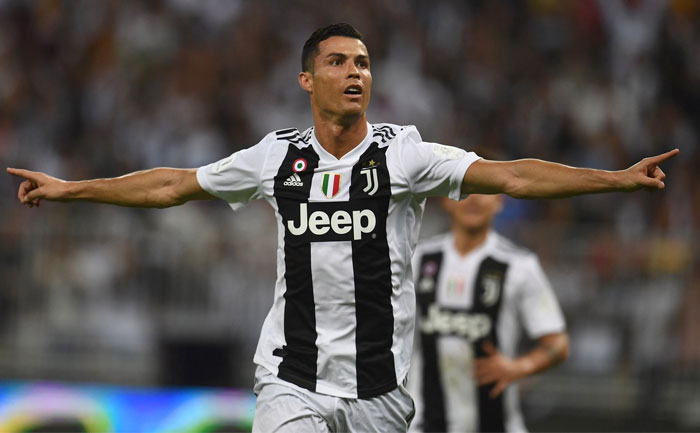 Cristiano Ronaldo topped the goalscorers' charts in world football with his 760th career goal in professional football. The Juventus star achieved this feat during Juventus' 2-0 victory over Napoli in the Italian Super Cup. Ronaldo's record-breaking strike takes him above the disputed total for Josef Bican in the list of highest goalscorers in world football history.
450 goals with Real Madrid
118 goals with Manchester United
102 goals with Portugal 🇵🇹
85 goals with Juventus
5 goals Sporting Lisbon

A breakdown of Cristiano Ronaldo's 760 career goals 👏 pic.twitter.com/HQmhrSuHh5

— talkSPORT (@talkSPORT) January 20, 2021
Cristiano Ronaldo now stands top among the legendary players such as Josef Bican, Pele and many more.
Official tally of goals in professional football:
760 – Cristiano Ronaldo
759 – Josef Bican
757 – Pele
743 – Romario
719 – Lionel Messi
Bican has been top goal scorer with 805 goals to his tally. But it has been disputed that 27 of his goals came from amateur teams as well as unofficial games. The revised tally, hence, sits at 759 goals in 459 games. The same is for legendary player Pele and Romario. Their tally reads at 757 and 743 goals. But both the Brazilian players claim to have scored more than 1000 goals. But as there is no clarity over the record of the most number of professional goals Ronaldo sits at the top.
World Top Goal Scorer CRISTIANO RONALDO 👑🔥@Cristiano 🐐💥#CristianoRonaldo #Cristiano #Ronaldo #CR7 #Juventus #Supercoppa #Portugal #Legend #GOAT #Football pic.twitter.com/NhIqlzCcE7

— THALA_U1_MSD_CR7_ADDICTZ (@ardentaddicter) January 21, 2021
Ronaldo has had a stupendous goalscoring record this season. He has secured 32 goals in 32 games for Juventus. With one trophy already in his hands, the 35-year-old will help the Old Lady lift the UEFA Champions League, when the season concludes.
Also Read: Cristiano Ronaldo Overtakes Pelé's Official Goal Tally