Joe Biden takes oath as 46th US President, Kamala Harris as Vice President
Joe Biden takes oath as 46th US President, Kamala Harris as Vice President amidst unprecedented security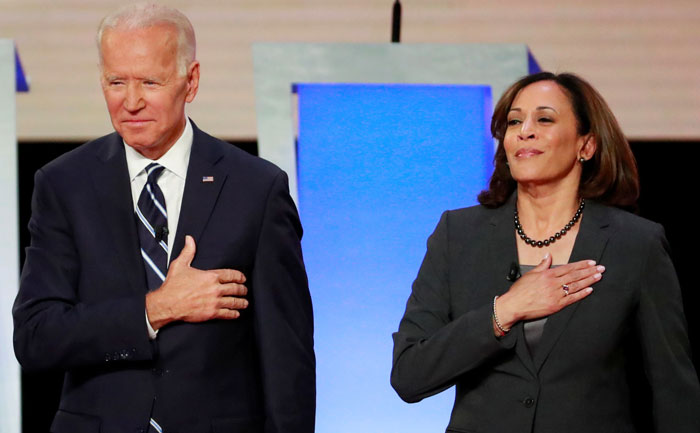 Joe Biden was sworn in as the 46th President of the United States of America amid tight security. Kamala Harris also took oath as first woman Vice President on Wednesday, January 20, 2021. Thousands of security personnel had transformed the Capitol into a fortress. It was to prevent and pro-Trump extremists from causing any disturbance during the swearing-in ceremony.
The Democrat leader was administered the oath of office by Chief Justice John Roberts at the West Front of the Capitol. Biden, who is the oldest president in American history, took the oath by placing his left hand on his 127-year-old family Bible. It was held by his wife Jill Biden.
Prior to Biden being sworn in as the next President of America, his deputy Kamala Harris was sworn in as the Vice President of America. 56-year-old Harris was sworn in as 49th Vice President of the United States by Justice Sonia Sotomayor. She became the first Indian-American vice president of the world's most powerful democracy.
The swearing-in ceremony was attended by three ex-presidents and their better halves. They were Barack Obama, George W Bush and Bill Clinton. Former first ladies Michelle Obama, Laura Bush and Hillary Clinton were also present. Outgoing President Donald Trump skipped the ceremony but outgoing Vice President Mike Pence attended the ceremony.
Around 1,000 people attended the swearing-in ceremony, including Supreme Court justices and members of Congress. The scaled-down invites were due to the COVID-19 Pandemic. Lady Gaga performed the national anthem. Actress-singer Jennifer Lopez also performed.
Also Read: Astrologer Hirav Shah's Prediction For US President Joe Biden And The Future Under His Presidentship