Cyclone Amphan To Hit Bengal Between 4 And 6 PM, landfall likely near Sunderbans
Mass Evacuations Underway As India And Bangladesh Brace For Cyclone Amphan, Heavy Rain Along Coast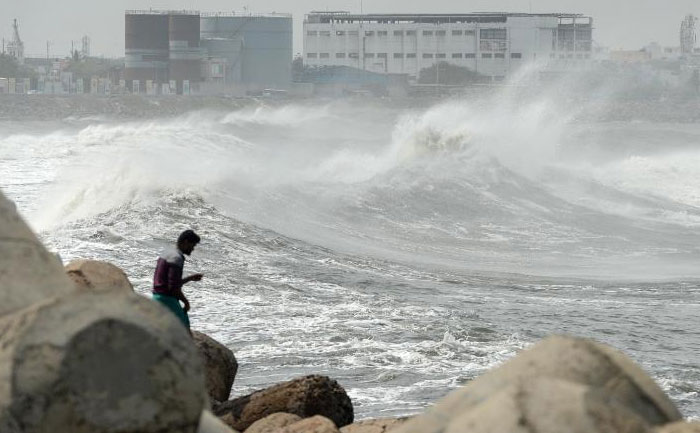 Cyclone Amphan, one of the worst storms over the Bay of Bengal in years, is likely to hit Bengal this evening between 4 PM and 6 PM. The super cyclone has now weakened to an "extremely severe cyclonic storm". It is causing strong winds and heavy rain in parts of Odisha and Bengal. More than four lakh people have been evacuated to safety in both states.
1620 shelter camps have been set up and 106476 people have been evacuated so far in Odisha in view of #CycloneAmphan. pic.twitter.com/gDr6l9bPs0

— ANI (@ANI) May 19, 2020
Sanjib Bandyopadhyay, deputy director-general of IMD Kolkata, said, "Cyclone Amphan lies 177km south southeast of Digha. After landfall, it is likely to move north, northeast close to Kolkata. At the time of crossing coast, wind speed to be around 155-165kmph."
Officials anticipate massive destruction as the wind speed of the cyclone will be gusting up to 185 kilometers per hour. West Bengal government has advised people to remain indoors. The Kolkata airport authority has suspended all flight operations till 5 am tomorrow.
Looking at the severity of the cyclone Chief Minister Mamata Banerjee has said she would stay overnight in the control room tonight.
The Odisha government has issued a fresh warning for heavy rainfall due to the approaching Cyclone Amphan. Coastal districts like Jagatsinghpur, Kendrapara, Bhadrak, and Balasore are likely to be battered by heavy rain coupled with high-speed winds.
#WATCH: Rainfall and strong winds hit Bhadrak in Odisha. #CycloneAmphan is expected to make landfall today. pic.twitter.com/X8xF9aZ6cf

— ANI (@ANI) May 19, 2020
NDRF teams are coordinating with local administration for storm surge response. Forty-one teams are deployed in Odisha and West Bengal.
Also Read: Cyclone Amphan Turns "Extremely Severe"; Bengal, Odisha On Alert