Cyclone Titli: Would hit Odisha at 5.30 am tomorrow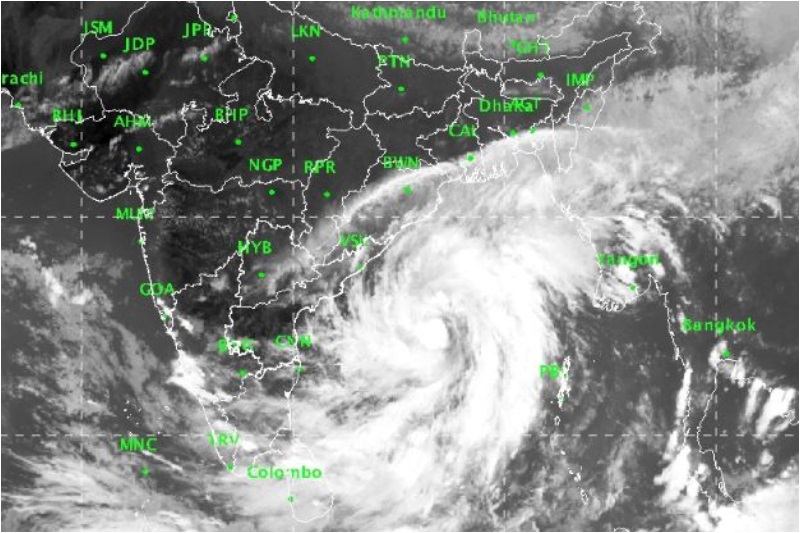 The MET department has predicted that Cyclone Titli would hit the coastal areas of northern Andhra Pradesh and Odisha tomorrow morning. Keeping the caution in mind, the coastal areas are bracing themselves to avert the possible calamity.
The word 'Titli', means butterfly in Hindi, and this cyclone has been categorised as a 'Very Severe Cyclonic Storm'. At about 5:30 am tomorrow, the devastating cyclone will hit the coast of Odisha. After the storm intensified, people in five coastal districts in Odisha are being moved to safety. The storm is inching closer to the coasts in northern Andhra Pradesh and southern Odisha. In four districts of Odhisa, all anganwadi centres, schools and colleges will remain closed for tomorrow.
Odisha Chief Secretary AP Padhi said, that the district administration of Ganjam has already started evacuating people in beach town of Gopalpur. Cyclone 'Titli' is likely to make a landfall between Gopalpur in Odisha and Kalingapatanam in Andhra Pradeshat around 5:30 am tomorrow. According to the last forecast, the cyclone is about 270 km away from Kalingapatnam in Andhra Pradesh and 280 km away from the coastal town of Gopalpur in Odisha.
Chief Minister of Odhisa Naveen Patnaik, took stock of the situation and has asked the collectors of Puri, Ganjam, Khurda, Kendrapara and Jagtsinghpur districts to go for an immediate evacuation of people in low-lying areas in the coastal belt.
Odisha government has asserted that it is prepared to face possible floods due to heavy rain.  The National Disaster Response Force (NDRF) and Orissa Disaster Rapid Action Force have already been stationed in the vulnerable districts. "We have not yet sought help of Army. If required we may go for it," Mr Padhi said. The Air Force and the Navy have been alerted about the situation and may take their help if required, added another official.
It is reported that heavy rainfall will occur in several parts of Odisha after Cyclone Titli intensified.
Also read: Cyclonic storm Titli hovers around Odisha, Andhra