CONFIRMED: Daggubati Venkatesh and Varun Tej Are Part Of Hollywood Film Aladdin
Telugu actors Venkatesh and Varun Tej will lend their voice to American musical fantasy film, Aladdin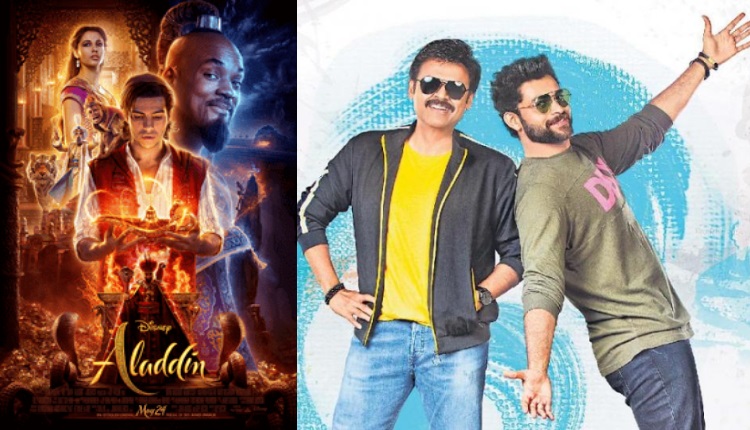 Indian actors Daggubati Venkatesh and Varun Tej Konidela, who mainly work in Telugu film industry, have been roped in F2 (Fun and Frustation) team to dub 'Aladdin' into Telugu language. According to reports, Walt-Disney, which is considered to be one of the biggest production companies has recently made announcement of the same.
According to a report in Zee News, their Indian counterparts confirmed Victory Venkatesh and Varun Tej to lend their voices to Genei and Aladdin characters respectively in the film. Notably, Will Smith is playing the title role while Mena Massoud is playing the Genie role in the film. The movie is all set to release on 24 May 2019 across the world.
Directed by Guy Ritchie and produced by Walt Disney, it is a remake of Disney's 1992 animated film of the same name, which is in turn based on the eponymous Arabic folktale from One Thousand and One Nights. The film stars Mena Massoud in pivotal role, alongside Will Smith, Naomi Scott, Marwan Kenzari, Navid Negahban, Nasim Pedrad, and Billy Magnussen.
This is not the first time when Telugu or Indian actor lent their voice to Hollywood movies, it has become a quite normal nowadays. Earlier Rana Daggubati had given his voice to Thanos in Avengers Infinity War making and the film earned a decent amount at the box office window.
Days are gone when Hollywood movies rarely make it to single screes, now Hollywood movies are being screened in single screens in Metro cities, or smallest theatres in Indian Villages, especially in Andhra Pradesh and Telangana.
Also Read: Koffee With Karan 6: Rana Daggubati Speaks Up About His Break Up With Trisha