Daily Horoscope 11th June 2021: Check Astrological Prediction For All Zodiac Sign
Check out today's Horoscope for all the zodiac signs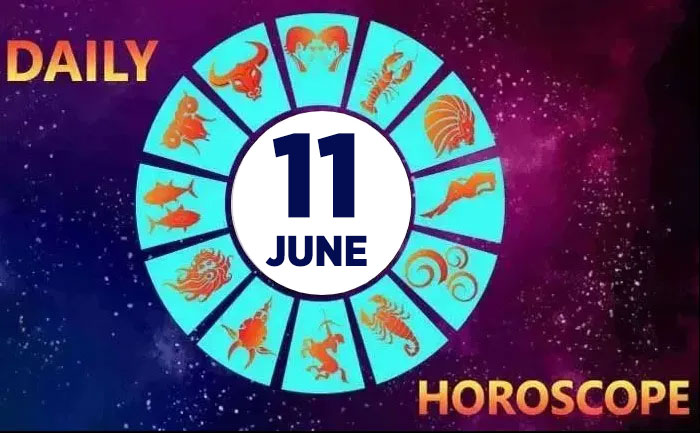 Horoscope Today, June 11, 2021: IF TODAY IS YOUR  BIRTHDAY: Your lucky number is 2.  June 11 birthday personality appreciates art and nature. Those born on this day can be neatness freaks as well. You are an interesting person so any partner should be excited to have this brainy reserved Gemini. You share a passion for progressive ideas, but also a need to feel nurtured and secure within a relationship. Your lucky colour is Dark Gray. and lucky numbers for you are 15, 22, 91, 89, and 25.
In this article, we have brought you today's astrological predictions for all the sun signs like Gemini, Scorpio, Leo, Taurus, Cancer, and others. Check out the astrological prediction for all zodiac signs.
 

Horoscope Today, June 11, 2021: Check today's astrological prediction from all sun signs.
Daily ARIES Horoscope:
This is a great day for you to change things around in life especially your personal relationships. Let go of any grudges from the past and try to sort out your differences. Use time today to strengthen your relationships. Give your partner support if they want to start a new venture. Wear something in red for good luck and positive energy
Daily TAURUS Horoscope:
Step out of the box and do something that people do not even expect you to do. Towards the end of the day, a good laugh will do you wonders in the company of your friends and family. Letting your walls down today will aid your relationship, but do remain a bit guarded about taking your relationship too fast. Wear light green as it will attract positive energy.
Daily GEMINI Horoscope:
It is likely that your life may take a fresh turn for the better today. You will remain in a positive frame of mind and good things will come your way. Be open to it, as it would be for your benefit. Spend some quality time in the company of your loved ones and just relax. Today your romantic partner will really put a smile on your face! Wear pearl grey to channel the positive vibrations.
Daily CANCER Horoscope:
A family member may cause disappointment and create some frustrations for you today. You may feel the urge to scold and punish your loved ones. However, refraining from this punitive action.  Be patient and try to understand other's perspectives; this will help remove any misunderstandings. Wear silver for luck.
Daily Horoscope LEO:
Today some of you may experience a general feeling of dissatisfaction.  You should think peacefully about the reason behind your dissatisfaction. This period of gloom and lethargy will soon be gone don't worry. You can expect today to feel the warmth and love of your partner. Wearing anything Orange in colour will prove lucky for you today.
Daily VIRGO Horoscope:
Virgo. It is likely that you may find yourself reaching for the stars in terms of your ultimate life goals.  However, it may so happen that you may need to adjust your expectations along the way, but never lower your goals for yourself unless absolutely necessary. Today will be fruitful on the romantic front. Violet will be a good color to wear.
Daily LIBRA Horoscope:
Libra you may be prone to getting a little impulsive or act on your emotions.  Emotions may be quite unsettling for most of the day. You should just take a deep breath and take some time off from everything else to bring a sense of balance. Off white is your lucky color for the day.  Today a feeling of tremendous good will be there between you and your beloved.
Daily SCORPIO Horoscope:
Today you will be in a jolly mood and charm everyone with your impeccable mannerism. However, some loss of valuable possession is indicated today. Just keep your wits about you when it comes to possessions that are very valuable to you.  Enjoy a relaxing evening together with your loved one. Pink is your lucky color for the day.
Daily SAGITTARIUS Horoscope:
This seems like an ideal day for future planning as you may remain in a good mood. Sagittarius, things seem to be going in the right direction for you at least for now. If facing any difficulties, use the right opportunity to make the necessary changes. Today you may receive an unexpected gift from your beloved. Wearing anything in brown will help you attract positive vibrations
Daily CAPRICORN Horoscope:
You may feel certain things in life are holding you back. It is likely that you may be in need of some recreation in order to feel refreshed and rejuvenated. Overall, just stop worrying about little problems in life and relax.  Blue is your lucky color for the day. Single people may find a partner over the internet today.
Daily AQUARIUS Horoscope:
Aquarius, You may find a renewed thrust of dynamism and energy engulfing you. You will easily be the social butterfly of the evening and will charm everyone. This is a day to indulge in the love of your partner. You can feel free to allow them to pamper you as you deserve it and they will enjoy doing it for you. Colour olive green is lucky for you.
Daily PISCES Horoscope:
Your mind may be buzzing with new ideas, helping you to move forward in your life.. You are likely to feel happy and cheerful today; nothing will hold you back.  Make the most of this feeling of being on top of things and relax with your friends. Wear white to stay in a cheerful frame of mind throughout the day.
ALSO READ: Gemini Love Horoscope 2020: Personality, Traits, Compatibility & Celebs Born Under This Zodiac Sign