Daily Horoscope 15th Jan 2021: Check Astrological Prediction For All Zodiac Sign
Check out today's Horoscope for all the zodiac signs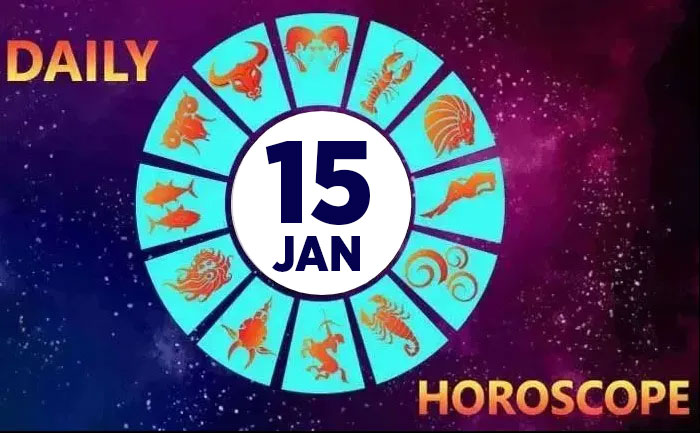 Horoscope Today, January 15 2021: IF TODAY IS YOUR  BIRTHDAY: Your lucky number is  6.  Capricorns with a January 15 birthday believe they can change the world! You have good intentions. Most of you are excellent communicators, however, a little unpredictable. As a Capricorn born on this day, you project an air of confidence. You love life, and you are a very passionate person. Blue is your lucky colour and  4, 13, 16, 28, 47, and 55 are your lucky numbers.
In this article, we have brought you today's astrological predictions for all the sun signs like Gemini, Scorpio, Leo, Taurus, Cancer, and others. Check out the astrological prediction for all zodiac signs.
 HoroscopeToday, January 15, 2021: Check today's astrological prediction from all sun signs
Daily Aries Horoscope:
Today your abilities will be put to test. A lot of workload or pressure may be coming your way. But a competently handled job will help you boost your professional image.  An old ailment troubling some is likely to disappear.   Be sensitive to the sensibilities of a lover if you don't want to take chances with their mood.  Lucky Colour: Orange 
Daily Taurus Horoscope:
Your pleasing personality will win you many admirers today. Nothing you do seems to go wrong and you excel at anything that you may undertake. Your go-getting attitude may come to the notice of those who matter on the professional front. Health is likely to remain perfect. Your romantic ideas are likely to provide much happiness to the beloved. Lucky Colour: Purple
Daily GEMINI Horoscope:
Gemini sign people will have to deal with problems in their marital life. The day will bring excellent gains for salaried people. You may remain worried about your health.  There will be chances of sudden monetary gains. Chances of going out on a vacation with family cannot be ruled out for some. On the romantic front, your focus may remain towards strengthening the bonds of relationships. Lucky Colour: Baby Pink
 Daily CANCER Horoscope:
Cancer sign people will get some good news related to their professional assignments. Your health will remain good. You will be in a position to repay a loan in full without touching your savings. You will be able to rectify a mistake at work before it gets discovered.  An exciting period of courtship is in store. Lucky Colour: Light Blue
Daily Horoscope LEO:
The day will bring ups and downs for students and young lovers. Take care of your health. A happy mix of diet and exercise promises to keep you fit as a fiddle. An outstanding payment is likely to be received.  The day will be marked by mood swings, but fortune will smile on you today. Make the most of today with long romantic walks. Lucky Colour: Light Red
Daily VIRGO Horoscope:
You are likely to share some extra burden in an outing with friends.  Youngsters trying out a vehicle need to be careful. Parents or a family elder may try to curtail your night outs. Traders will earn solid gains. Opportunities will arise for sudden monetary gains. Romantic interest awakening within you for someone you like may not be reciprocated. Lucky Colour: Yellow
Daily LIBRA Horoscope:
The family appears supportive today and is likely to extend a helping hand. Fitness freaks are likely to reap rich benefits with a new workout regimen.  Some outside pressure may be experienced by those in the media.  Libra sign people will get success in overcoming the work-related hurdles. Take care of your mother's health.  Those in love may consider an out of town trip. Lucky Colour: Magenta
Daily SCORPIO Horoscope:
Working long hours can leave little time for family, but you make up for it.  A piece of news regarding a near and dear one may require some concern.  A strenuous job is best avoided by those not feeling up to it. Scorpio sign people will remain sluggish throughout the day.  Lonely hearts may grope in the dark for some more time. Lucky Colour: Light Blue.
Daily SAGITTARIUS Horoscope:
Spending time with family is indicated and will promote the mutual feeling of togetherness. Preparations for a journey may keep you busy.  You are likely to become health conscious and take up an exercise routine. There is a strong likelihood of cold-cough or a minor ailment. It is best not to indulge in office romance as it can affect your work adversely. Lucky Colour: Brown
Daily CAPRICORN Horoscope:
Capricorn sign people find this to be a favourable day for financial gains. There will be chances of sudden monetary gains. Students will get appropriate results for their hard work. There will be some hiccups in your marital life. You may need to keep a close tab on expenditure to save for the essentials.  Grievances in a personal relationship will need to be urgently redressed. Lucky Colour: Orange
Daily AQUARIUS Horoscope:
Aquarius sign people might have to cope with headaches throughout the day.  Students will have to face a few problems in their studies. Your influence will rise in the workplace. Praise from unexpected quarters is likely to make the day for some homemakers.  Choose your words carefully before uttering them, especially in front of someone who is exceptionally touchy. Someone close may help you out of an unfavourable situation. Lucky Colour: Dark Blue
Daily Horoscope PISCES
Pisces sign people will remain unusually busy in relation to their occupational assignments. This will be a good day for salaried people.  A promotion or an increment is on the cards for some.  Renovation or repair work of the house will be completed successfully. Overindulgence in food and drinks needs to be avoided. Romance promises to keep you cheerful and charged! Lucky Colour: White
Also Read:  Capricorn Love Horoscope 2020: Personality, Traits, Compatibility & Celebs Born Under This daily horoscope December 23 Zodiac Sign