Indonesia: 7 Killed, Hundreds Injured After Strong Quake Hits Sulawesi
7 Killed, Hundreds Injured as 6.2 magnitude earthquake strikes Indonesia's Sulawesi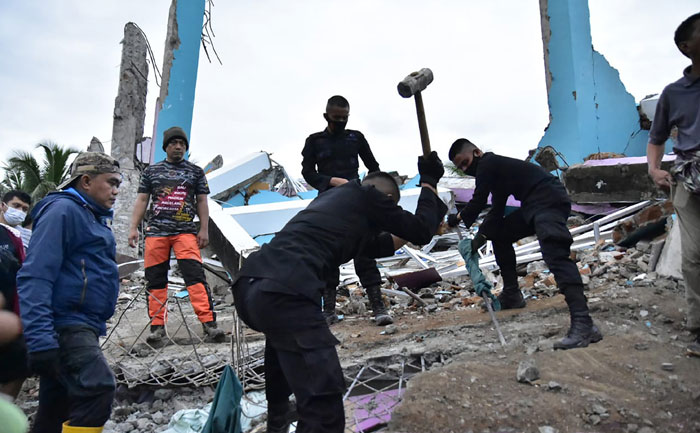 A 6.2-magnitude earthquake struck Indonesia's Sulawesi island on Friday 15 January. It killed at least seven people and injured hundreds, the country's disaster mitigation agency (BNPB) said. Thousands fled their homes to seek safety when the quake hit just after 1 am local time on Friday morning, damaging many buildings.
The epicentre of the quake was six kilometres (3.73 miles) northeast of Majene city at a depth of 10 kilometres. The quake was felt strongly for about seven seconds. But there has been no tsunami warning.
A hospital was flattened that left more than a dozen patients and staff trapped beneath the rubble. Two hotels, the office of the governor of West Sulawesi and a mall too were destroyed.
LOOK: Rescuers search for survivors at the Mitra Manakarra hospital in Mamuju city on January 15, where as many as 20 patients and staff are trapped beneath the rubble after a 6.2-magnitude earthquake rocked Indonesia's Sulawesi island. | 📷 Firdaus/AFP pic.twitter.com/Fd0aYyFkpS

— Inquirer (@inquirerdotnet) January 15, 2021
BNPB said a series of quakes in the past 24 hours had caused at least three landslides, and the electricity supply had been cut.
Indonesia lies on the Pacific Ring Of Fire, therefore earthquakes and volcanic eruptions happen frequently. It is a nation of high tectonic activity, is regularly hit by earthquakes. In 2018, a devastating 6.2-magnitude quake and subsequent tsunami struck the city of Palu, in Sulawesi, killing thousands of people.
Also Read: Indonesia plane crash: Divers Pull Out Body Parts, Plane Wreckage In Java Sea