Daily Horoscope 21st Sept 2020: Check Astrological Prediction For All Zodiac Signs
Check out today's Horoscope for all the zodiac signs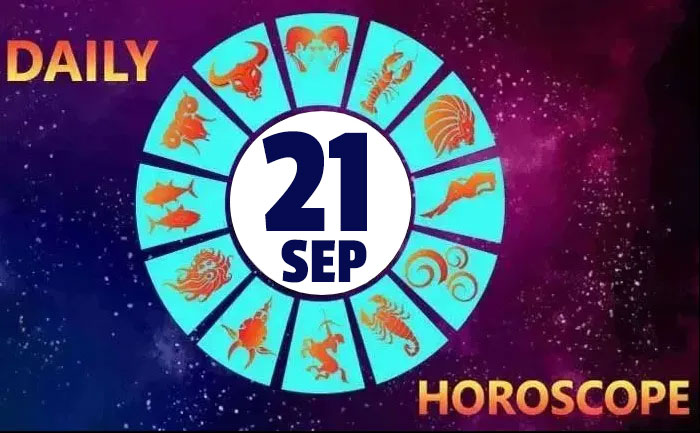 Horoscope Today, September 21, 2020: IF TODAY IS YOUR  BIRTHDAY: Your radical number is 3.  As a Virgo born on September 21st, you are boastful and visionary. You like to get involved in visionary endeavours but can also be cautious and isolated, especially when it comes to serious matters in life.  You are always thinking about what's next and making progress toward achieving the next goal. The lucky color for those born on the 21st of September is best represented by the color orange. The luckiest numbers for those born on 21th of September are – 63, 54, 28, 26, and 69.
In this article, we have brought you today's astrological predictions for all the sun signs like Gemini, Scorpio, Leo, Taurus, Cancer, and others. Check out the astrological prediction for all zodiac signs.
 HoroscopeToday, September 21, 2020: Check today's astrological prediction from all sun signs
Daily Aries Horoscope:
You are not too focused on your financial future.  The fact that you are also a genius at making money, makes you careless sometimes. Watch your budget Aries, don't touch the cash stored away for the rainy day. The influence of the planets is generating a feeling of tremendous goodwill and strength between you and you're beloved. Today will allow you to see some breakthroughs on the work front too. Wearing any shade of green will prove lucky for you.
Daily Taurus Horoscope:
You do not forgive easily once you are irked. Today,  you will be in an expansive mood and will not fall prey to any jibes. The family will want you to join them in their revelry and you will oblige. Wearing burgundy red will be lucky today. You will feel like stealing a few tender moments with your beloved. These memories will stay with you forever.  Excess stress in the office has you thinking about a change of career.
Daily GEMINI Horoscope:
You don't get time to be sensitive to other people's remarks. This is actually a facade that you put up to hide your feelings. But today, your mask may slip as someone close to you hurts you badly. It may want you to unleash your anger. Red is the lucky colour for you.  Today will be fruitful on the romantic front. Today you will want to identify in which professional areas your skills are weak and will try to improve them.
 Daily CANCER Horoscope:
You have great intuition about things and today you will overthink an ongoing situation.  Also, you must stop thinking about all that happened in the past, move ahead.  And please stop reading between the lines, all the time. The probability of meeting someone interesting will be high today.  Feel the warmth of their affection and return the same in kind. Today you will feel grateful that some recent obstacles in your work or your studies will seem to fade away.  Blue is the lucky colour for you.
Daily LEO Horoscope:
Being good at executing decisions and allocating duties around, you make a wonderful leader. All that you want out of all this is appreciation. But today, your decision-making ability will reduce and make you want to leave the project halfway.  Learn to be above all this politics, Leo. Wearing something in olive green may bring you peace. This is a day to indulge in the love of your partner. Keep a low profile in the office today.
Daily VIRGO Horoscope:
Being a perfectionist, you are particular about your appearance and are well-groomed. But there are times you worry too much about the details of tasks to be finished this, in turn, affects your health.  Stop stressing, Virgo, because you are otherwise blessed with energy and good health. Royal Blue is your lucky colour for this day. Someone might distract you with flirtatious texts. Take your time to respond. At work, you might look for new options.
Daily LIBRA Horoscope:
Not very physically active, you tend to laze when you are not sorting out other people's problems.  Today,  you may just want to lie back and relax. Take a diet rich in calcium to keep your bones healthy.  Wearing topaz will help you attract a lot of positive energy throughout the day. Do take this time to communicate openly with your partner; you will find it brings you much closer in the end. Today you should focus on your work in the office, it will pay off for you.
Daily SCORPIO Horoscope:
You may look tough on the outside but are very sensitive from inside. But if someone tries to rub you the other way, they will soon be in for a shock.  You hate it when people sugar coat truth because that makes you wary of them.  Wear something maroon to stand out and keep negative energies at bay. Single people may find a partner over the internet today. Today is a day to try and impress your superiors, they are very likely to take notice.
Daily SAGITTARIUS Horoscope:
You are intellectual and show great interest while studying a specific area. But today there will be a disappointment in store for students who were awaiting results. You should have consulted some seniors and studied more thoroughly. Do not worry your next attempt will bear fruit. Wear something in pink to attract positive vibes and good luck. Today most of you will find yourself lost in the daydreams of your beloved. Some of you will also be feeling surprisingly contented with your job.
Daily CAPRICORN Horoscope:
Just like you are committed to your work, so are you to your family. Today,  some Capricorns may get worried that they are unnecessarily delaying starting a family. Some, who are not able to start, may visit some doctor for consultation.  The lucky colour of the day is Blue. Things are not fine between you and your lover. The expansion of your mind, your job prospects, and your business will be running through your head today.
Daily AQUARIUS Horoscope:
You like to keep yourself away from petty dramas and so save yourself from getting pushed into a corner. But when you do get into that situation, you do not forgive easily. Today will get you in an altercation with someone from whom you were getting negative vibes for some time.  The color lavender will attract good luck and positive energy. Couples keep your eyes on your long-term relationship goals and remain positive.  It is also a good day for achieving desired results in your workplace.
Daily PISCES Horoscope:
Since you go about your work quietly, you are considered to be unfocused at work by your co-workers. This actually, is just not true. When you work on your pet project, you do not bother to see if you get any fame or money out of it. You do it because it gives you great joy. Go out wearing magenta for greater success. There is peace and tranquillity in your relationship with your mate.  You should actually reward yourself for a job well done on the career front too.
Also Read: Virgo Love Horoscope: Personality,Traits, Compatibility And Celebs Born Under This Zodiac Sign