Daily Horoscope 22ndJuly 2021: Check Astrological Prediction For All Zodiac Signs
Check out today's Horoscope for all the zodiac signs.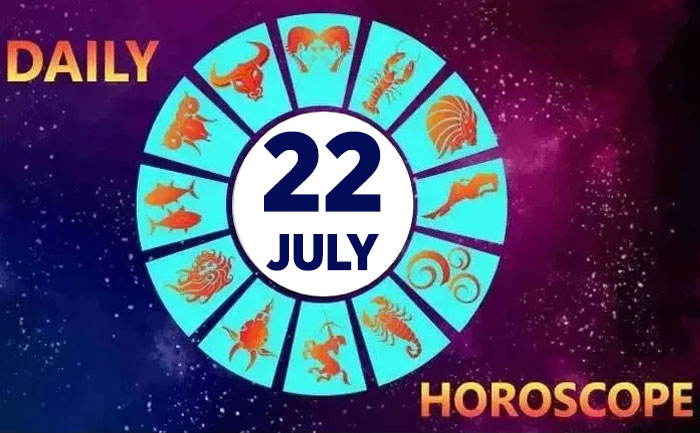 Horoscope Today, July 22, 2021: IF TODAY IS YOUR  BIRTHDAY:  Your lucky number is 4. The July 22nd birthday personality suggests that you are highly ambitious, confident, and bold. You are also proud and stubborn Crabs. Lovers born on the 22nd of July are very hesitant lovers. The lucky colour for those born on the 22nd of July is dark blue.  Lucky numbers for you are  36, 52, 28, 65, and 52.
Horoscope for July 22: Check today's astrological prediction
Daily ARIES Horoscope:
There is a chance of a water-related accident today, take care. A new understanding will be reached with the family members by changing your mindset. A good time is foreseen for some in their social circle. Despite a dip in physical activity, you are likely to enjoy good health. Today, expect extra attention from someone who has a soft corner for you on the romantic front. Lucky Colour: Turquoise
Daily TAURUS Horoscope:
Today your faith in karma may be reinforced. You are sensitive to others and understand otherメs problems. You will be in a position to cater to the specific needs of a family elder.  A party organized at home will prove successful. Health poses no problems. You may keep romance on the back burner today. Lucky Colour: Maroon
Daily GEMINI Horoscope:
Think through any responsibility entrusted to you at the beginning itself to avoid any hitches afterwards. Problems are foreseen for those traveling by road.  A peaceful home front will allow you to relax.  Financial problems facing some are set to disappear. An exciting romantic opportunity is likely to materialize. Lucky Colour: Chocolate
Daily CANCER Horoscope:
Keep financial stability in mind before going ahead with a venture. There is a strong possibility of undertaking an out of town journey.  Positive thoughts will keep you in a positive frame of mind the whole day. Today you may meet someone whom you have been dreaming of. Someone is likely to get smitten with you on the romantic front. Lucky Colour: Silver
Daily LEO Horoscope:
A home remedy may work wonders for a common ailment. Watch out for unnecessary expenditures.  Travel may prove therapeutic for some. An interesting project may come your way on the academic front.  A change of major proportion is indicated on the relationship front today. Lucky Colour: Pink
Daily VIRGO Horoscope:
Some of you may resolve to undertake stringent measures to remain slim and trim.  Travel will be most enjoyable, especially for those undertaking a long journey.  Chances are high that you will be affected by some sort of fever now. New opportunities for employment and income are now opening up for you. Lucky Colour: Orange
Daily LIBRA Horoscope:
Seniors may repose full faith in you for undertaking something challenging at work. You will need to be alert while travelling on public transport.  The time is ripe for a change in the career front. Take care of your health. Dark clouds gather on the romantic front, so be careful. Lucky Colour: Mustard
Daily SCORPIO Horoscope:
This is a good day to spend time with family.  Excellent returns from previous investments will keep your coffers brimming. There seems to be a significant improvement in the condition of someone who is unwell. There may be some changes cropping up in the mind of your partner. Lucky Colour: Silver
Daily SAGITTARIUS Horoscope:
It is a perfect time to turn your ideas into action. Refrain from any arguments on the domestic front.  A property you have been eyeing for long is likely to come within your grasp. Major changes are indicated on the relationship front today. Single people are likely to meet someone interesting. Lucky Colour: Off White
Daily CAPRICORN Horoscope:
The chance of setting up a new house may soon come. Something special is in store for you on the academic front.  Wealth comes to you and promises to make you financially secure. You will be satisfied with the spending pattern of the family.  A busy schedule can take a toll on your romantic life, so get down to set things right! Lucky Colour: Magenta
 Daily AQUARIUS Horoscope:
A boost in earning is foreseen for some. A leisurely drive will work wonders for those feeling out of sorts. Shifting to a new location is indicated.  Restarting an exercise regimen is on the cards, but carrying on with it may take an effort! Make sure you do not say things casually that may offend the lover anyhow. Lucky Colour: Indigo
Daily PISCES Horoscope:
Religious minded can plan on a pilgrimage.  Monetarily, you remain comfortable. You are likely to remain in a confused state of mind today, due to the indecisiveness of a senior.  Celebratory mood prevails on the home front. The spouse may seem unusually lovey-dovey, so expect your love life to rock! Lucky Colour: Dark Grey
ALSO, READ Daily Horoscope 19th July 2021: Check Astrological Prediction For All Zodiac Signs